21 December 2020
Out of the shadows: Dániel Horváth
In the sport of combined driving there are many people constantly active behind the scenes. Driving is a discipline of equestrian sport that you just can't do alone. Support from family, a partner or friends is indispensable for active competitive drivers and the competitions themselves are run thanks to the dedication and hard work of enthusiastic organizers and volunteers. In this series of articles 'Out of the shadows' Hoefnet will be shining a light on the people who play such an important role in the background of our sport.
Key role
Some may not know him that well, but Dániel Horváth is one of the people who is responsible for the smooth running of many national and international carriage driving events. A native of Hungary, Horváth (1991) fulfils the position of scorer which basically means that he is producing the results. In everyday life he works as an IT specialist and is responsible for the operation and maintenance of IT systems and servers. This is also the source of the expertise, which he can make good use of during competitions. Much like others in the sport this wasn't the busiest season for him, but he still feels lucky to have been able to go to some national and international shows. By the way, Dániel is the brother of Hoefnet team member and photographer Krisztina Horváth.
Carriage driving loving family
Daniel got involved in Driving through his parents. His father is a national course designer and Daniel has been going to events since he was a child. First as a spectator and later as an active helper. He learned the basics of the scoring 'profession' from his mother and has continued to developed  up to the current level where he is now teaching upcoming scoring offices in Hungary. "I was 14 when I started to be more and more interested in IT and I started to study it exclusively. I figured I could do scoring at a higher level later on. I have been doing it on my own since 2006 but of course with some help in the beginning."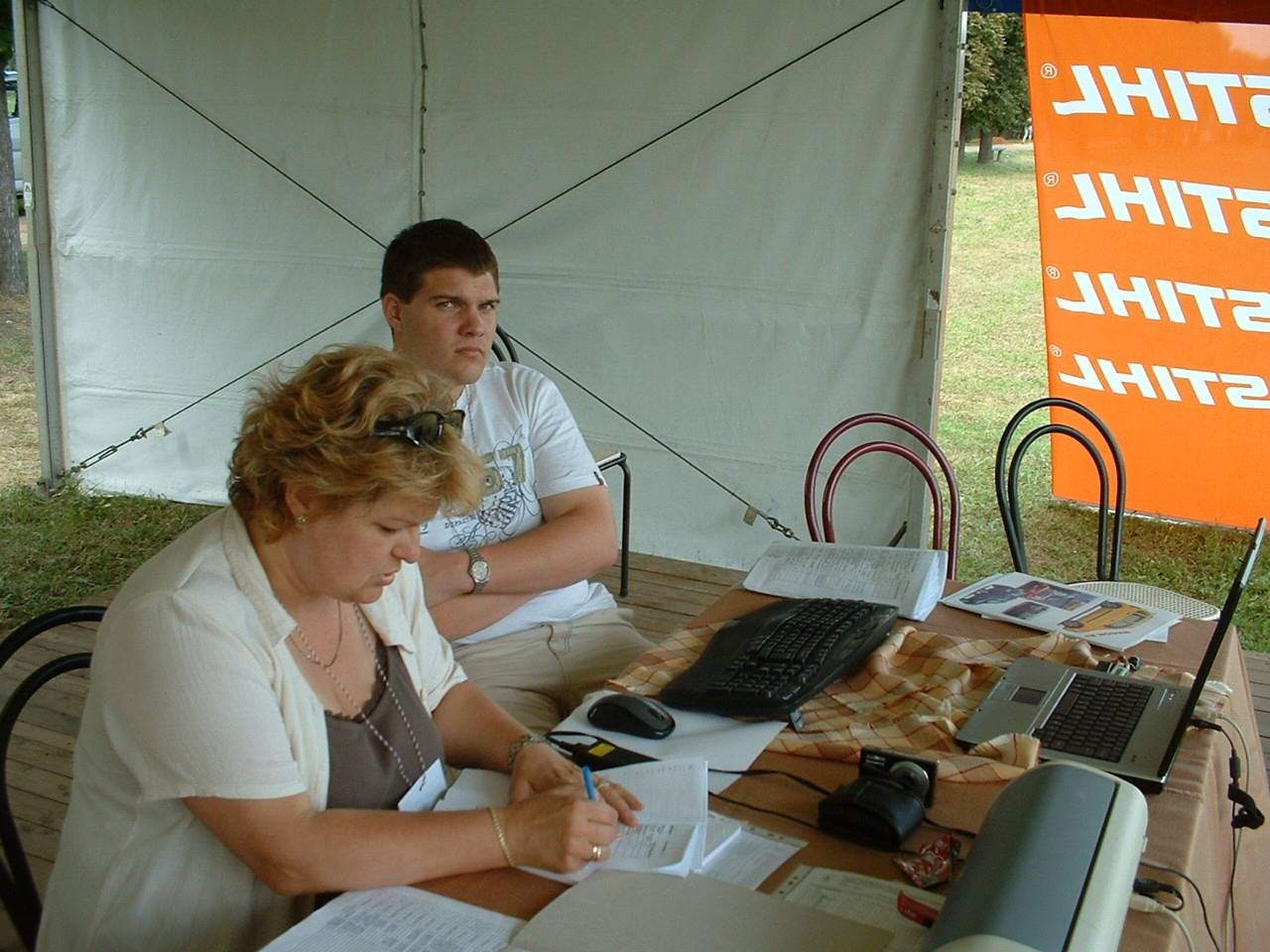 Daniel learnt to score from his mother, who is now his assistant at some events
Turning point
A huge turning point in Daniel's scoring career was when he was asked to go to some bigger national and international events in Hungary. "I was very honoured to be asked because even though I was very young, I could travel and get to know new people. It made it very exciting to be asked to do a job with such a huge responsibility."
Lipica
In 2011 he was invited to his first international event abroad, to Lipica, Slovenia. "I love Lipica, it's an amazing place. The environment is beautiful and the organisers are very professional. After doing scoring in Szilvásvárad for many years, it was a great honour to be invited to the original home of the Lipizzaner horses. I'm very fortunate to be going there regularly since then." Lipica has been hosting an international competition for many years and was host to the World Championships Combined Ponies in 2011 and the World Championships for Pairs in 2017 where Daniel was the assistant of Philippe Lienart.
Driving program
In 2015, the organisers in Lipica convinced Daniel to start using the scoring programme Driving developed by Philippe Lienart, which opened a world with new opportunities for him. After he started using Driving, Daniel is invited to many competitions abroad every year, including three international events in the Netherlands; Exloo, Kronenberg and Valkenswaard. The first year in Valkenswaard in 2016 was the most special one for him because that was also the first time that Valkenswaard hosted an international competition. "It was great to experience the way competitions are run abroad, especially in the Netherlands. It's a completely different philosophy than in Hungary and I am happy to get to know it and to be so involved. They have the same familiar atmosphere that we used to have in Hungary in the old days and that makes it very special. Besides their official duties and serious work, both the officials and the organisers try to create a nice atmosphere and at the end of the day everybody has fun while doing their job."
World Championship scorer
"Because of these opportunities in the Netherlands, I reached a level where I was also asked to do scoring at the 2018 FEI Driving World Championships for Singles and Para Driving in Kronenberg, my very first World Championship that I did as head scorer. So far that was the highlight of my career and an unforgettable experience."
Some might think that a Championship is more challenging for a scorer than a 'normal' competition, but it is actually quite the opposite: "Many people expect that it is more difficult and more stressful for us to do a Championship, but it is not. A normal event is more complicated, because sometimes you have lots of different categories with each their own dressage tests and time allowed, whereas at Championships all drivers have the same task, and these small things make our job much easier."
Fun after work
"What makes my job really worthwhile is the fun we have after the competition day is over. I enjoy the get togethers we have with the people I closely work with during the days. Sometimes we go for a drink or a dinner with a small group of officials and the girls from the Show Office. Last year I was the scorer at the CAI2* in Salteras and we had time to go to the beach one day which was fantastic!"
Daniel enjoys the get-togethers in the evenings
Fast results
Looking back on the past 14 years, Daniel finds it very interesting how the technology influenced the changes in Driving sport. Nowadays competitors want to know their results immediately after they completed their dressage, marathon or cones. "It is quite a challenge to meet these demands and give them correct scores right away. To do so, you need to have good IT- knowledge, tells Daniel. "10 years ago it was enough to bring a laptop and a printer to an event, for bigger events now I normally have several laptops and a lot of additional equipment with me to be able to produce results as fast as possible. And correct of course! That is what OC's and competitors require from us. When I started doing scoring it was enough to publish results after each competition weekend, now you need to do that within 5-10 minutes after each driver finished, otherwise people start asking why they are not online yet."
Career in course design
"Since I finished university and have a normal job, it's harder to find a balance between work and the competitions, but I'm lucky because my bosses allow me to be out of the office for around 10-12 weeks a year. As long as I have the opportunity, I would like to continue doing scoring, but I am also very interested in course design. Earlier this year I became a national course designer and I did a few small events. I liked the challenge and if I get a chance, I would also like to do this more seriously and perhaps become an international course designer."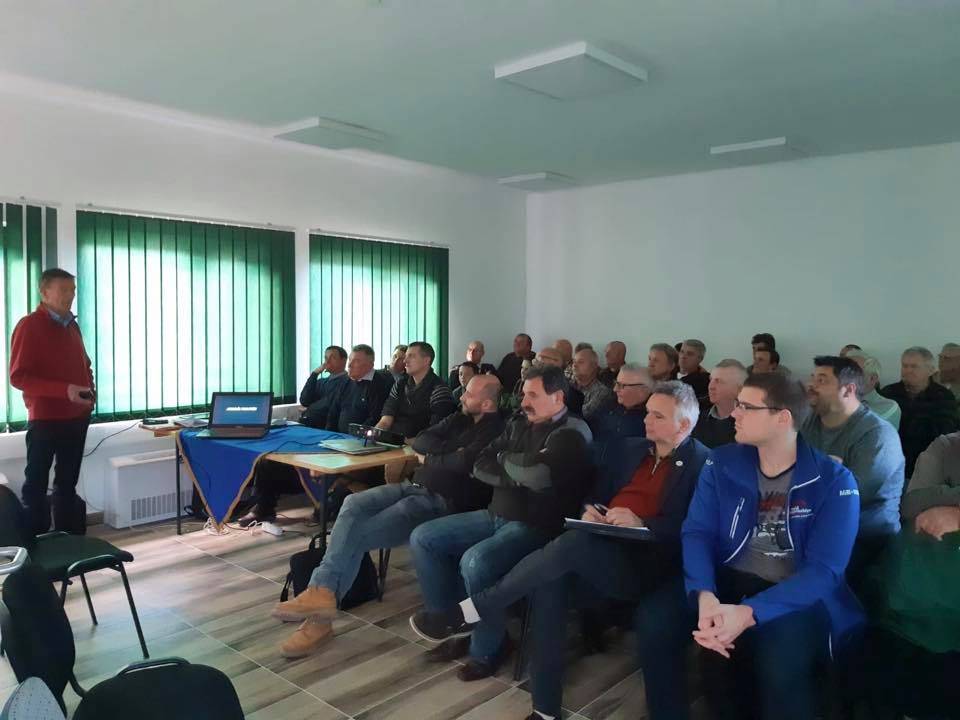 Daniel took the Course Designers course with Gábor Fintha earlier this year
Copyright reserved. Acquisition without acknowledgment and permission from info@hoefnet.nl is not allowed.