2 December 2020
Out of the shadows: John Castelijns
In the sport of combined driving there are many people constantly active behind the scenes. Driving is a discipline of equestrian sport that you just can't do alone. Support from family, a partner or friends is indispensable for active competitive drivers and the competitions themselves are run thanks to the dedication and hard work of enthusiastic organizers and volunteers. In this series of articles 'Out of the shadows' Hoefnet will be shining a light on the people who play such an important role in the background of our sport.
John (1966) is the partner and groom of World Champion Saskia Siebers. Where Saskia is, is John is too. The pair work closely together and the results over the last few years speak for themselves. At their first World Championship in Piber, Austria Saskia and John and Axel won individual bronze, two years later in Kronenberg, individual silver and this past October all of their hard work was rewarded with the gold medal in Pau.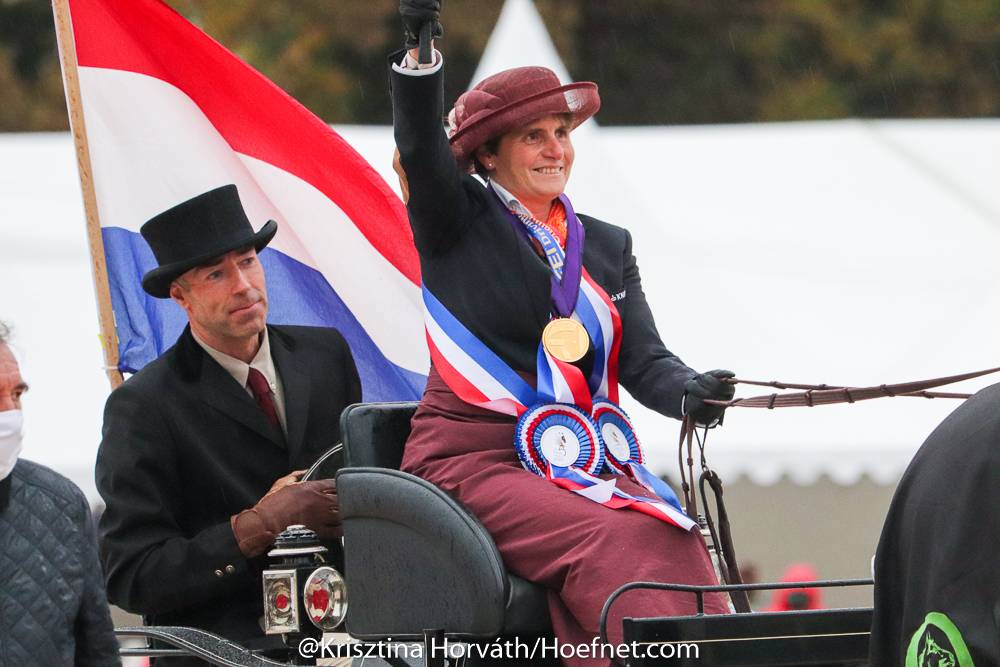 Saskia, John and Axel were crowned 2020 World Champions in Pau
Photo:
Krisztina Horváth
Rescue pony
John grew up in Steensel, in the south of the Netherlands as the son of a milk man, but it was horses that have played a major role in his life since he was a young boy. Both his father and grandfather brought around their wares with horse and wagon. As a child John received his first pony who was rescued from a slaughterhouse. The pony was named Nulleke and was a great playmate for the young John. A few years later another pony followed and John joined the local pony club in Eersel.
Japan
When John was older he rode primarily recreationally, sometimes taking part in an organized trail ride and he regularly went to watch the driving shows in Eersel as well. One day when he was reading the MenSport magazine an ad caught his eye for a coachman at the amusement park Huis ten Bosch in Japan and on a whim he applied. To his surprise was he hired and this new adventure began: 'My friends said that I would be back within two weeks, but I ended up staying for four years as coachman/stable manager there. It was great to make my hobby my work and I had a wonderful time, though putting 24 Dutchman together in a foreign country you sometimes had a bit of the feeling that you were in an episode of Big Brother.'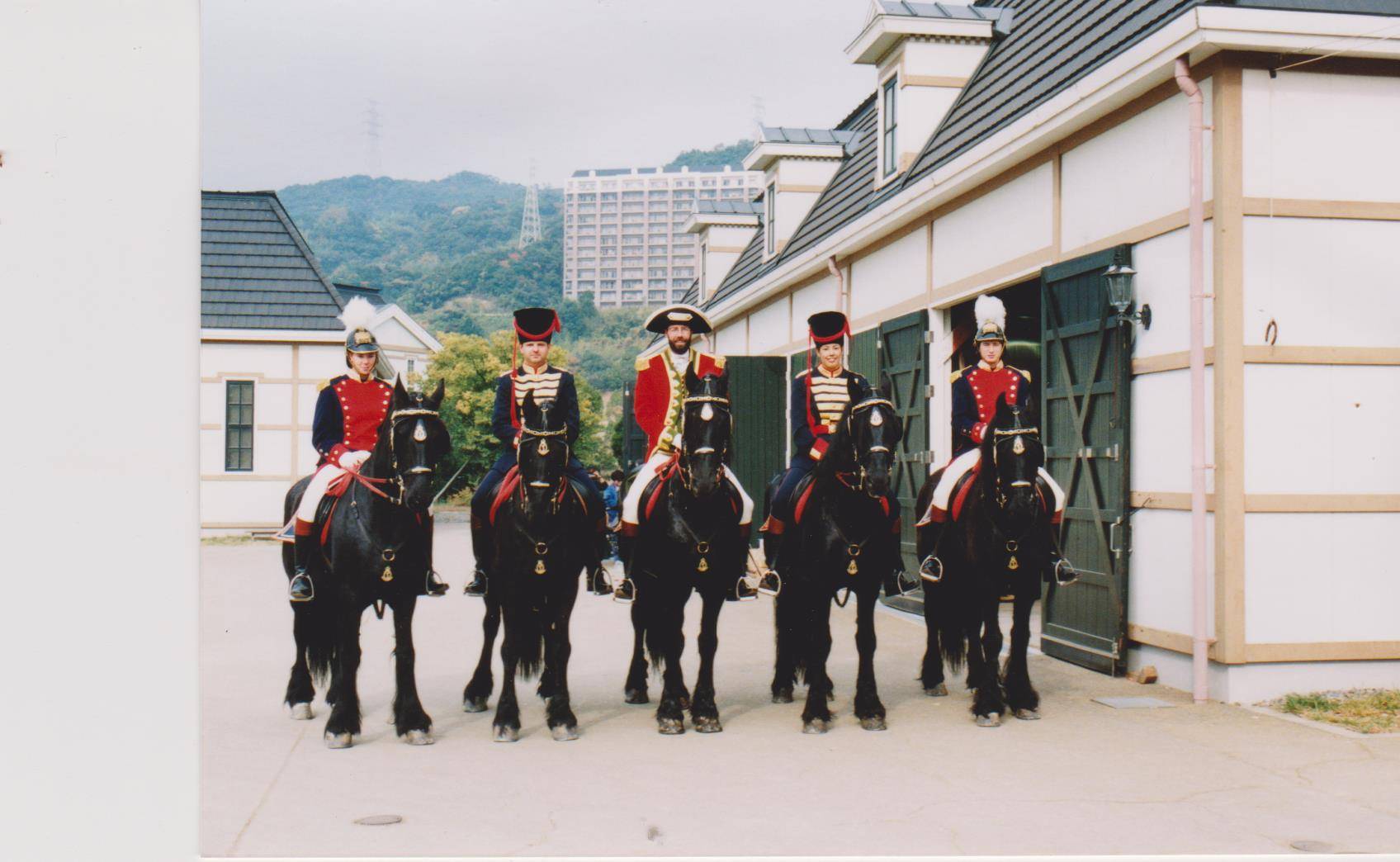 John (middle) worked four years as coachman/stable manager in Japan
Photo:
Private collection
Romanticized
Upon his return, John began to work at Movico, a company that arranges the facilities and logistics for large events such as the Tour de France. For more than eight months of the year he was on the road which didn't allow much time over for horses. After a number of years John decided to move to a different function within the company to allow him to be home more and he was once again able to pick up the horses. "When I returned from Japan I was suffering from a bit of culture shock. In comparison to Japan the Dutch were so rude and abrupt it took a while to get used to it again. I ended up flying back to Japan with a container of horses headed to the park, but when I was there I realized that I had romanticized Japan in my head and I was ultimately happy to have made the decision to remain in the Netherlands.'
And then came Guus
John made a transition within Movico and with a more regular schedule was able to buy his first pair of horses. 'My cousin Frank Houtappels was also interested in horses and together we began to go on organized drives, and later competitions as well. With Franks help I was able to stable the horses at the Blakheide in Belgium for training. In that time the Blakheide was run by Gerard and Saskia Leijten and Berry and Claudia van den Bosch. Over two years I learned so much from Gerard and Frank, our rider Eva and I had a lot of fun there.'
It was at the Blakheide that John met Saskia and after her divorce from Gerard they began their relationship. The young Axel moved in with Saskia and John played a huge role in motivating Saskia to start competing. Over the years the duo became stronger with the support of John. During this time John was also competing with his pair of horses but he eventually chose to focus on Saskia's single as competing with two entries was difficult to maintain. 'We really gave Axel the time to mature and Saskia progressed through the levels in her own time. My years competing a pair were topped off by finishing second in klasse 2 at the 2012 National Championships.'
After we moved to Maarheeze and all of the renovations were finished we purchased Guus with the intention of putting a pair together again. After searching for a while we were unable to find a horse to match Guus and I ended up starting him single as well.' In 2019 John was Dutch champion at the L level.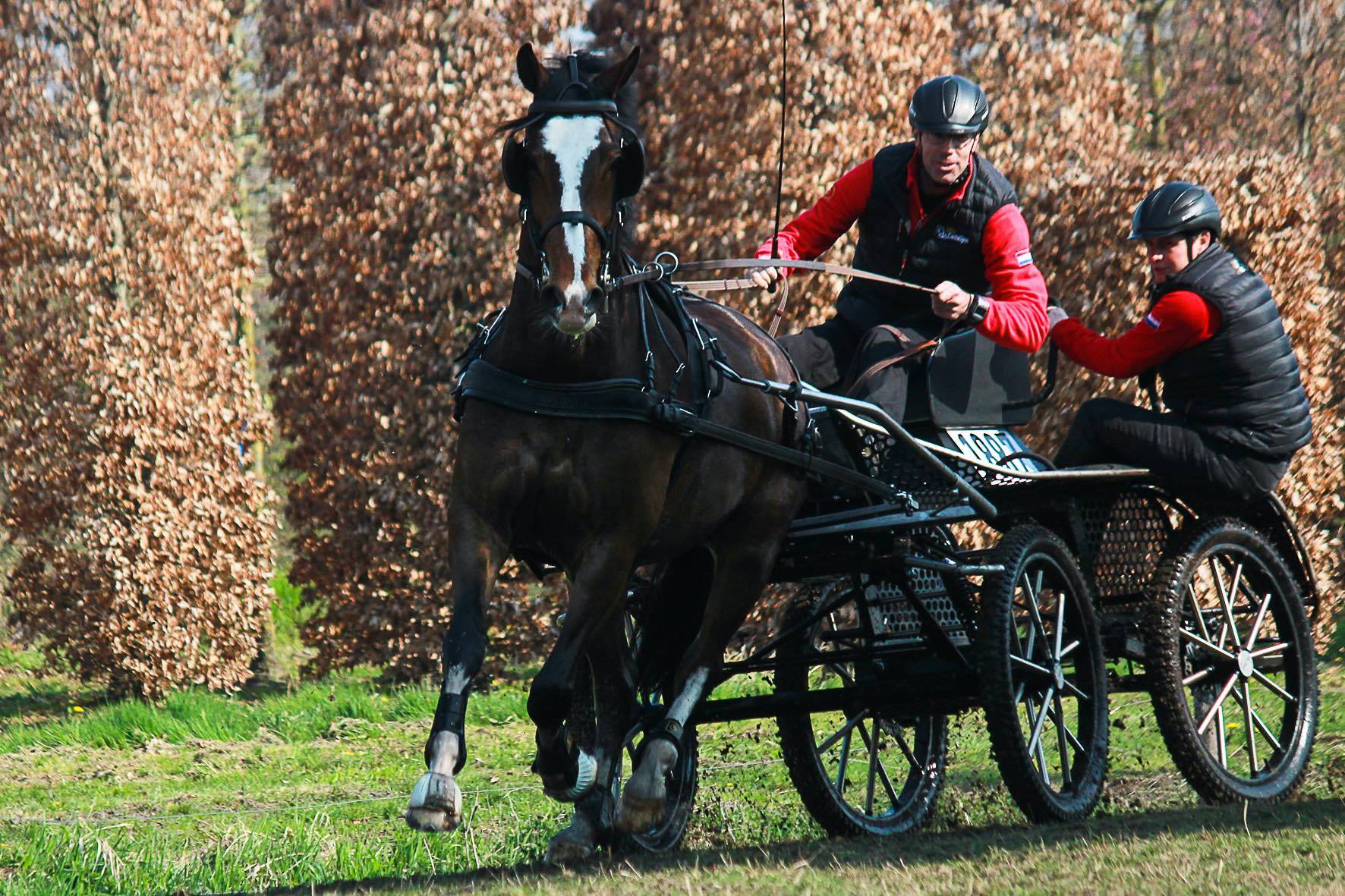 John in action with Guus and groom Saskia
Photo:
Photowerken
Designing a new dressage carriage
Johns responsibilities within the team focus primarily on facilitating everything to allow Saskia to optimally train: 'This is something I do with pleasure. From the maintenance of the training field to grooming at competitions, it is work I really enjoy doing.' John is very handy and this played a role in the development of a new dressage carriage together with Peter de Laat: 'I am tall and we noticed in the cones that the centre of gravity was too high on our dressage carriage. Together with Peter we designed a new dressage carriage that is much more stable. The new model is now being used by a number of other drivers as well.'
With the exception of the World Championships
During the competitive season John grooms for Saskia in all three phases: 'We are really a team. Normally our good friend Marja Angenent comes with us to the World Championships and was supposed to come to Pau as well, but due to Covid she wasn't able to come. We really missed her!'  It is only at the World Championships that Saskia and John make an exception with their groom in the dressage. 'A smaller groom in the dressage does make for a prettier picture. We know that is all about Axel and Saskia, but still a female groom is chiquer than a tall man like me on the carriage', laughs John.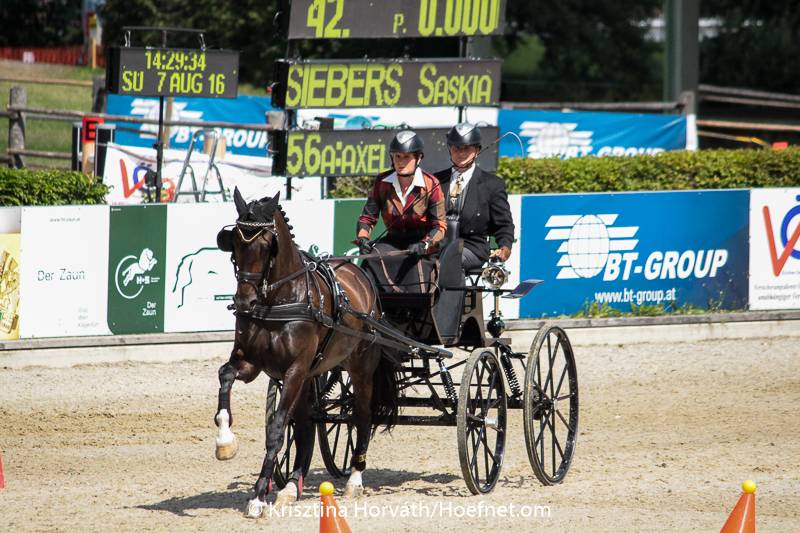 Saskia and Axel in Piber
Photo:
Krisztina Horváth
Great atmosphere
John enjoys the atmosphere of the international competitions and World Championships: 'Competitions like Piber and Dillenburg are wonderful and you get to see places you normally wouldn't. When we make our show schedule for the year we always look to competitions in other countries as well. The driving world really is small, a sort of driving family. We are always on our own and concentrate on the competition, but at the same time we really enjoy the sportsmanship and friendship of the other drivers.
Future
'The World Championships in Pau were really wonderful and we enjoyed every minute of it. Just the fact that we were able to compete at a World Championship this year is bizarre. As long as Saskia Axel and myself stay healthy we will definitely aim for the 2020 World Championships in Haras du Pin, but we remain realisitc – there are a lot of factors at play. Until then I will keep looking for a partner for Guus in the pair, but I'm not in a hurry. We drive Axel and Guus in single and pair and ride under saddle as well, so we are fully enjoying the horses we have.'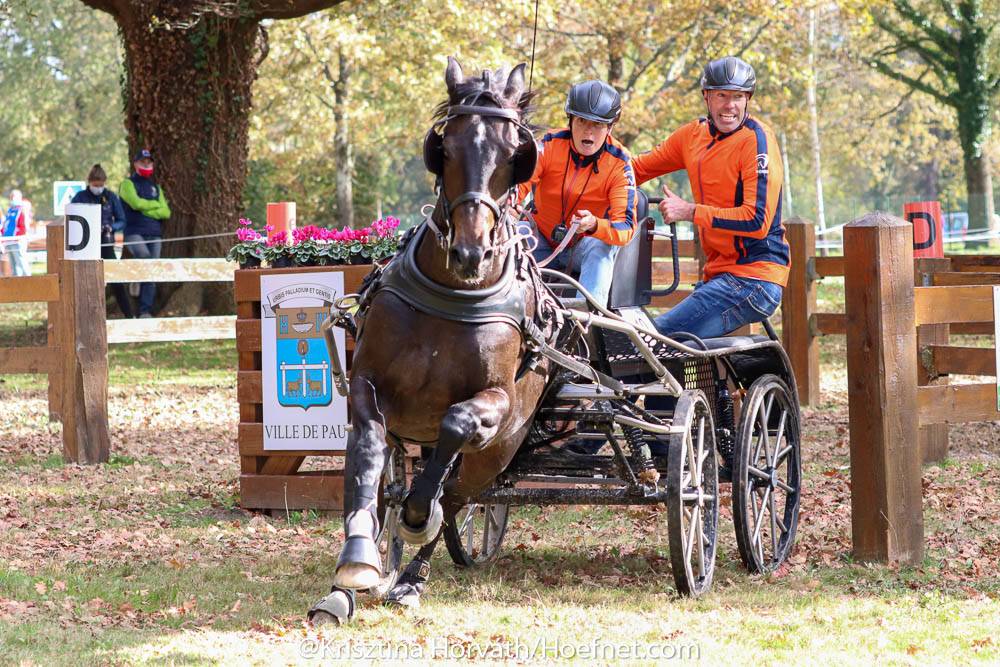 Saskia, John and Axel in the marathon at the 2020 World Championships in Pau
Photo:
Krisztina Horváth
Copyright reserved. Acquisition without acknowledgment and permission from [email protected] is not allowed.