25 May 2018
Valkenswaard 2018: Dutch four-in-hand team and Boyd Exell in the lead
The Dutch four-in-hand team of IJsbrand Chardon, Koos de Ronde and Peter de Ronde is leading the standings in the nations cup after the dressage phase. DVI host Boyd Exell is on top in the individual standings ahead of IJsbrand Chardon.
Today Driving Valkenswaard International had perfect weather conditions. The sun was shining when the 30 four-in-hand drivers rode their dressage tests and the public enjoyed the performances. Boyd Exell received,like in Windsor, an unbelievable high score of 30,73 points from all five international judges and has an advantage of no less than 13 faults over Chardon. "It was great to have my right leader Carlos back in my team after he was injured in Aachen last year. The judges appreciated the movements. Checkmate proved to be a good addition to my wheelers, he adds power in the dressage and makes my team more easy to ride."
Valkenswaard is a qualification competition for the USA's Misdee Wrigley-Miller for the World Equestrian Games in Tryon and she can be very satisfied with her third place in the dressage phase. Wrigley-Miller is closely followed by Belgium's Edouard Simonet, Germany's Mareike Harm and Holland's Koos de Ronde in sixth.
IJsbrand Chardon decided only a few days ago to compete in Valkenswaard because he wants to test a new horse: "My new wheeler Bolero did a good job," said Chardon. It was the first time I had Eddy in front and it was Zion's first time out after a short period of absence. He was a bit hot, but I am very pleased."
In the nations cup standings the Netherlands is in the lead followed by France and Belgium.
Tomorrow the competitors awaits a very nice marathon with eight versatile obstacles designed by Britain's level 4 course designer Barry Hunter.
Click here for the starting orders and results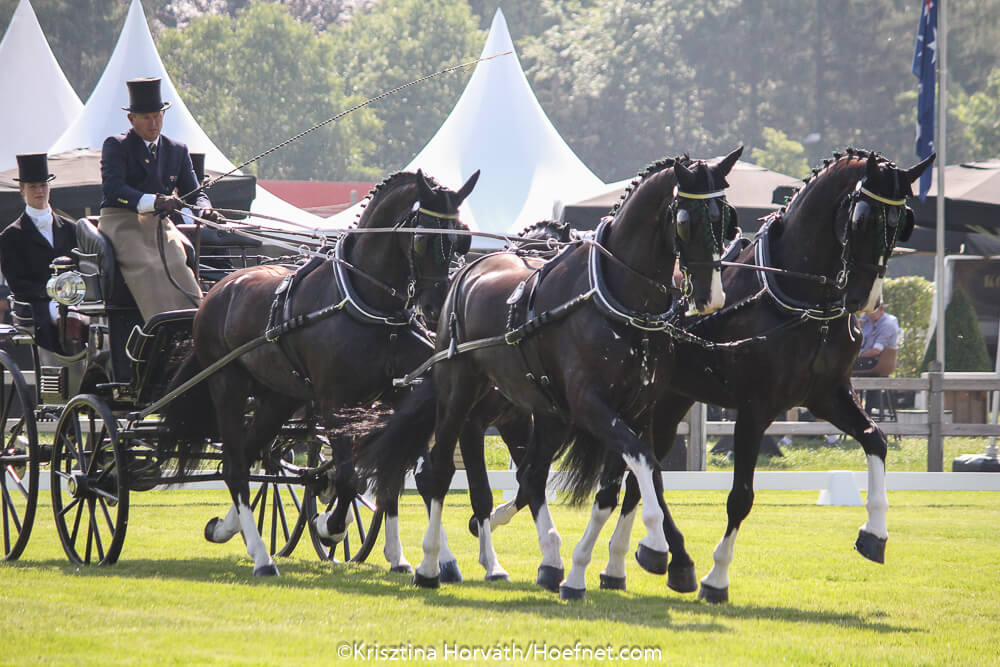 Boyd Exell
Photo:
Krisztina Horváth