1 August 2021
Valkenswaard: Martin Hölle unchallenged winner
The final phase of competition proved to be not too much of a challenge for the pair drivers, with twelve combinations navigating the cones with ease. But despite this there was movement on the tightly packed leaderboard as one knockdown had great implications for the drivers. Martin Hölle (HUN) was the true winner with a double clear round, and the number two and three, Tor van den Berge (AUS) and Stan van Eijk (NL) moved up in the standings thanks to their double clear rounds.

The winner of the cones was Swiss driver Marcel Luder. He was the fastest of the double clear rounds. The course featured three combinations and a number of small gates, but the time proved to be easy for most drivers to make.
Easy is not simple
"It is not as easy as you think to drive a course with a low level of difficulty," tells Stan van Eijk after the competition. "We usually drive complicated courses and today I constantly had the feeling that I was making a mistake." Stan was lucky at gate 13, but the balls stayed put and he crossed the finish with eight seconds of time over. After him was Australian Tor van den Berge who was thrilled to be over the finish with a double clear round. Sandro Koalick, Anna Sandmann and Franck Grimonprez all made small errors and as a result dropped in the standings. Martin Hölle had a substantial lead, but finished the competition in style with a double clear round.
Tor van den Berge could not believe that he finished second behind the World Champion. "I am so happy. These horses came over from Australia two years ago. I can hardly believe it, I'm so happy for their owners."
On to the World Championships
Winner Martin Hölle was also happy with his result. "This was a good preparation for the World Championships. From here we will drive a few smaller competitions to keep the horses in form." Many noticed the new chestnut gelding Jason that he used in the marathon and cones. "Jason is a really good horse. We have had him since he was three, so have taken the time to train him ourselves. He has really come into his own recently and this weekend is just his second competition. In the future I hope to use him in the dressage as well." Now he will focus on the World Championships in September "I'm really happy with this win, and I will of course do my very best at the championships."
Click here to see video on our Facebook page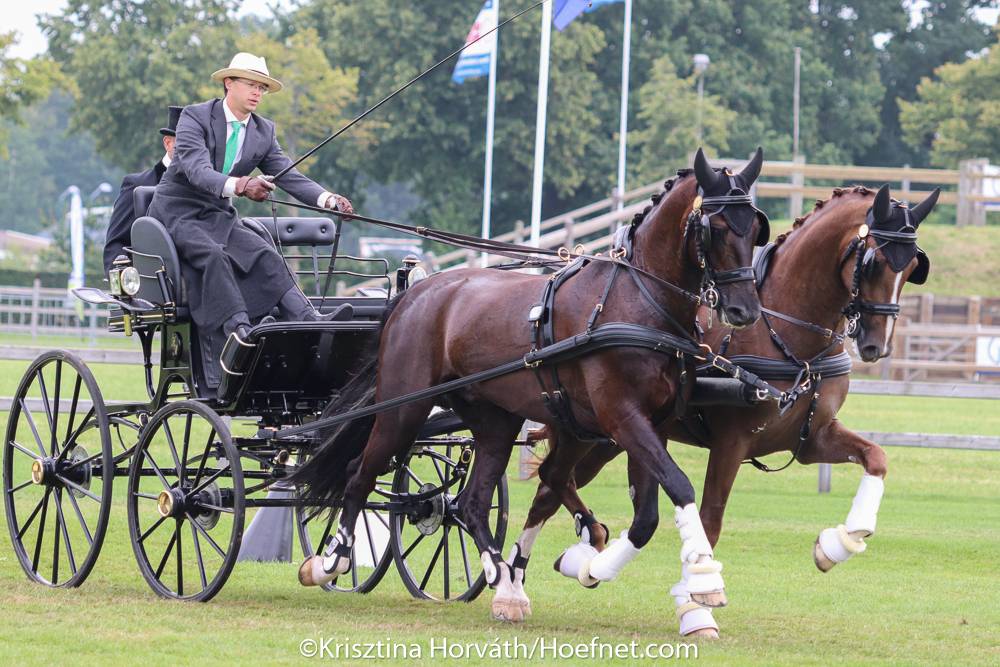 Martin Hölle maakte de wedstrijd perfect af
Photo:
Krisztina Horváth
Copyright reserved. Acquisition without acknowledgment and permission from [email protected] is not allowed.