14 June 2014
Vecsés: Marathon victories for Kwiatek, Szilagyi and Weusthof
A nice mix of winners in the marathon of the international driving event in Vecsés, Hungary. Bartlomiej Kwiatek (POL) was the fastest in the single class, Zsolt Szilagyi (HUN) stayed ahead of his competitors in the pairs class and Mark Weusthof (NED) put down the best performance in the four-in-hand class.

Bartek Kwiatek. Photo Krisztina Horváth.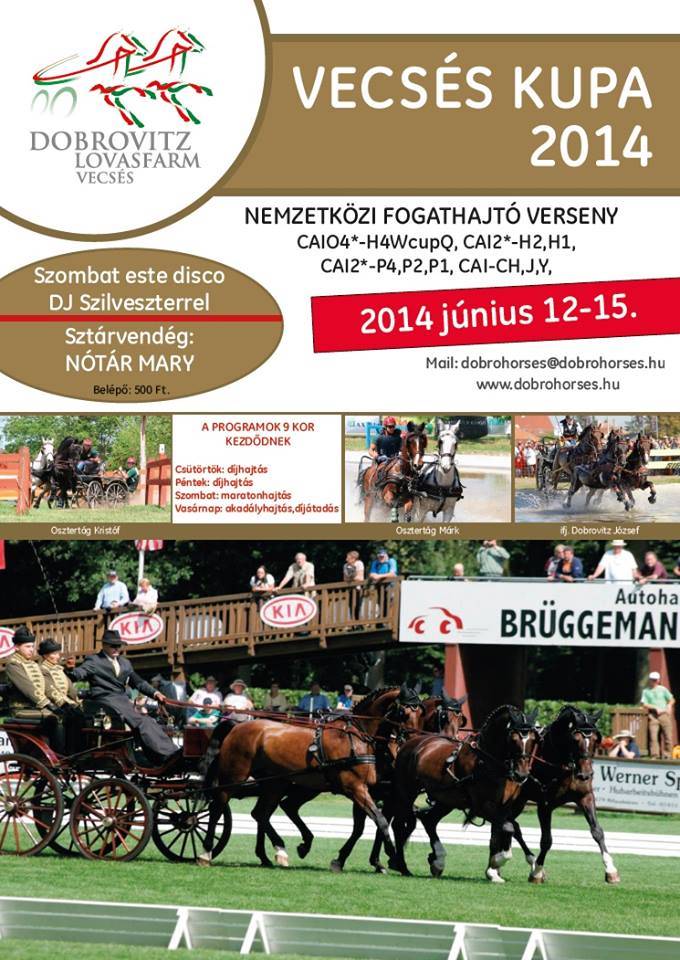 'Bartek', who was recently elected as Athletes Representative in the FEI Technical Committee Driving, managed to set the fastest times in the seven obstacles, designed by Gábor Fintha (HUN). His sister Weronika was less fortunate. She started off very well and set fast times in the first two obstacles, but tipped over in obstacle three and supposedly broke her collarbone. We hope for her, that this does not affect her participation at the World Championships in Izsák at the end of September. Bartlomiej leads the standings ahead of his Hungarian opponents Katalin Nyul and Karoly Hodi with two pairs.
Mark Weusthof decided to drive a safe marathon and did not touch any of the many knock downs in the obstacles: "I drove normal, not too fast," explained Mark. You had to be really careful in the obstacles and I am happy that this strategy worked out well for me." German team members Georg von Stein and Ludwig Weinmayr finished on his tail.


Mark Weusthof. Photo Krisztina Horváth.
For German driver Daniel Schneiders Vecsés is not his lucky event. After a very disappointing dressage performance, the farrier by profession tipped over in obstacle 4 and had to stop.
Marathon specialist Tomas Eriksson was also not so fortunate today. He had a corrected error of course and three knockdowns in obstacle 6, which dropped him to the 18th place.
Georg von Stein is in the lead of the standings after dressage and marathon, ahead of József Dobrovitz, Zoltán Lázár, IJsbrand Chardon, Mark Weusthof and individual driver József Dobrovitz jr.


Georg von Stein. Photo Krisztina Horváth.
Hungary leads the Nations Cup, ahead of Germany and the Netherlands.