12 August 2018
Beekbergen 2018: Fourth National Title for Koos de Ronde
For the fourth time in his driving career, Koos de Ronde has been named Dutch National Four-in-hand Champion this weekend in Beekbergen, sharing the podium with Mark Weusthof and Peter de Ronde. The winner of the international four-in-hand division went to Chester Weber from the USA.

Only Peter de Ronde was able to score a double clear in cones today, which helped him win the bronze national championship placing. The top three drivers in the provisional placings after the marathon all had one knockdown, which retained the lead for Chester Weber. Christoph Sandmann placed second in the international competition and Koos de Ronde third.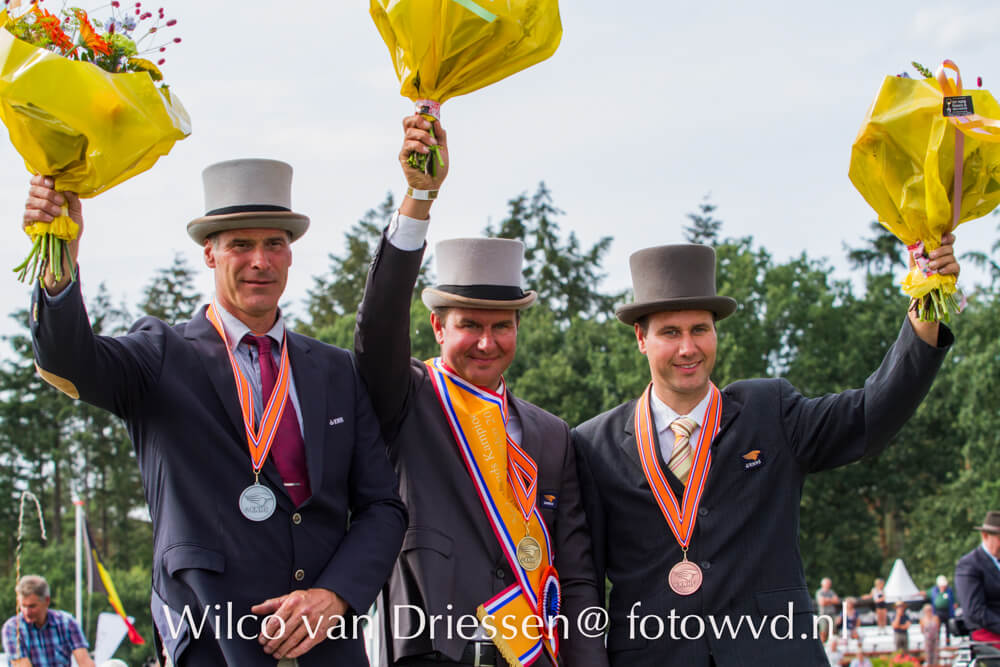 Photo:
Wilco van Driessen
Goed feeling
De Ronde was happy with his championship: "I wanted to use this competition as a preparation for Tryon. There was room for improvement in the dressage, but 44 penalty points was a good score. The marathon has been super all year, but I was not happy with how the cones went in Aachen. Today everything went much better, that one ball was not necessary, but I ended the show with a really good feeling overall."
This was the third time that Koos shared the podium with his brother Peter de Ronde. In 2003 (Tilburg) and 2015 (Beekbergen) it was silver for Koos and bronze for Peter. This year Mark Weusthof stepped between the brothers for the silver medal.
It was exactly 10 years ago the last time Weusthof won his last medal at a national championship. "It's about time!" joked Weusthof. "But I am happy. It was a shame that I got hung up in the last obstacle yesterday, and had a ball today. Those mistakes weren't necessary. For the championship it wouldn't have made much difference, but in the international competition I would have moved up a placing."
Höllo once again on top
Reigning World Champion Martin Hölle won the international pair division in Beekbergen for the second year in a row. The Hungarian took the lead in the dressage and ran with it – not even six penalty points in the cones could knock him down.
Antonie ter Harmes drove a strong clear cones, which moved him up in front of Claudio Fumagalli in second place. The young driver looked back happily on the competition: "Everything I really wanted this show worked out. This was the third competition with a new team and they are really starting to work together." With his eye on the 2019 World Pair Championships ter Harmsel will be traveling in September to Drebkau, Germany for his last competition of the season. This is the location for the World Championships next year.
Good preparations for the World Championships
Francisca den Elzen drove a double clear cones today and won the para-driving division. This was a super dry-run for the driver from Drouwenerveen for the World Para-Driving Championships which will take place 29 August in Kronenberg.
Click here for the strarting orders and results.