8 April 2020
An Introduction to the Hoefnet Team – Meike: 'Meeting your Facebook needs'
Next year will mark the 25th anniversary of Hoefnet. With more than 133,000 unique visitors per month, it has become one of the most popular combined-driving websites in the world. But who are the people behind Hoefnet? We would like to take this opportunity to introduce you to our staff, and this time it is our Facebook editor Meike.
Hoefnet's Facebook page
'I coordinate Hoefnet's Facebook page: a very fun and varied task that I take a great pleasure in doing. My tasks range from planning in news articles and other posts, to answering items sent in Messenger. I also keep an eye on our statistics and use that information to meet your viewing needs as much as possible.'
From Dressage to Driving
'Five years ago I met single driver Kelly Houtappels-Bruder. It was through her that I was introduced to combined driving and have been transformed from a dressage rider into a driving-fanatic. I groom for her in dressage, marathon and cones and over the last few years we have traveled to many different beautiful and fun competitions both here in the Netherlands and internationally.'
Diploma within reach
'I am currently in the last year of studying for my Equine Sports and Business degree. This is a course that is comparable to an Agriculture degree, but is completely focused on the equine sport. If all goes well, I should have my diploma before the summer. Before going off to school I competed actively in dressage competitions, but with my full course load and other responsibilities my riding has had to take a back seat for now. Perhaps I will once again have more time to pick it up in the future.'
We will keep you posted on all of the latest driving news. Stay tuned!
Read more Meike's Facebook page.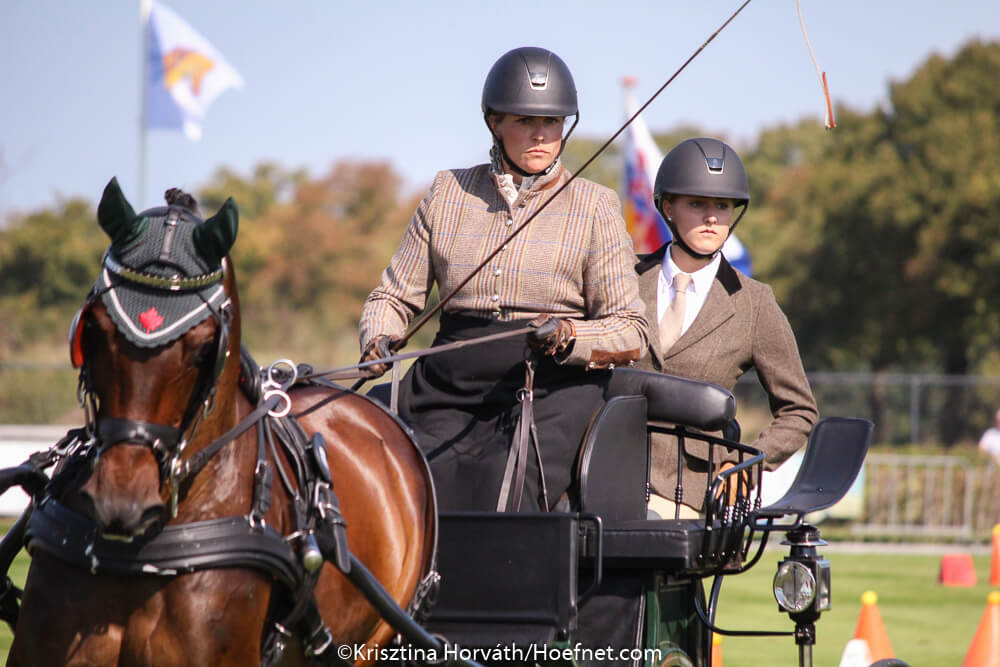 Meike is an indispensable member of Kelly's team
Photo:
Krisztina Horváth
Copyright reserved. Acquisition without acknowledgment and permission from info@hoefnet.nl is not allowed.