24 September 2022
WCH Pratoni Del Vivaro: Exell still leads, Brauchle stars in marathon
Australia's Boyd Exell drove a clever course to maintain his lead in the individual rankings, but it was Germany's Michael Brauchle who stole the show with a spectacular run in the Marathon today to rocket up from overnight ninth place to individual silver medal spot at the FEI Driving World Championship 2022 at Pratoni del Vivaro, Italy.
Just 6.04 points separate the leading pair going into tomorrow's final cones phase that will decide both the team and individual medals. And Brauchle's performance leaves his country on a running score of 314.85, just 3.27 points behind the nine-time team champions from The Netherlands who are in gold medal position tonight. Team Belgium is in bronze.
No surprise
The other drivers all expected Brauchle to pile on the pressure with a great run across the eight-obstacle course today and he certainly didn't disappoint. As Dutch star Koos de Ronde said this evening: "Michael is a very fast driver. His team is very fast, he has power, he's technically good, he has a lot of guts and like me he wants to go fast! I tried to catch him but in the end I missed, I think by 0.8 but I'm very happy!"
De Ronde was second-quickest of the day and that has moved him up from 14th to fifth place on the individual leaderboard behind USA's Chester Weber in fourth, The Netherlands' IJsbrand Chardon in bronze medal position and Brauchle who is in silver medal spot behind Exell at the head of affairs.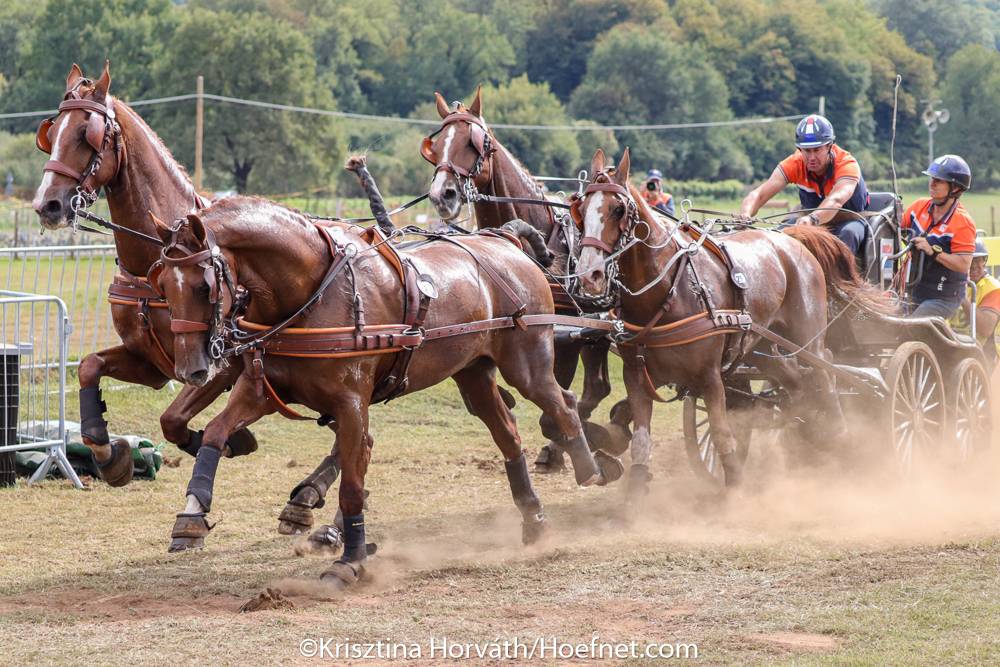 Koos de Ronde
Photo:
Krisztina Horváth
Physical
Today's test was hugely physical, many of the drivers admitting to exhaustion even when pleased with their results at the end of the day. Brauchle wisely opted for longer routes around the twisting track which allowed his horses to gallop faster without taking maximum risk, and it paid off handsomely.
"This year I won the Marathon at Windsor and Valkenswaard and that was good for me. I'm a young man and I have a lot of strength and my horses fight for me and with me. It's a big plus for me in the Marathon when my horses have fun, big fun!!", he said after clocking his score of 107.00. He was delighted with the performance of his team of horses.
"My right leader is Djamilo – we call him Jamie, and he's a brilliant Marathon horse. He knows his job, he's doing this for four years, I bought him as a young horse and we work together a lot of years and make a good team together and I think we put Germany in a good place now!", said the man who has won multiple world championship medals, but none of them gold.
Third place in the marathon went to Austria's Daniel Schneiders on a score of 111.36while Ijsbrand Chardon ensured Dutch dominance when posting 114.49, fractionally ahead of Belgium's Glenn Geerts on 114.51. Exell finished sixth today on 116.01, just ahead of Switzerland's Jerome Voutaz who led the way for much of the early part of the day.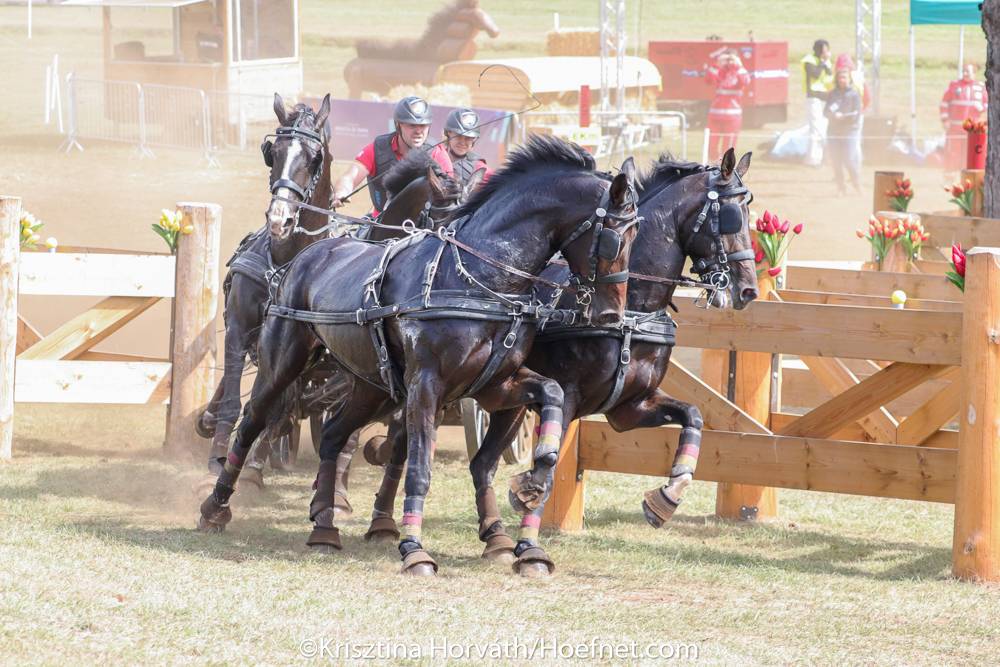 Michael Brauchle
Photo:
Krisztina Horváth
Cones
But today was all about Brauchle, and when he was asked this evening if he thought he could oust the man who has dominated the individual podium at the last five editions of the FEI World Driving Championship, Boyd Exell, from gold medal spot tomorrow the German didn't hesitate to reply "Yes!" with a look of real determination.
"We had good training in cones last weekend so I think we can do it, and we will fight! My horses fight for me and now I will go to the stables and say thank you very much to them!"
Tomorrow looks set to be a thrilling finale to a spectacular week of Driving sport, and the action begins at 12.30 local time.
Click here for the results and starting order of the cones