1 December 2019
Victory for IJsbrand Chardon in Budapest
After a thrilling battle between father and son IJsbrand and Bram Chardon in the FEI Driving World Cup™ competition in Budapest, Ijsbrand won for the first time this season. Bram finished in second place, ahead of home driver Jozsef Dobrovitz.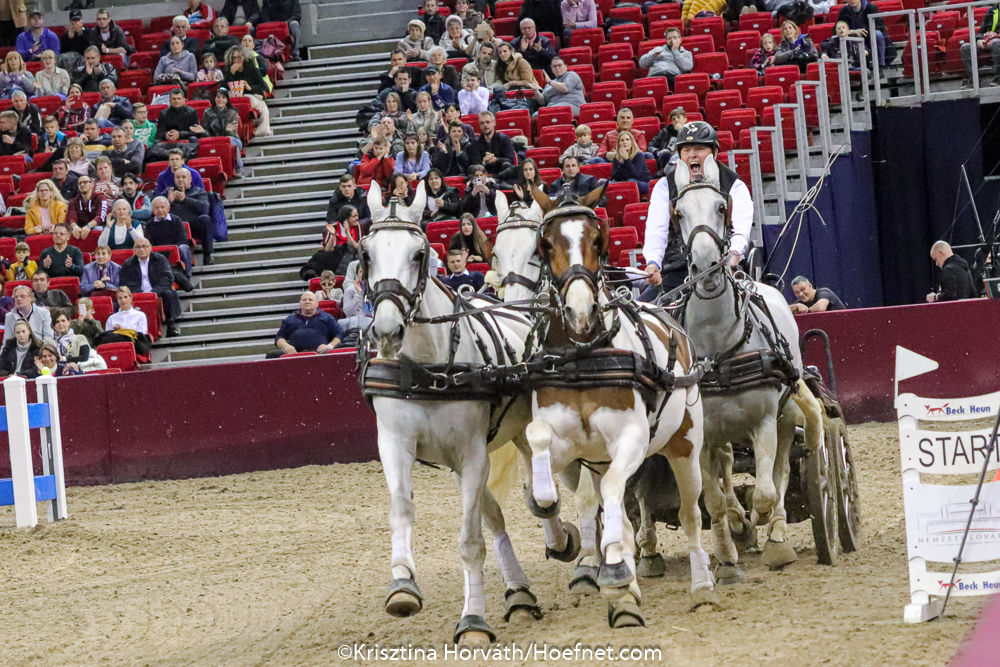 Photo:
Krisztina Horváth
The competition in Budapest became a neck-to-neck race between the Chardons who drove at their best and delivered beautiful sport. Jozsef Dobrovitz made one mistake in the Drive Off and herewith opened the competition since the three drivers started from zero again. IJsbrand drove his team very fast through the course, designed by the much-praised level 4 Course Designer Gábor Fintha from Hungary. Chardon senior was even two seconds faster than his time in the first round and he herewith put the pressure on his son. Bram had set the fastest time in the first round and was well underway to do the same in the Drive Off. Unfortunately, he knocked one ball down in the first marathon obstacle, after which he put the throttle on once more. He passed the finish line in the fastest time of the day but was just a fraction of a second slower than his father.
It is the third time that IJsbrand Chardon won the World Cup leg in Budapest. He also won in 2012 and 2013: "I have a very good team at this moment," explains Chardon. In Maastricht I drove Casper and Kendi in the lead and this turned out to be a very safe pair, so I decided not to change this. Bram has a very fast and fantastic team at this moment, after his unlucky ball he drove all or nothing and, in the end, I only beat him with 0,20 seconds!"
Jozsef Dobrovitz used Dreef Rezgö in the lead of his team. Dobrovitz sold this horse to Bram, who successfully used him in his indoor team during several seasons. Dobrovitz bought the horse back after he had a health issue and gave it new shoeing, which resulted in a comeback for the horse.
Jérôme Voutaz missed the qualification for the Drive Off by just one second and finished in fourth place, ahead of Chester Weber and wild card drivers Jozsef Dobrovitz junior and Jozsef Vida. The latter only started driving in March 2019 after he betted with Jozsef Dobrovitz during the World Cup in Budapest 2018 that he wanted to start in the World Cup in the Laszlo Papp Arena in 2019. He completed his first outdoor competition without problems and immediately qualified!
Results
Results FEI Driving World Cup™  Budapest 1 December 2019:
IJsbrand Chardon (NED) 134,11
Bram Chardon (NED) 134,31
Jozsef Dobrovitz (HUN) 142,49
Jérôme Voutaz (SUI) 144,62
Chester Weber (USA) 152,08
Jozsef Dobrovitz jr. (HUN) 163,59
Jozsef Vida (HUN) 201,54
Standings FEI Driving World Cup™ 2019/2020 after 5 out of 9 competitions:
1          Boyd EXELL                 AUS     30
2          IJsbrand CHARDON     NED     17
3          Bram CHARDON          NED     14
4          Koos DE RONDE         NED     13
4          József DOBROVITZ      GER     13
6          Glenn GEERTS             BEL      9
6          Chester WEBER           USA     9
8          Mareike HARM             GER     8
9          Benjamin AILLAUD       FRA     7
10        Jérôme VOUTAZ          SUI      5
Click here for the full results.