6 August 2017
Wierden: Third National title for Saskia Siebers
Saskia Siebers was crowned Dutch Champion for the third year in a row this afternoon in Wierden. Silver went to Rudolf Pestman and Frank van der Doelen took home the bronze.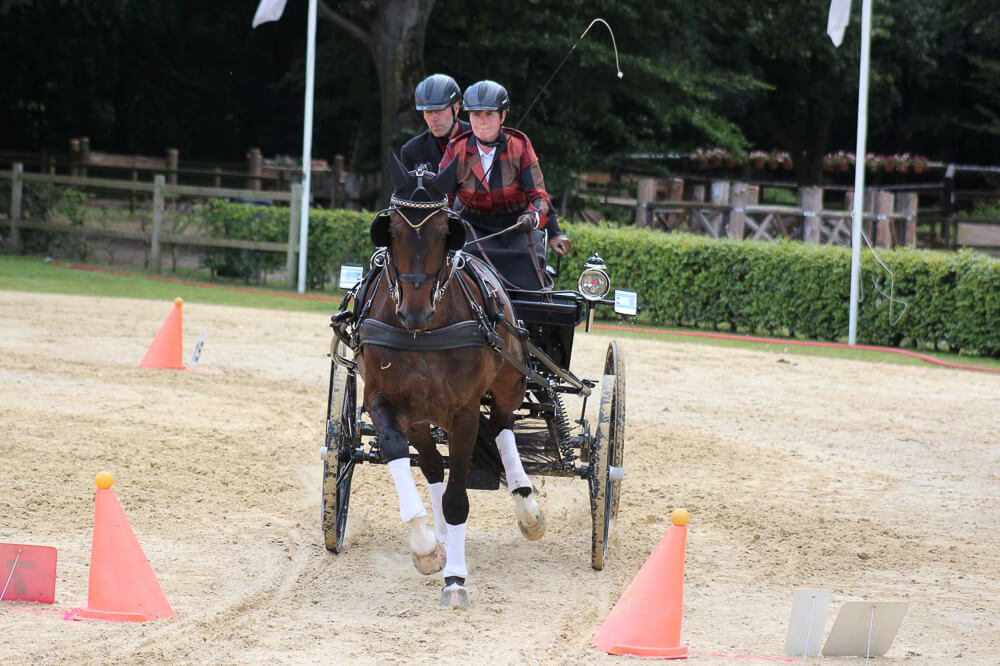 Photo:
Inge Tijhof
The closing cones course driven in sand ring at the Vossenbos Manege in Wierden was exciting right up until the last drive. International course designer Arjan Kleinjan designed a good course, which at first looked simple, but like the marathon obstacles yesterday, proved to be much more difficult than anticipated. The time was difficult to make and as such there was a lot of movement up and down the scoreboard in the final results.
Defending champion Siebers had a bit of breathing room after Rudolf Pestman knocked off one ball and had time penalties. Driving a quick round with only one ball, Saskia was only one of two competitors to finish within the given time.
Saskia was extremely happy with her title: "I was happy with my dressage, I drove for the first time with a new bit which lets him move better through his body. This worked really well, and he was much more relaxed," tells Saskia. "In the marathon I usually have to drive aggressively to make up points, but now I had to drive defensively. That was certainly a different experience, but a good one to have. In the cones we were on the offensive and Axel was awesome. I was planning on driving everything at a trot, and I'm happy I stuck to that plan. Axel has a strong fast trot and we were able to finish within the allotted time. It wasn't until I was over the finish that I heard that I had a ball, I had no idea!"
Rudolf Pestman, after finishing third in the dressage and eighth in the marathon managed to hold on to his second place finish after the cones. Frank van der Doelen has only had his horse Sterre for a few months, but his outstanding win in the cones, with only 1,98 for time faults helped move him up to a third place finish.