14 May 2019
Windsor 2019: First edition of Extreme Driving very well received
The Royal Windsor Horse Show rounded off the show in the main arena Sunday afternoon with the first edition of the spectacular Extreme Driving competition. Six top four-in-hand drivers brought their indoor teams with them to England especially for this event where they competed in front of Her Majesty Queen Elizabeth II and a large and enthusiastic crowd of spectators. The division was added to the show program thanks to the support of Karen and Hugh Scott-Barrett.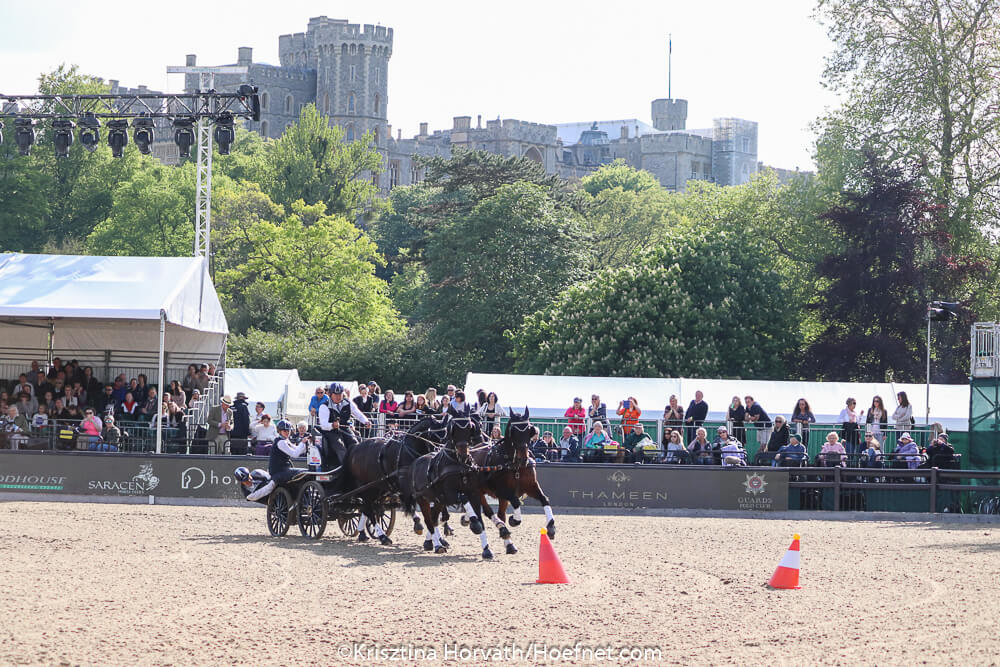 Boyd Exell was the only driver to drive two clear rounds and as a result won the first edition of 'outdoor Extreme Driving' in Windsor
Photo:
Krisztina Horváth
Windsor's course designer Johan Jacobs set out a good and fast course in the large Castle Arena, which included the new bridge that was built this past December for the Nations Cup in London Olympia. This new division was driven according to the World Cup rules, so the best three drivers of the first round entered the drive off with a clean score board.
Boyd Exell was the winner of this first edition, beating out World Cup Champion Bram Chardon, Koos de Ronde, IJsbrand Chardon, Glenn Geerts and Daniel Naprous.
The organization was very happy with the edition of this popular event which attracted a large number of spectators and potential sponsors.