12 May 2019
Windsor 2019: Exell clocks up tenth title
Bathed in bright sunshine the final cones phase of the Land Rover International Driving Grand Prix was not without its changes of fortunes. In the horse fours, this began when serially successful Dutch driver, Ijsbrand Chardon posted the first double clear of the horse fours class, putting pressure on the five drivers ahead of him. In third place, his fellow countryman, Koos de Ronde, winner of yesterday's marathon, kept a cool head and collected the only other double clear to secure his position in the top three.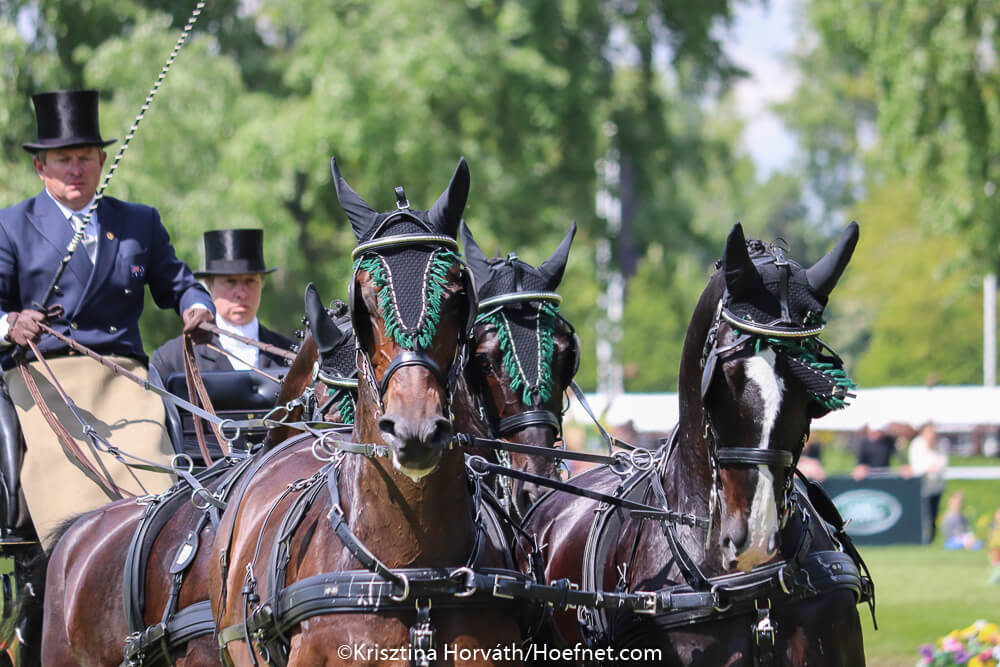 Photo:
Krisztina Horváth
Lying second, expectations on Ijsbrand Chardon's son, Bram – 2019 World Cup Champion – were high but he unexpectedly clipped the marker to cones 19 as he made a turn earlier in the course. For this he collected 3-penalties and a 10-sec handicap which dropped him behind de Ronde.
With 9-penalty points in hand, Boyd Exell from Australia drove a measured round, uncharacteristically knocking down two cones and collecting time faults. His final score, however, was sufficient to secure him his tenth title at Royal Windsor.
"It has been a hard-working few days," Boyd remarked. "However, I'm very pleased with the new six-year-old in the team; he did all three phases and this is only his second competition. This was his first cones course."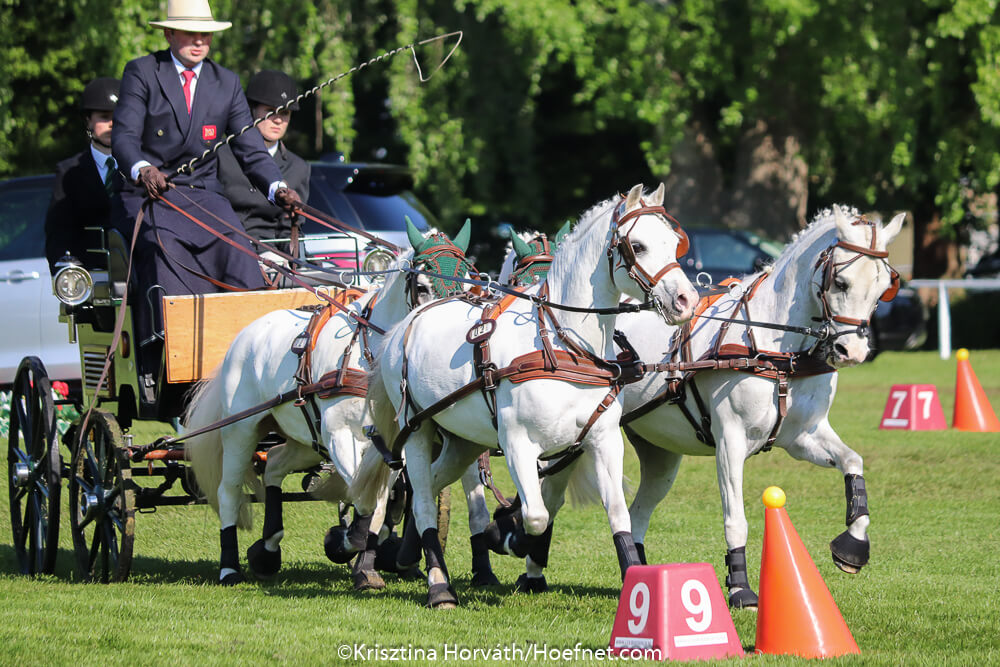 Photo:
Krisztina Horváth
The first class of the day, pony fours, saw a dramatic change in the order. Lying fourth GB's Roger Campbell delivered a double clear with his grey Sections As and B. The two competitors ahead of him at this time – Jaqueline Walter from Germany and Tinne Bax from Belgium – both made mistakes, dropping them behind Campbell. In first place, Jan de Boer, from the Netherlands, looking for his eighth win here, had 15+ penalties in hand at this stage. Sadly it proved not enough and a difficult round for him and his Welsh ponies saw him drop behind Roger by less than 1-penalty point. This gave GB their first pony fours win since 2000.
"My overwhelming emotion at the moment is surprise!" Campbell remarked, "I wouldn't say the weekend went entirely to plan – I had a few problems in the dressage and then made some rein-handling mistakes in the marathon. Today, however, was excellent."
This was GB's first win in pony fours for a number of years, but sadly Campbell, who is based in Germany, is unlikely to compete on home turf for the rest of the season, planning to attend events in Germany, Austria and Czech Republic.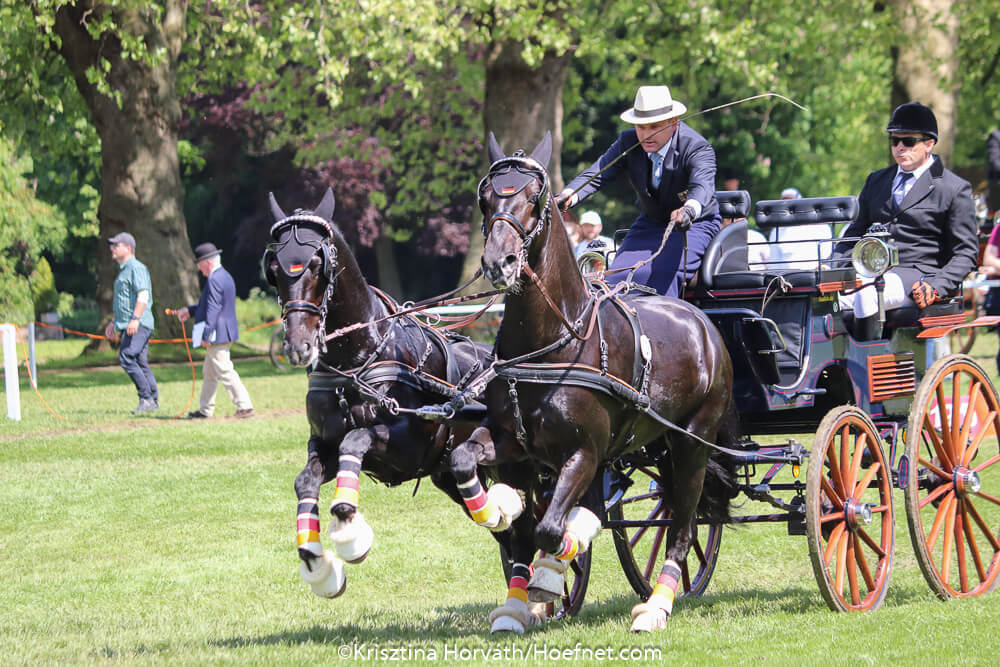 Photo:
Krisztina Horváth
Double clear rounds eluded all horse pair competitors with Germany claiming first and second place. Overnight leader, Sandro Koalick, competing here for the first time, retained his top spot with his young Dutch warmbloods. At seven and eight years old, it is the first international season for one of them and the second for the other. His fellow countryman, 2017 winner here, Lars Schwitte moved up to second place ahead of France's Franck Grimonprez.
In the Nations competition the Netherlands increased their lead to retain first place well clear of France, who moved ahead of third placed Belgium. Just 3-penalty points separated these two.
Extreme Driving premiered at Royal Windsor Horse Show for the first time bringing the thrill of the World Cup indoor competition to the crowds round the Castle Arena. Six international four-in-hand drivers did battle under the bright sun, the competition following the indoor format. Once again, it was the Australian maestro – Boyd Exell whose pace was as blistering as the sunshine – who won the competition from Bram Chardon and Koos de Ronde.