10 May 2019
Windsor 2019: Close contest in Horse Pair Dressage
It was the turn of the horse pairs to compete in the dressage phase of the Land Rover International Driving Grand Prix today and their competition is considerably more closely contested than the horse fours. The first three placed competitors are separated by less than 1 penalty point.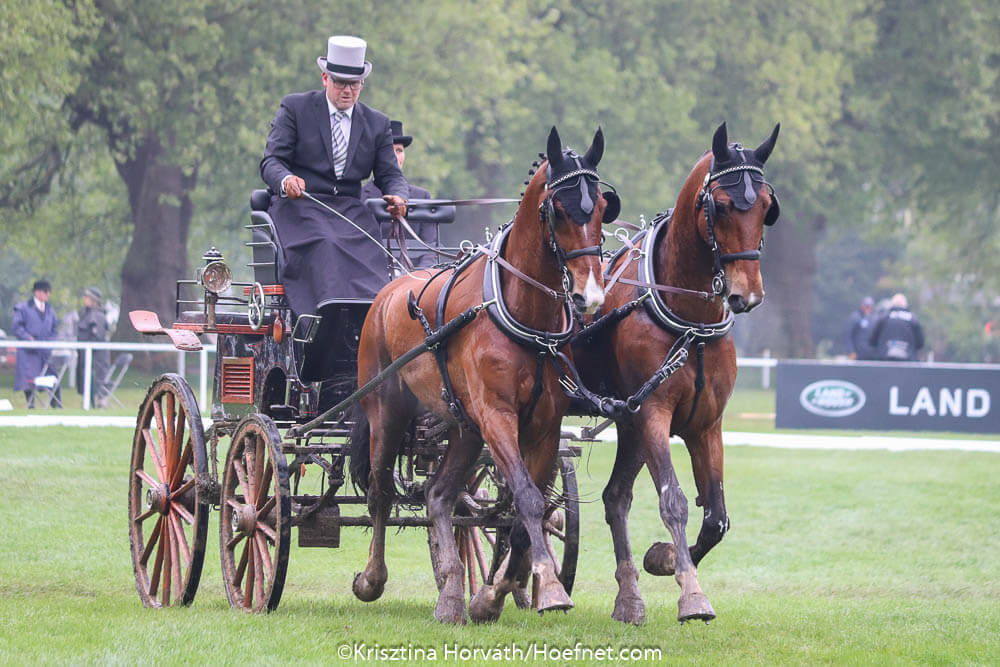 Lars Schwitte
Photo:
Krisztina Horváth
Leading the field at the moment is Lars Schwitte from Germany, Together with his KWPN horses, he first competed here in 2017 when, having won the dressage, he went on to win the competition. He was again the winner of the dressage phase last year but dropped to fourth overall in the final result.
Schwitte's good score of 44.32 is under attack from Argentina's Baroness Amely von Buchholtz, long term competitor here, who is just 0.1 penalties behind in second place. She also drives KWPN horses and is another who traditionally scores well in dressage.
Third place currently is occupied by first time competitor in Windsor, Sandro Koalick also from Germany and also a driver of Dutch-bred horses. He is the organiser of this year's World Horse Pairs Championship which will take place in Drebkau in Germany in September.
Commenting at the end of this phase, Head Judge, Andrew Counsell, said, "The competition was much closer than in the horse fours with a good range of talented horses. However, a number are not yet supple resulting in tension at times and a failure to work together as a pair."
The three top competitors lead a field of 19, a number of the others offering a close challenge. Thus there is all to drive for in tomorrow's marathon which features eight gated obstacles through which competitors are timed. Two of these are completely new constructions to Royal Windsor this year.
Click here for the starting orders and results
Source: Royal Windsor Horse Show