16 September 2022
World Single Driving Championships, Le Pin au Haras: France in the lead after dressage
After a wonderful second day of dressage, the French lead the standings at the World Single Driving Championships. Marion Vignaud drove the winning test this and put her country in the lead in the Nations Cup classification. The Netherlands is second after excellent performances by Saskia Siebers and Eline Houterman.
The Frenchwoman sent her horse First Quality to 39.32 penalty points and was the only combination that remained under 40 penalty points. Her horse went nicely, carried in the collection, and jumped nicely off the ground in the canter parts. With the beautiful scores of Marion Vignaud and Fabrice Martin, the French have taken a huge lead over the other countries and have a solid foundation for their golden ambition. Marion Vignaud: "I am very happy with my test. I was a bit tense because First Quality was a bit tamer than usual, but in the end he was very attentive. I have really enjoyed it!" She says about the marathon: "We will have a technical and long course that requires a lot of effort. The difference in height in the A-section and 8 obstacles in the B-phase are both things that we have experienced very little in the past season. It really comes down to it tomorrow, the course is tough and technical. There are tight turns and in the perfect lines there is always a tricky element. And of course we have to leave the more than 120 balls up. My horse is ready. It's up to me to steer him well and to not make mistakes."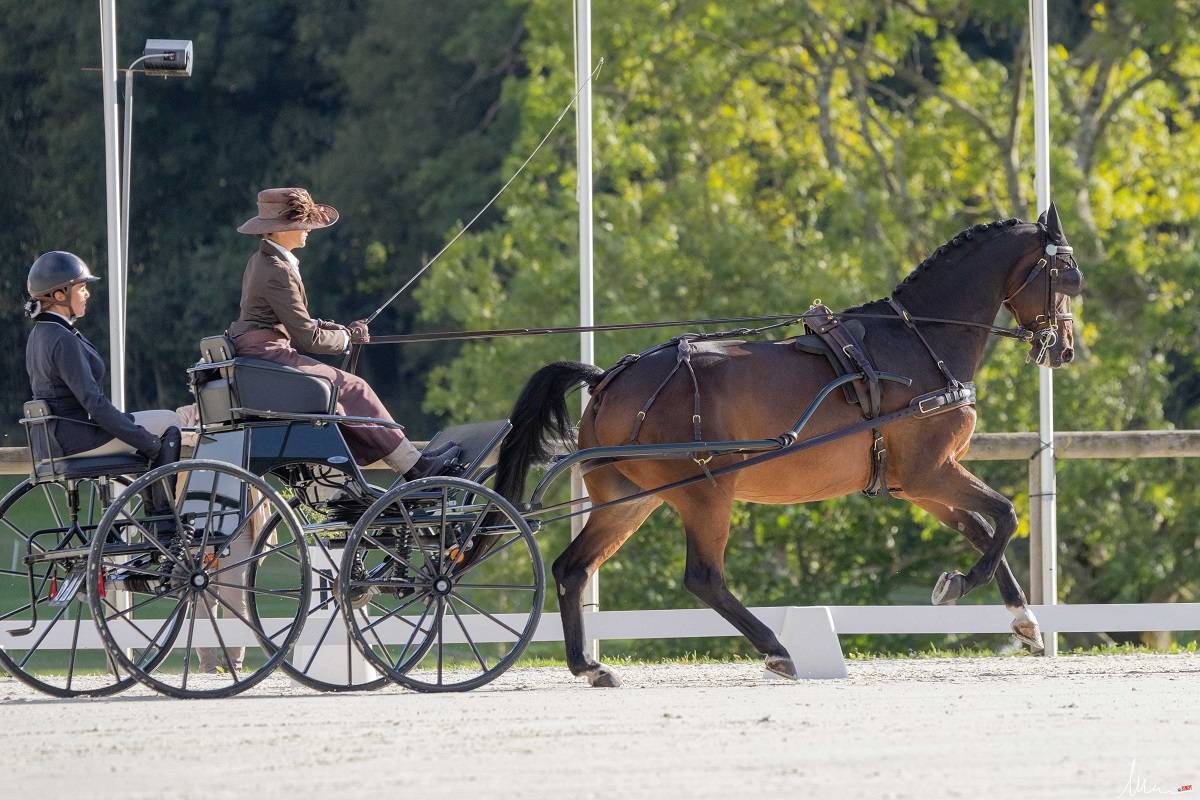 The winner of the Dressage, Marion Vignaud was the only one to have a score below 40
Photo:
Melanie Guillamot
Maximum performance
Eline Houterman was the first to start with Flow this morning. She drove a steady test with a nice canter section. Both she and her trainer Kelly Houtappels were very satisfied. Her performance was rewarded with 57.10 penalty points and with that she is 14th in the individual classification. "I'm very happy," she beams. "Everything we worked on with the training came out now. I couldn't have asked for more than what I've done in dressage now. I stuck to our plan and it worked out." Fino Uno Toltien, known as Flow, was previously driven by her sister Anouk. But when she got into a fight with him, Eline took over the reins in 2018. "It has been the best choice ever to let Eline drive it", says Anouk. "In December I started training with Flow at Kelly Houtappels", says Eline. "We set a goal for each competition and if that was achieved, we moved on to the next. Thanks to Kelly I have made great improvements with this horse. Since I knew I could go to the World Championship, I've been going to her to train every week and she has helped me here too. We have come a long way and this is only my 5th international competition with this horse. I think I have only driven 10 dressage tests with him." The marathon is Flow's strongest part. "I plan to make the most of it tomorrow, but I don't know yet what he's doing on the false flat we have here. I will be attacking because he can do it and luckily he is able to recover well between the obstacles."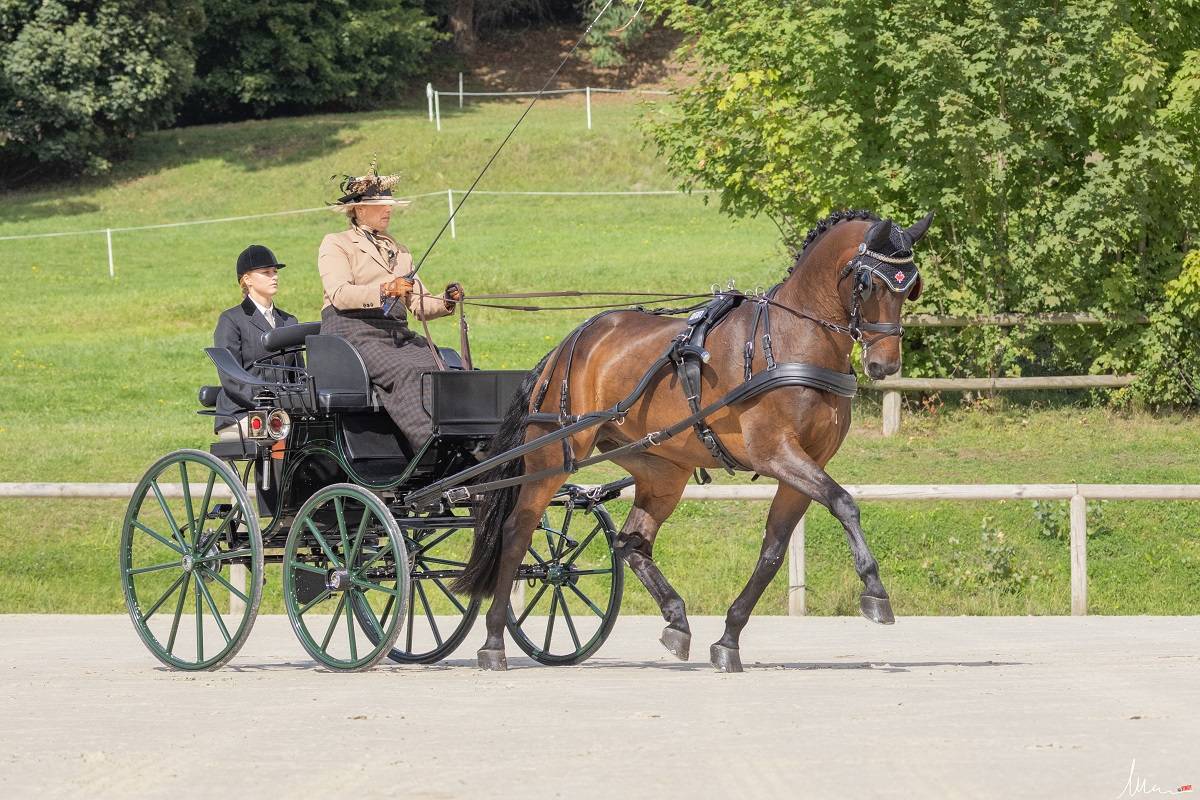 Kelly Houtappels drove a brilliant test
Photo:
Melanie Guillamot
Smiling
Kelly Houtappels led the standings for quite some time today, but eventually became 2nd. The 'Dutch' Canadian drove a beautiful test with Flip. The horse danced through the arena and gave many spectators goosebumps. In the collection he sat nicely, on the center line and on the long sides he was dead straight. She accumulated 41.59 penalty points. "It was just amazing," she says. "For the first time I drove with a smile in the test. I've never been able to halt so beautifully. Everything was right and Flip was also enjoying it." It is now the 4th World Cup for 14-year-old Flip. "He has shown a better test every World Championship. Here it was difficult to know how much you could do in advance in the warm-up because the arena footing was quite heavy." After her super dressage test, Kelly is ready for the marathon. "The obstacles are really nice, but I have to drive smart and above all, not have any knockdowns."
Pre-signed for
The best Dutch result was for Saskia Siebers with Axel. The combination showed a beautiful constant image with an excellent canter section. "It was stable and I was able to finish everything super. I had signed up for this in advance," says the defending champion. "Tomorrow I'm going to attack and I'm going to give it everything we have." Saskia is 4th with 43.85 . The difference with 3rd placed Fabrice Martin, who scored 43.78 is minimal. His horse behaved nicely and showed a very good walk. Martin has a home competition because his horse Lanzaro IFCE belongs to the state stud.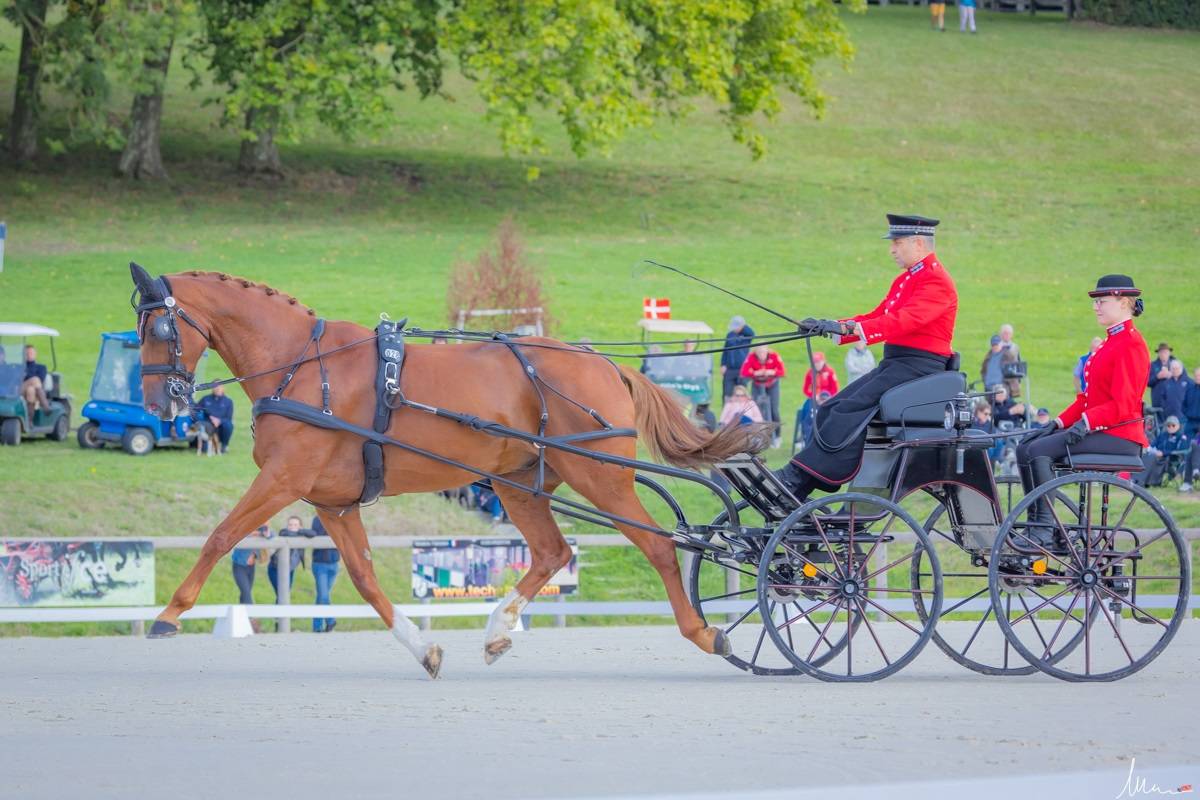 Fabrice Martin on home soil
Photo:
Melanie Guillamot
Marathon tomorrow
The 8 obstacles in the marathon are made up of mobile elements and therefore all equipped with balls, 128 in  total. Because the obstacles are slightly oblique and the B-section keeps going up and down, the marathon will take a lot of strength. The hurdles are not easy and each has different difficulties. The marathon will start tomorrow at 9:30 am. For the starting order a draw has taken place. This is therefore not in reverse order of the ranking.
Click here for the results and other information.
Click here for the live stream.
Copyright reserved. Acquisition without acknowledgment and permission from [email protected] is not allowed.