12 September 2021
World Championship Pairs Kronenberg: Success and disappointment on an exciting final day
On the last day of the World Pair Driving Championships the drivers faced a selective course. The tough course that Jeroen Houterman had devised revealed who had the best obedience horses.
No one managed to drive clear and within the time limit. The Hungarian Gyorgy Fekete won the final part. He drove very efficiently and was very lucky on gates 5C and D which he almost hit. Thanks to the better 'magic work' he managed to leave all the balls on top. He only received 0.92 penalty points for exceeding the time. This good result also counted for the Hungarian team that took the lead in the country classification after the marathon.
In time
The Hungarians are usually good in cones driving. They proved it once again in championship, because Fekete's compatriot Tibor Nagy (not driving for the team) finished second with only time errors. Stan van Eijk was not so much looking forward to the cones yesterday. He had to do it without Zorac again today. The little fanatic Jones had to work with dressage horse Deniro. But Stan had taken a good look at all the difficult lines beforehand and delivered an unprecedented performance. He rode on the edge. In all the tricky turns, he turned as short as possible and proved that it was indeed possible to drive within the time limit. He even had 5 seconds left! He only got a ball down on gate 4 did a ball, what brought his total to 3 penalty points. He was 3rd in the cones and finished in 6th place individually. "Too bad about that little ball," he says. "I am happy with the result. Of course I hoped that things would have turned out differently, but it's okay."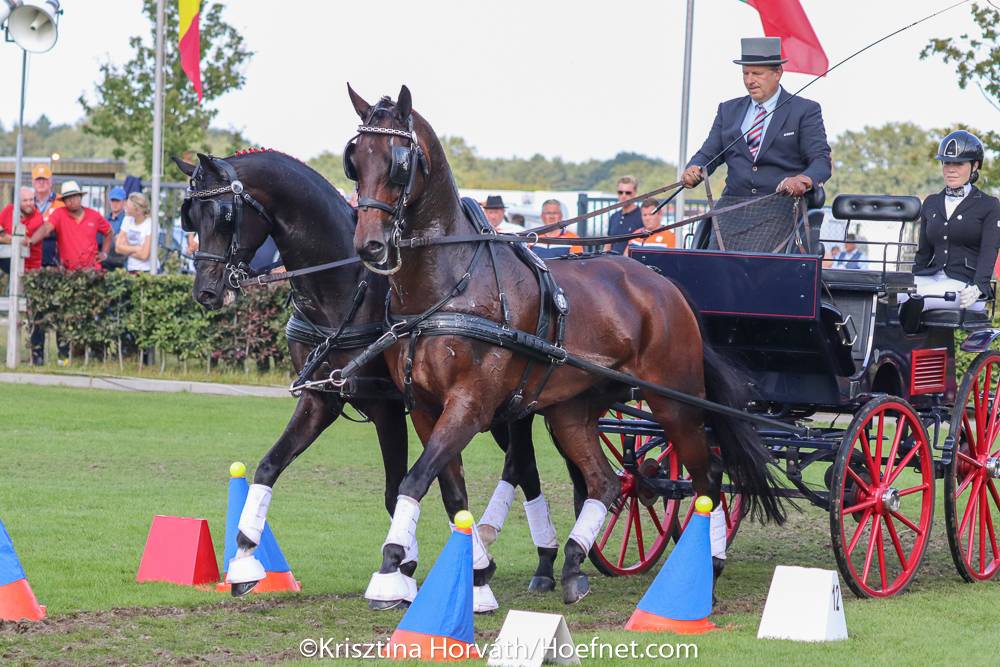 Theo Timmerman
Photo:
Krisztina Horváth
Team medal for The Netherlands
The Dutch did a good job in the difficult course. Team rider Antonie ter Harmsel got one ball down on gate 17 and was a fraction too late. His result and that of Stan made that the Netherlands reached the podium. For the German drivers it was a matter of 'survival' in the course. Marco Freund's horses were not forward enough and it was a miracle that all the balls stayed on top. He came in much too late and received 8.48 penalty points.
Anna Sandmann had less trouble, also left everything behind and got 5.44 for time. She rose in the standings and won bronze. That was at the expense of her compatriot Sandro Koalic. After dressage and marathon, Koalic was silver, but in the skill test he made a mistake and finished with 15 penalty points. He fell off the podium and finished fourth. Little consolation was the silver team medal for the German team of which he was also part of.
Third time in a row
Franck Grimonprez his horses were in good shape again. With 4.85 (1 ball and a little time) the Frenchman managed to move up one place and was overjoyed with his silver medal.
Last starter Martin Hölle had a big lead. He seemed to be heading for a flawless ride, but a ball rolled on gate 19. He then unluckily hit gate 20, hitting it hard and not quite making the time. But he could easily afford those mistakes.  Joy and relief at the world champion: "It took all my concentration, but it worked. It's incredible to win for the third time in a row. My horses did their very best, they really are the best horses in the world. I am so grateful to them. And I am very happy that we are world champions again with the team."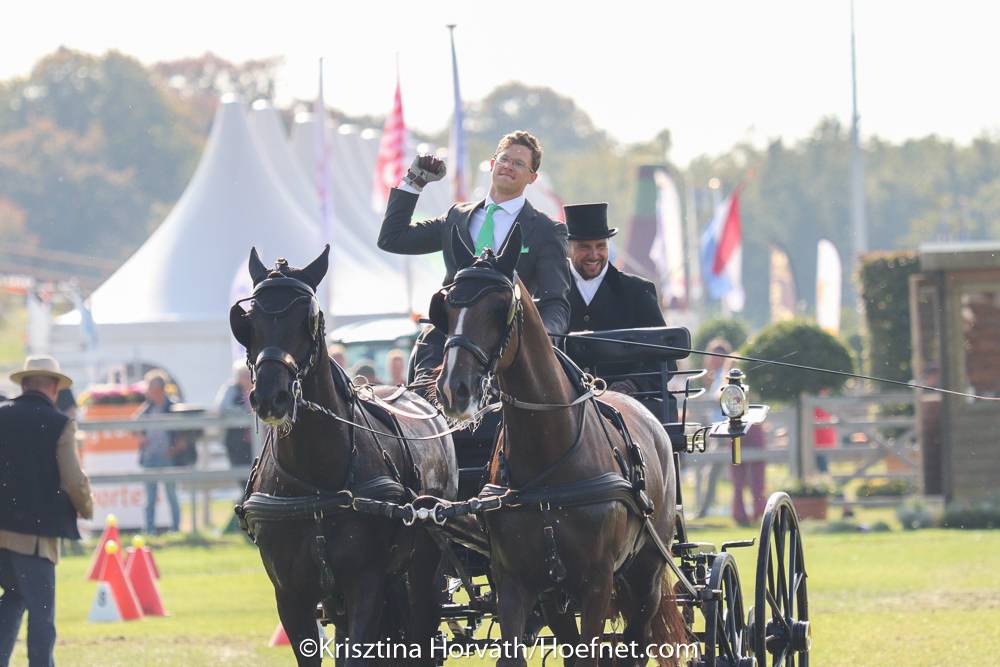 Martin Hölle
Photo:
Krisztina Horváth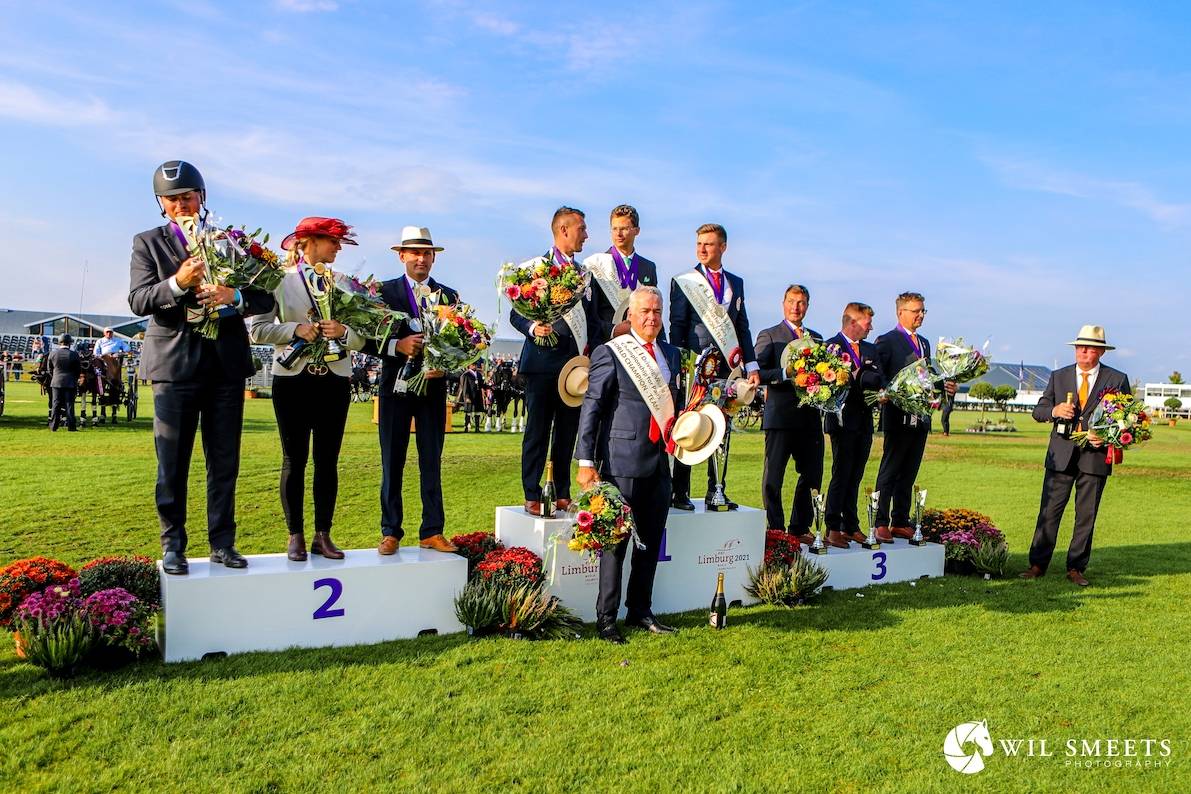 The podium from the nations competition
Photo:
Wil Smeets
Copyright reserved. Acquisition without acknowledgment and permission from [email protected] is not allowed.