18 June 2020
2020 World Championships for Four-in-hands may still happen in Valkenswaard
The organization behind Driving Valkenswaard International is looking into the possibility of organizing a World Championships for Four-in-hand Horses this year. The grounds of Exell Equestrian in Klein Schaft (Valkenswaard) would be a perfect venue, but at the moment nothing is confirmed.

Not yet 100% sure
'It is certainly not a done deal,' tells member of the organization committee and host Boyd Exell. 'Our proposal is currently being reviewed by the KNHS and will go from there to the FEI. We are also waiting on the township of Valkenswaard to give permission for the event to take place. In addition we have asked the FEI to consider a number of provisions, such as lifting the cap on the number of competitors per country and permission to broadcast the entire event live online.'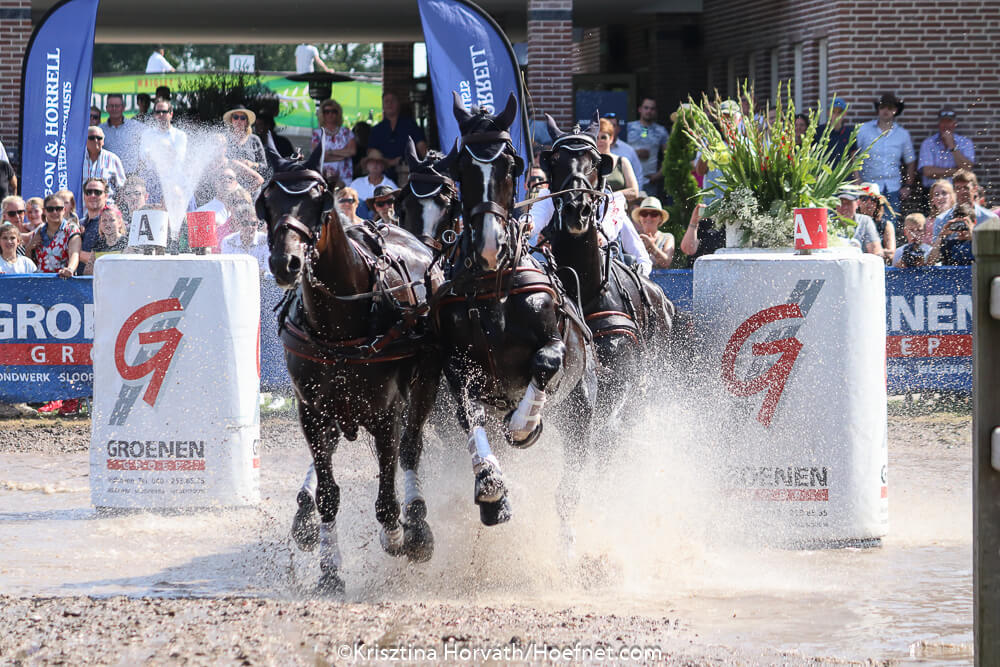 Photo:
Krisztina Horváth
For the sport
'After it was announced that the World Championships for Four-in-hand horses would not take place in Kronenberg this September, there were many drivers, sponsors and friends who approached us if there was 'anything' we could do. If we can pull it off, then we are organizing this championship just for the good of the sport. As of right now it looks like it will be without spectators, unless the restrictions around the corona virus are eased before then. It would just be a shame if we have to wait four more years before the next World Championship,' tells the five-time World Champion.
A boost for the entire driving sport
Through organizing the World Championships the organization of the DVI hopes to give the entire driving sport a boost. The past few months the entire sector; horse sales, harness, carriages and accessories and instruction has been in a slump and a World Championship on the horizon will hopefully breath some new life into the sport. Other competitions will also benefit from a World Championship on the calendar, and the team drivers will hopefully be able to prepare themselves sufficiently.
It is not yet known when the definite decision will be made if the World Championships in Valkenswaard will be able to take place from 7-11 October. As soon as it is announced, you will read it on Hoefnet.
Copyright reserved. Acquisition without acknowledgment and permission from info@hoefnet.nl is not allowed.