11 October 2021
World Championships for young horses: start to finish winners in all categories
The World Championships for young driving horses was held this year in Szilvásvárad, Hungary where the winners led all categories start to finish.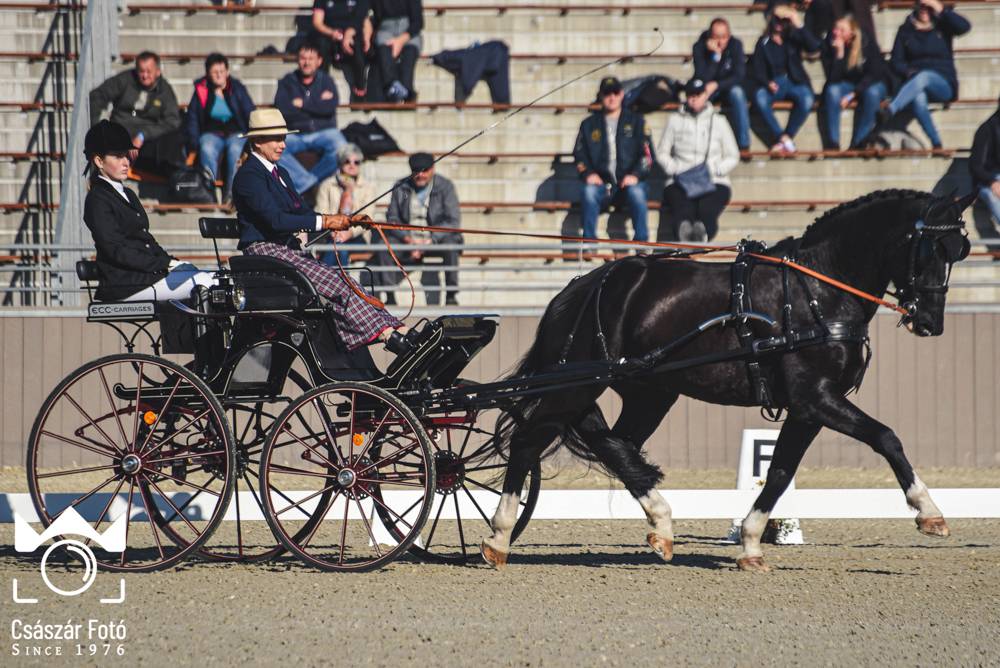 Roncewal with Weronika Kwiatek
Photo:
Császár Foto
Seven year-olds
In the impressive equestrian centre in Szilvásvárad the qualification test for the seven year-old horses was driven under the lights on Wednesday evening. The judges panel consisting of Dr. Klaus Christ, Pia Skar, Anne-Marie Turbé and Bert Jambon were immediately impressed by Roncewal, a gelding driven by Polish driver Weronika Kwiatek. The Hannovarian mare Candy Noir with German driver Martin Stötzer finished second.
In the dressage finale Roncewal was once again superior, though his lead over the rest of the class was substantially smaller. The Swiss bred stallion Nitard du Mecolis, driven by Mario Gandolfo climbed to second place followed in third by the Saksisch-Thüringse heavy warmblood horse Elsass (Elitär x Elkana) driven by Martin Stötzer.
Once again in the closing combined cones and marathon test Roncewal and Weronika Kwiatek were dominant not giving up any points to Nitard du Mecolis and Mario Gandolfo who finished in second with a strong performance. The bronze medal went to the KWPN gelding Jelviro with the Norwegian driver Maria Hendriksson.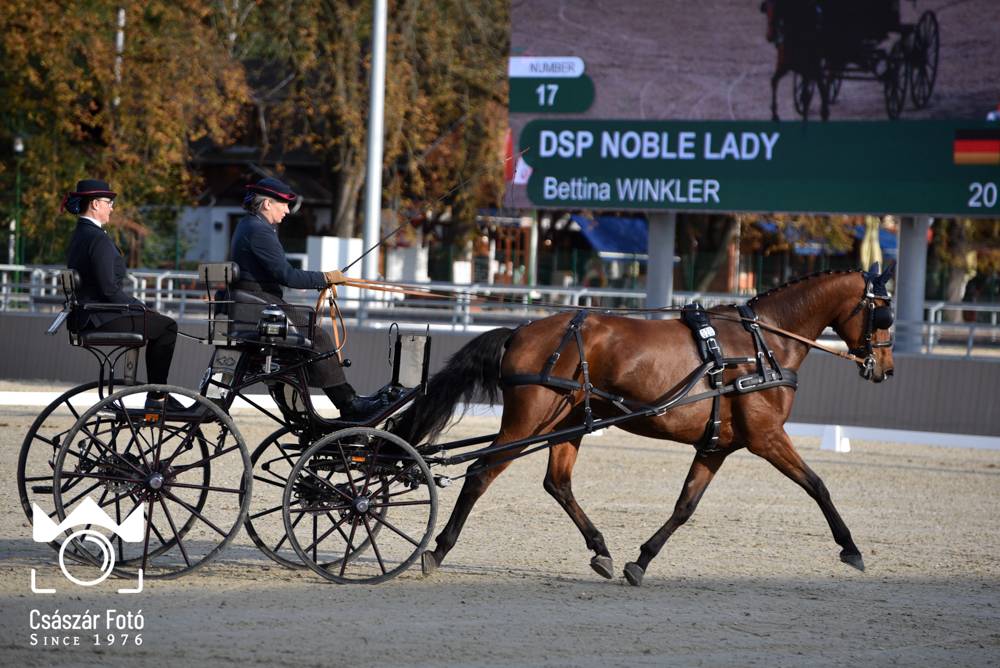 DPS Noble Lady with Bettina Winkler
Photo:
Császár Foto
Six year-olds
In the six year-old category the mare DSP Noble Lady (Feiner Fürst x Nebraska) continued her winning streak after becoming Bundeschampionat in August. She established a substantial lead after the first test driven by Bettina Winkler (GER). Her countrywoman Jessica Wächter finished second with the STSW Stallion Eckstern (Eckstein x Stine).
DSP Noble Lady continued her winning ways in both of the finale tests winning both the dressage and mini marathon. The World Championship title was not challenged in the slightest. Eckstern and Jessica Wächter finished with the silver medal and Weronika Kwiatek and the Silisan stallion Tokaj-S finished with the bronze medal.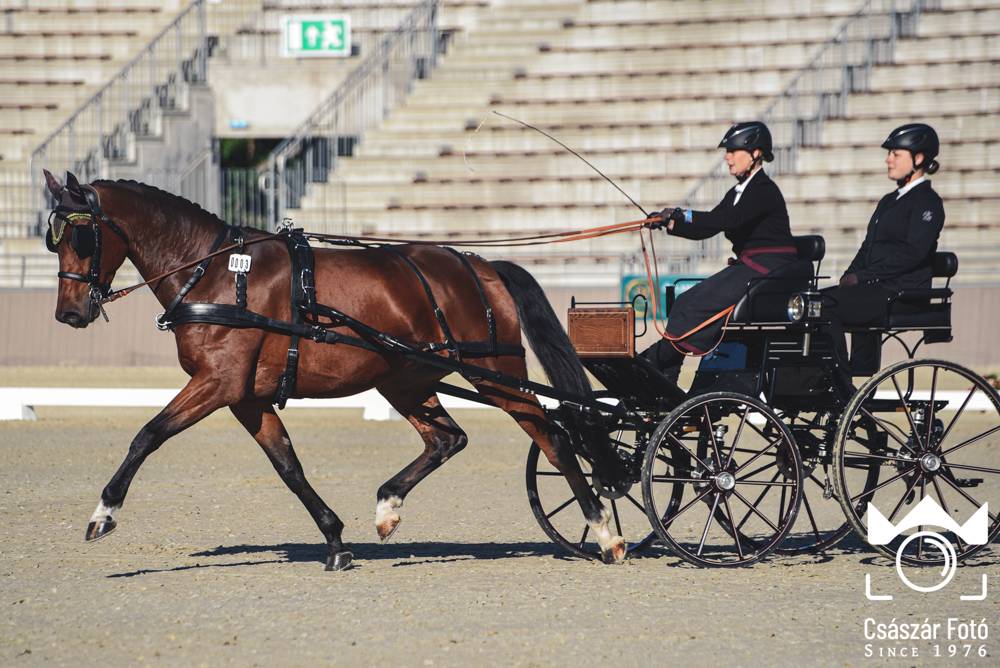 Dream Catcher 19 with Jessica Wächter
Photo:
Császár Foto
Five year-olds
In the youngest category, the five year-olds the winning Hannovarian gelding Dream Catcher 19 (De Niro x Emarla) driven by Jessica Wächter stood head and shoulders above the other competitors. The 2021 Bundeschampion bred by the resently passed Rudolf Temporini earned scores in all movements well above an 8 proving he was a class apart.
After earning a spot in the finale, the STSW stallion Velkan (Veit x Gina) driven by Csaba Begányi (HUN) finished second in the dressage finale. Despite a challenging mini marathon his silver medal was safe and the Freiberger Henjie driven by Mario Gandolfo moved up to bronze after a strong cones and marathon test.
Copyright reserved. Acquisition without acknowledgment and permission from [email protected] is not allowed.