6 april 2015
Ermelo: Mooie seizoensopener
Vandaag stond het Nationaal Hippisch Centrum in Ermelo in het teken van de afsluitende vaardigheidsproef. In verband met het grote aantal deelnemers had de organisatie gezorgd voor twee ringen in de mooie zandpiste op het hoofdterrein, waardoor de wedstrijd vlot en efficiënt verliep.
De Britse menner Roger Campbell had na de dressuur en de marathon een mooie voorsprong opgebouwd op Ewoud Boom en rondde de wedstrijd af met een foutloze vaardigheid. Vaardigheidswinnaar Boom bleef tweede, voor de Belg Johan Nijs en Dirk Neerincx.
Voor de vierspan pony's bleek de vaardigheid behoorlijk selectief te zijn. Tinne Bax uit België stond nipt voor op Jannes Kinds maar wist haar leiding te behouden. Kinds eindigde op een verdiende tweede plaats, voor de Belg Nathan Nijs. Aart van de Kamp jr. werd met twee afgeworpen balletjes de winnaar van de vaardigheid en behield zijn vijfde plaats.
Nederlands kampioene Marissa Schuiling, de oudere zus van Anniek, bleef mooi foutloos en stelde hiermee haar overwinning zeker. Tamara Pijl eindigde als tweede, voor de Brit Robert Buck en Yvonne de Ruyter. De Duitser Patrick Hanisch schreef de vaardigheid op zijn naam.
Bij de enkelspannen behield Wilbrord van den Broek zijn koppositie met een foutloze omloop. Saskia Siebers presteerde het hele weekend al sterk en sloot de wedstrijd in Ermelo af met een mooie tweede plaats. Internationaal debutante Milou Huisman won de vaardigheid en schoof een plaatsje op nadat naaste concurrente Eline Houterman een foutje maakte en er een balletje afreed. De jonge Anniek Schuiling debuteerde eveneens zeer sterk internationaal en eindigde als vijfde in het 29 deelnemers tellende veld.
Leider in het tusenklassement Edouard Simonet uit België gaf de overwinning uit handen door ruim 17 strafpunten te laten noteren. De Duitse Mareike Harm schoof hierdoor op naar de eerste plaats in het klassement., voor Glenn Geerts, die de vaardigheid won. Harry Streutker was met de vierde plaats de beste Nederlander. Internationaal debutant Rob Lommers eindigde op de zevende plaats.
Leider in het tussenklassement Antonie ter Harmsel liep ruim 15 strafpunten op in de vaardigheid van internationaal parcoursbouwer Daan van Dijk en zakte naar de zesde plaats. De als derde geplaatste Tristan Verheijen liet slechts één balletje rollen en werd rubriekswinnaar. Ben Gosschalk maakte zijn internationale rentree met verve en werd na de overwinning in zijn favoriete onderdeel de marathon, tweede in het eindklassement. De Belg Christof Devlieghere won dit laatste onderdeel van de wedstrijd.
For the four-in-hand ponies the cones course seemed to be selective. Tinne Bax from Belgium was on the first place closely followed by Jannes Kinds (NED), but she managed to keep her first position. Kinds took the well-deserved second place ahead of Belgian driver Nathan Nijs. Aart van de Kamp jr. (NED) was the best today in cones with two knock downs and stayed fifth after three days.
In the single horse class, Wilbrord van den Broek (NED) showed consistency in all phases and ensured his victory by staying clear in cones as well. Saskia Siebers (NED) performed well during the weekend and finished the competition in Ermelo with a nice second place. Milou Huisman (NED), who made her international debut this weekend, won the obstacle driving competition and came up a position after Eline Houterman (NED) knocked a ball down and dropped to the fourth place in the overall ranking. Young Dutch driver, Anniek Schuiling made a nice international debut as well and came fifth out of twenty nine competitors.
Leader after two days Antonie ter Harmsel (NED) finished with more than fifteen penalties on the cones course by Daan van Dijk, which dropped him to the sixth place. Dutch driver Tristan Verheijen was third before cones and with only one ball down he was the overall winner in Ermelo. Ben Gosschalk made a nice international comeback after winning the marathon yesterday and ended up second after three days. Belgian driver Christof Devlieghere won the last part of the competition today.
Dutch Champion Marissa Schuiling, the older sister of Anniek Schuiling who was also competing at Ermelo, drove a double clear round and ensured her overall first place. Tamara Pijl (NED) finished second ahead of British driver Robert Buck and Yvonne de Ruyter (NED). Patrick Hanisch (GER) won the cones phase in the pony single class.
British pony pair driver Roger Campbell built up a nice advantage, after winning dressage and marathon, over Ewoud Boom (NED) and ended the competition with a clear round in cones. Winner of today's cones, Boom finished second while Johan Nijs (BEL) ended up on the third position.
Foto:
Rinaldo de Craen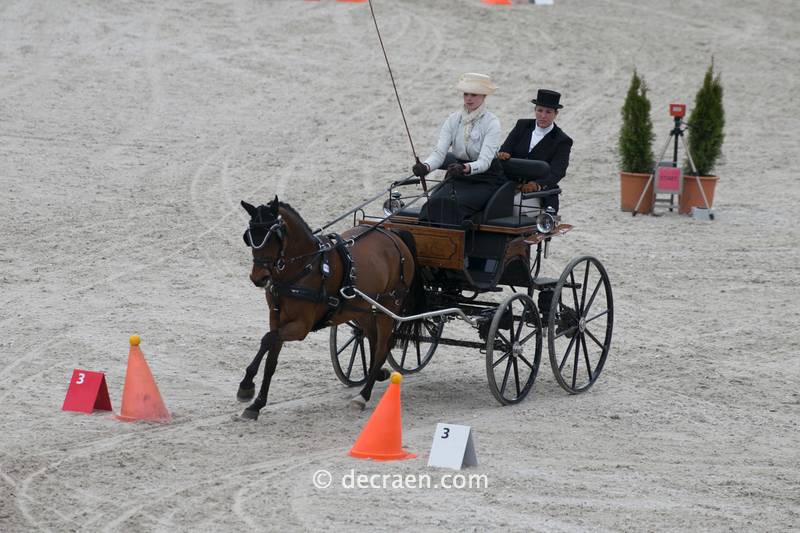 Foto:
Rinaldo de Craen
Foto:
Rinaldo de Craen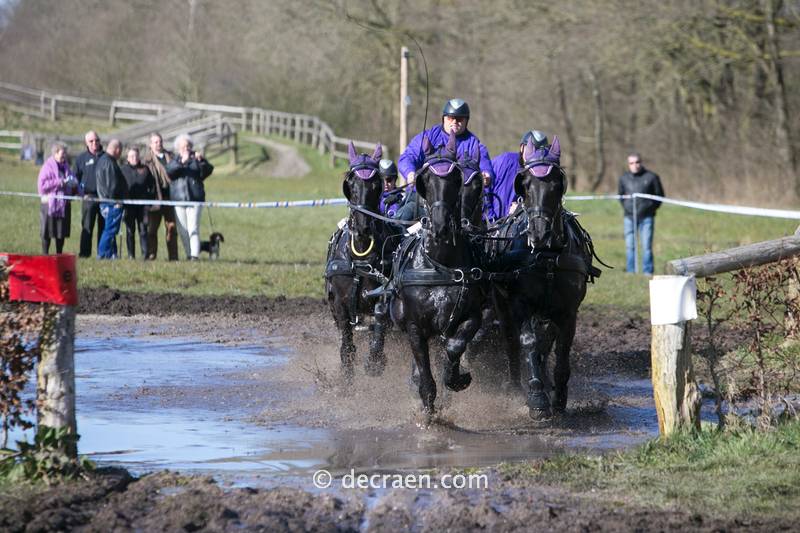 Foto:
Rinaldo de Craen
In de klasse 4 leverde de vaardigheid geen verschuivingen op. Jan Moonen won de enkelspanrubriek, voor Frank van der Doelen.
Carlo Vermeulen werd de winnaar bij de tweespannen, voor Patrick de Vries, de dit seizoen een aantal wedstrijd rijdt met de paarden van de familie Zweegers.
Bram Chardon was de onbetwiste winnaar bij de pony vierspannen, voor Aart van de Kamp sr. en de Hongaarse gast Vilmos Jambor.
Enige deelnemer bij de vierspan paarden Bruno Taverniers uit België sleepte een mooi aantal ereprijzen in de wacht in Ermelo.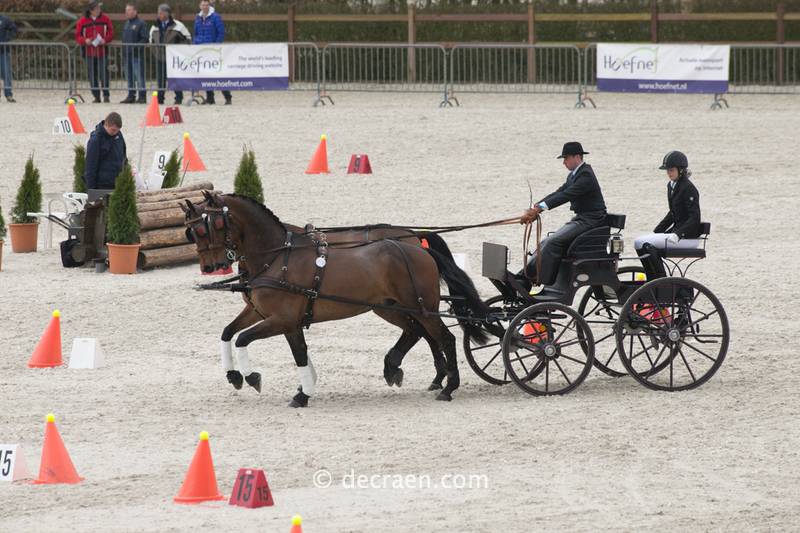 Foto:
Rinaldo de Craen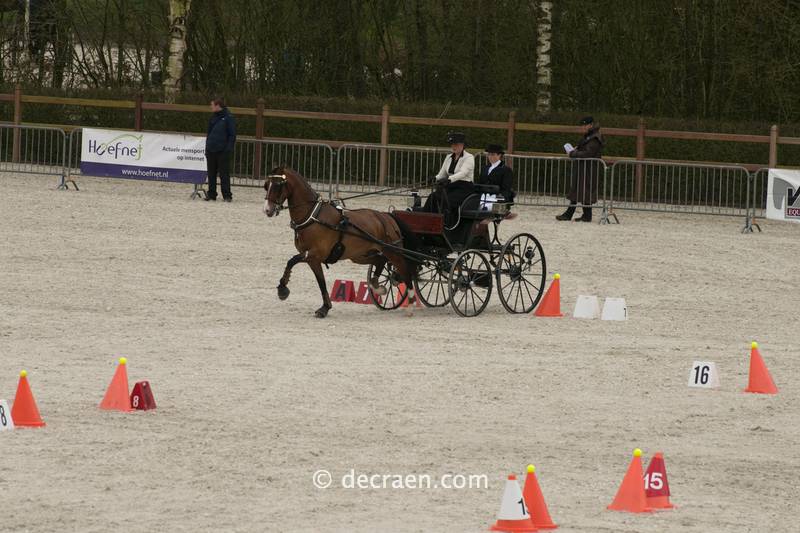 Foto:
Rinaldo de Craen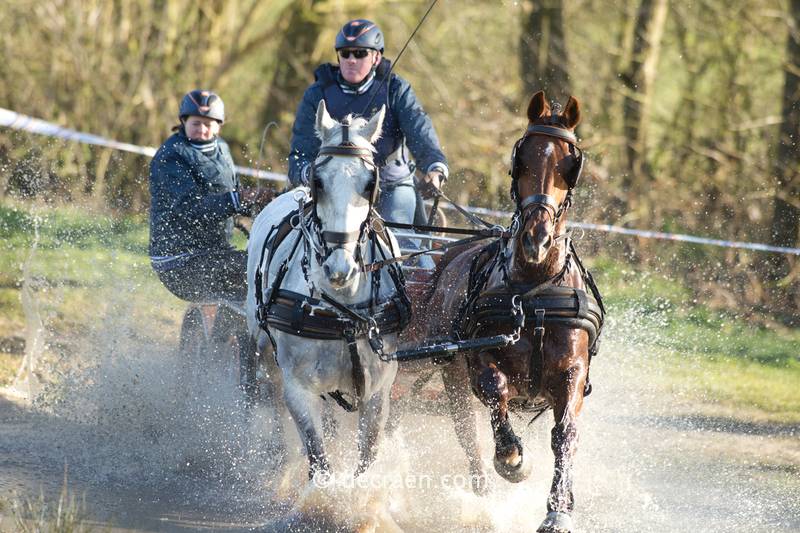 Foto:
Rinaldo de Craen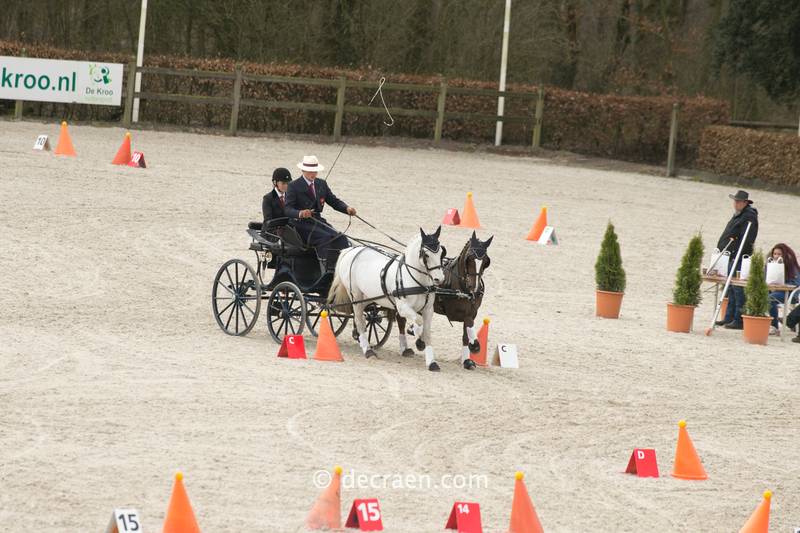 Foto:
Rinaldo de Craen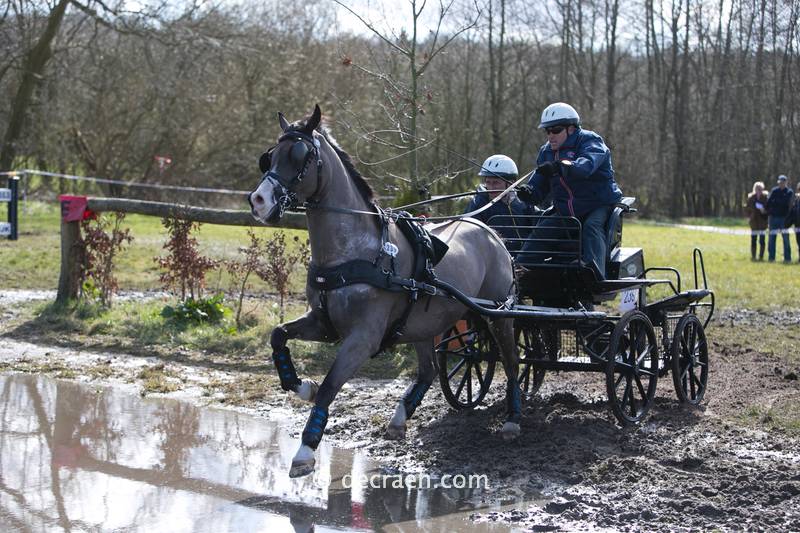 Foto:
Rinaldo de Craen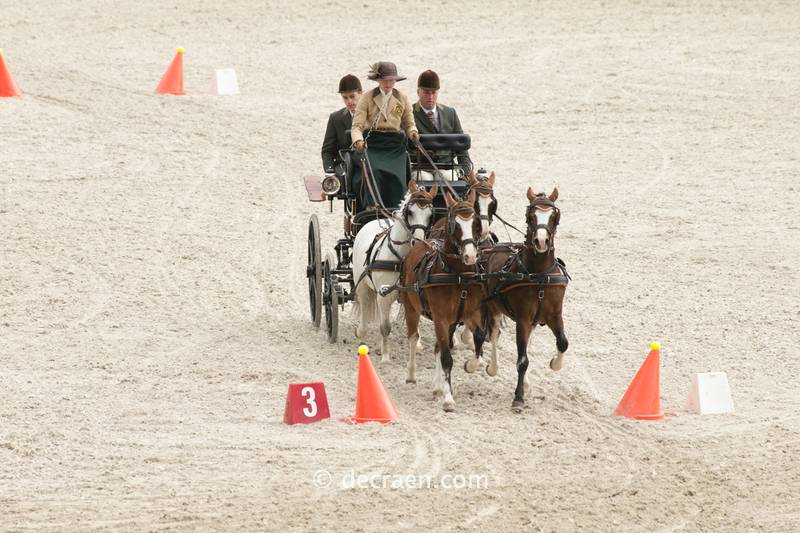 Foto:
Rinaldo de Craen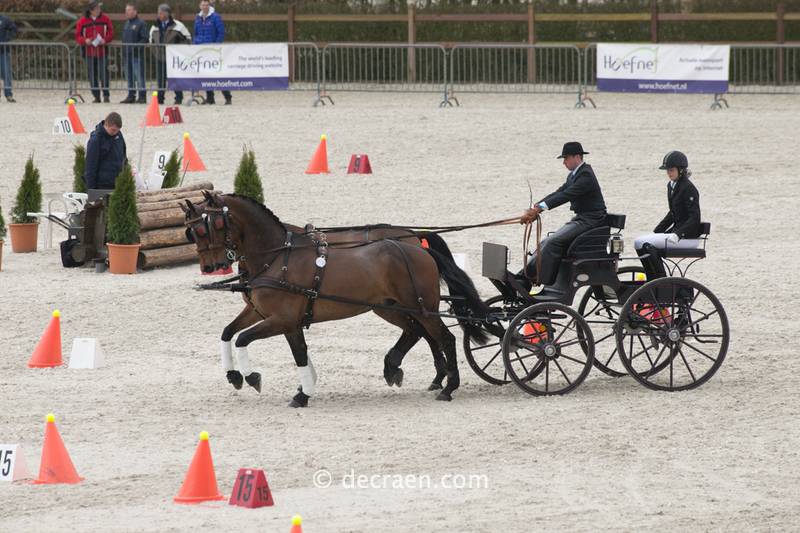 Foto:
Rinaldo de Craen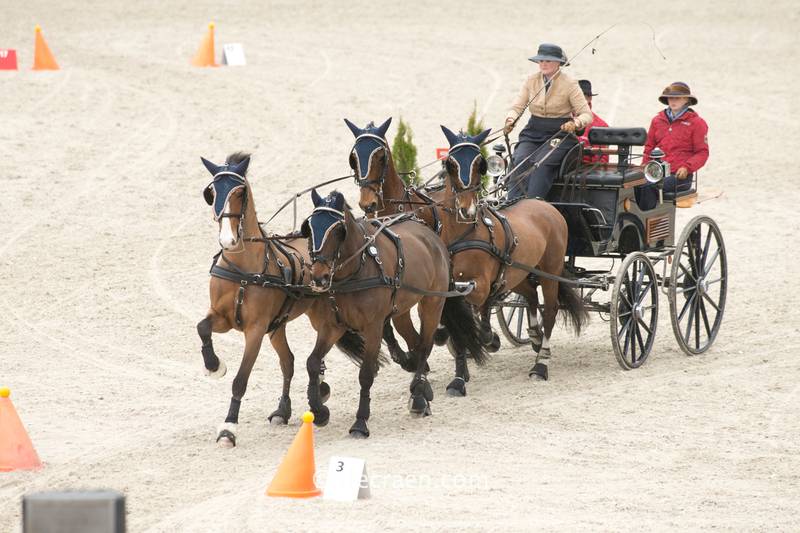 Foto:
Rinaldo de Craen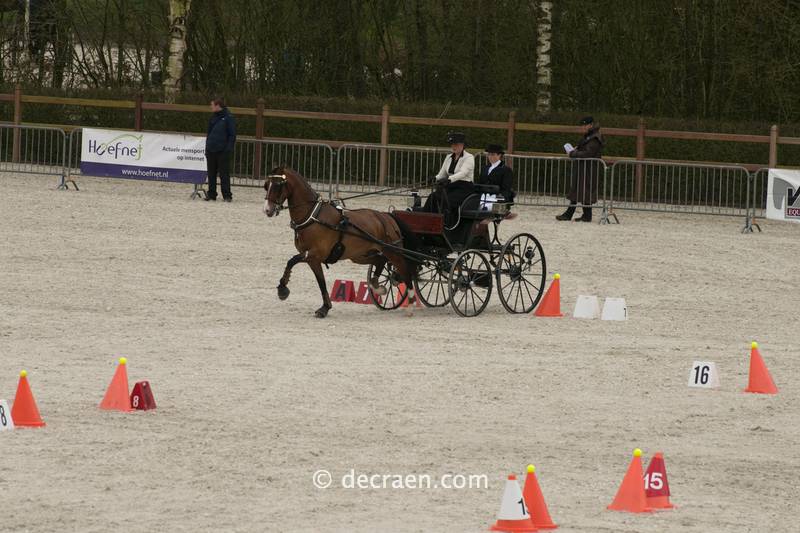 Foto:
Rinaldo de Craen
Winner of the marathon yesterday, Edouard Simonet (BEL) finshed the cones course with more than seventeen penalties which meant that German lady driver Mareike Harm took the victory from him. Glenn Geerts (BEL) won the cones today and finished up third overall.