18 augustus 2014
FEI European Youth Driving Championships Ksiaz 2014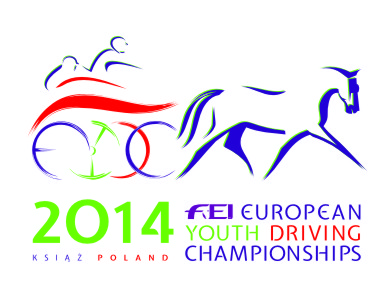 Sixty-seven drivers will fight for the FEI medals in the FEI European Youth Driving Championships. Amongst the competitors are the Polish title defenders Monika Swieciska and Filip Nowacki. In the CAI3* competition, there will be 17 competitors and 8 Polish single drivers will battle it out in the Polish Championships.
The European Championships consist of three categories- Children (12-14 years), Juniors (14-18 years) and Young Drivers (16-21 years). In each category competitors will fight for individual medals and each nation with at least one competitor per class has a chance for team victory.
During the European Championships, there will be several presentations of the Silesian horses, owned by the National Stud Farm in Ksiaz, which is the centre of Silesian breeding point worldwide. The Agricultural Real Estate Agency helps keeping the national breed alive. This institution with Pedigree Breeding Center in Kamieniec Zabkowicki and Polish Equestrian Federation supported the idea of organising the European Championships in Ksiaz.

The Driving world will also keep and eye on the CAI3* and the Polish Championships where home driver Bartlomiej Kwiatek will compete. 'Bartek' is Vice World Champion from Pratoni del Vivaro 2010, 9 times gold medallist at the Polish Championships and 7 times winner of FEI Top Driver Award. Ksiaz is the last qualification for the FEI World Single Driving Championships in Izsak (HUN) at the end of September where Kwiatek will aim to win a medal.
The competition starts with the Opening Ceremony on Wednesday 20th August at 5 pm, which will include several shows with Silesian horses from the Stud Farm. The dressage is scheduled on Thursday and Friday. The Saturday is reserved for the marathon and Sunday is the final obstacle cones driving competition and the closing ceremony.