22 juni 2015
First FEI Balkan Driving Championships for Horse Pairs in Subotica
From 18th to 21st June, the first edition of the FEI Balkan Championships for Horse Pairs took place at Ergela Kelebija, near Subotica in Serbia. Andrei Ioan Csoma from Romania took home the individual gold medal, while Oliver Bunford from Serbia won silver and host Terez Kerestes got the bronze medal. The Serbian team won the gold medal.
With only six Athletes attending from Croatia, Romania and Serbia this was still an excellent event. Terez Kerestes, Competitor and Event Director and Aleksandar Kokeza showed the Lipizzaner Stud and Hotel off in a very good light. With beautiful surroundings and plenty of space to hold this first time Championships in, the participants had a wonderful time.
With a 120 x 70m Main Arena, for the Driven Dressage and Obstacle Cones Driving along with 7 brand new Obstacles, designed by top Level 4 Course Designer, Gabor Fintha from Hungary, this Event was a great start for the Serbian Equestrian Federation and the Lipizzaner Stud to launch into the top level of Driving. With the Hotel, Villa Majur only 400 metres away and 2 restaurants on site, all the facilities were in place.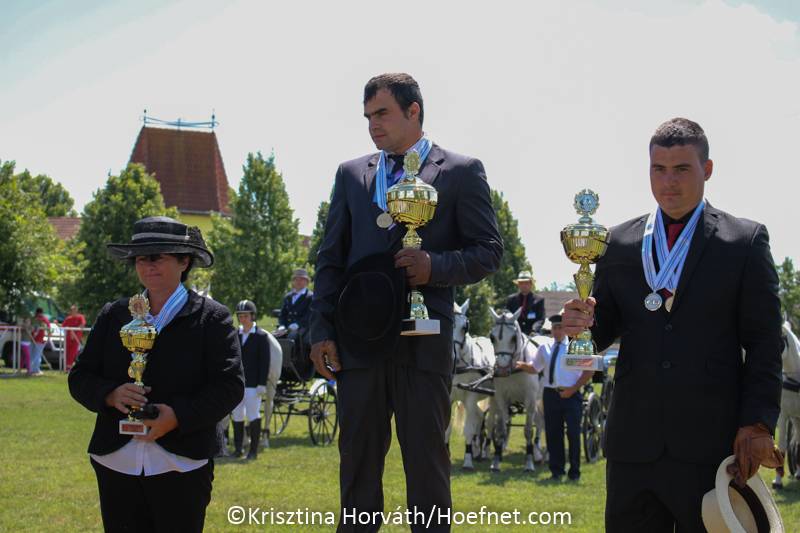 Foto:
Krisztina Horváth