16 juni 2016
Lipica in de startblokken voor WK tweespannen 2017
All eyes are on the international three-star combined driving competition at the Lipizzaner stud in Lipica, Slovenia from June 29-July 3rd 2016. With over 70 competitors from 13 different countries, the competition is the perfect dress rehearsal for the pair world championships which will be held there in September 2017.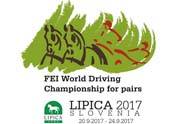 After the successful World Championships for single, pair and four-in-hand ponies that was held in Lipica in 2011, the driving world is preparing for another World Championship on the stunning grounds of this historic stud.
More than 35 pairs are signed up to test the waters in two weeks. Among the competitors, the entire 2015 silver medal team consisting of Italians Francesco Aletti Montano, Jozsef Dibak and Claudio Fumagalli will be competing.
A large number of four-in-hand horses will also be making their way to Lipica. 16 drivers will be competing for not only the top prize, but also for valuable World Cup points for the competitions which will comence in November. Father and son Dobrovitz are travelling to Slovenia, as well as Bram Chardon, who hopes to book a qualification for the World four-in-hand Championships in Breda. For Bram the return to Lipica will be special as it is the place where he won his first World title with his four-in-hand of ponies.
For the single horses Lipica will be the last chance to fulfill the FEI qualification criteria for the Single horse World Championships which take place in Piber, Austria this August.
The field of competitors is completed with a number of dedicated pony drivers who enjoy the atmosphere and hospitality in Lipica.
The panel of judges is under the leadership of Danish level 4 judge Pia Skar. The marathon will consist of seven obstacles and is designed by world championship course designer Gábor Fintha from Hungary.