9 juli 2015
Nebanice: First dressage day
The CAI 3* World Cup competition in Nebanice started off today with a half-day of dressage of the horse singles, horse pairs and pony pairs. The organizers worked hard in the morning and successfully finished the preparations of the main dressage arena, which got totally covered by tree leafs and branches during the thunderstorm late Tuesday night. The weather was much more friendly today and although some hard showers during the day the driving conditions were very good.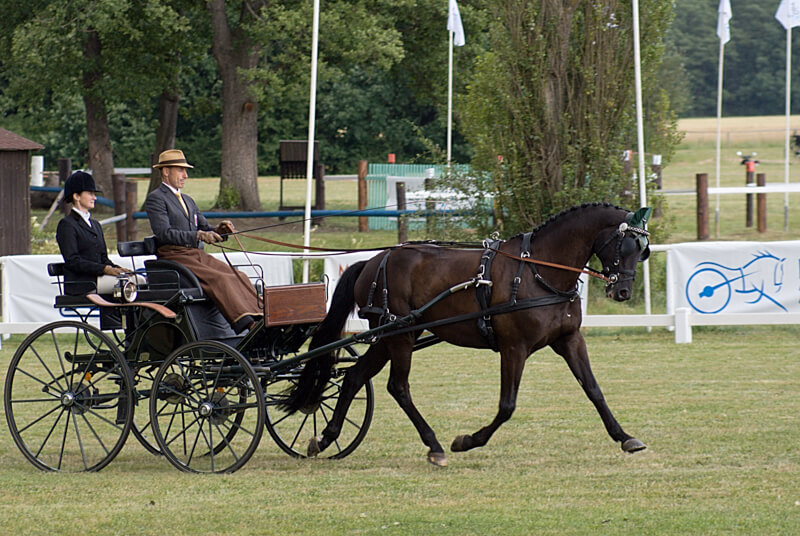 In the horse singles class, Nebanice witnessed a very strong performance of Franz Schiltz from Luxemburg. The driver competed with two horses and took both the first and the second place (achieving 46,40 and 48,77 penalty points respectively). He left the third competitor, Stefan Ulrich (SUI) almost ten points behind and has a very good starting position before the marathon on Saturday.
Home driver Ladislav Jirgala claimed victory in the pairs competition, achieving a respectable score of 50,85 penalty points. He is followed by Jacob Arnold from the United States and Christian Schlögelhofer from Austria in the competition which, unfortunately, only includes six drivers.
Ewoud Boom (NED) who competed in the pony pais class, was the only Dutch representative today. His result of 52,67 penalty points was the best one out of the two drivers competing and he is safely in the lead before the marathon.
Tomorrow promises to be a nice dressage day with a total of 27 teams, with 3 of them starting in the pony category. The start list features some top drivers and the Netherlands also has its representatives with Theo Timmerman and Hans Heus taking part in the competition.