7 juni 2015
Vecsés: Venijnig parcours op enerverende slotdag
IJsbrand Chardon and the Dutch four-in-hand team have won the competition in Vecsés this weekend. Zoltán Lázár finished second while the winner of the cones today, Georg von Stein (GER) came third. Reigning World Champion Vilmos Lázár had three balls down and some time penalties which meant that Kristóf Osztertág took over the first position after an exciting final day. He triumphed by the pairs with less then a point ahead of Lázár.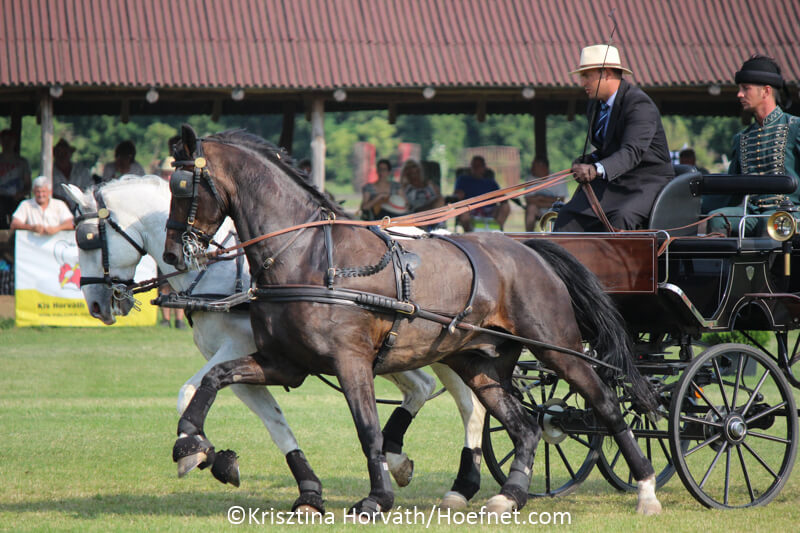 Foto:
Krisztina Horváth
The best five four-in-hand drivers went through to a winning round where they decided the cones placings. IJsbrand Chardon did not start in the winning round, although he was second in the first round, but that did not affect his overall win. Aachen-winner last weekend, Glenn Geerts (BEL) gave everything as last to go in the winning round, but he knocked a ball down from the last obstacle and therefore only finished second behind Von Stein.
Leader after dressage and marathon, Zoltán Lázár had bad luck today as one of his swingle trees broke during cones and he had both of his grooms down to repair it.
The Dutch team of IJsbrand Chardon, Koos de Ronde and Hans Heus maintained their leading position and won ahead of the Hungarian and the German team.