30 December 2017
Mechelen: Bram Chardon magnificent in Mechelen
Bram Chardon performed magnificently in the sold out Nekkerhal and won the sixth FEI World Cup™ Driving leg of this season in Mechelen, Belgium. Bram stayed ahead of Swiss driver Jérôme Voutaz and multiple Mechelen-winner Koos de Ronde. With this very first victory in his World Cup career, Bram has secured his ticket to the Final in Bordeaux.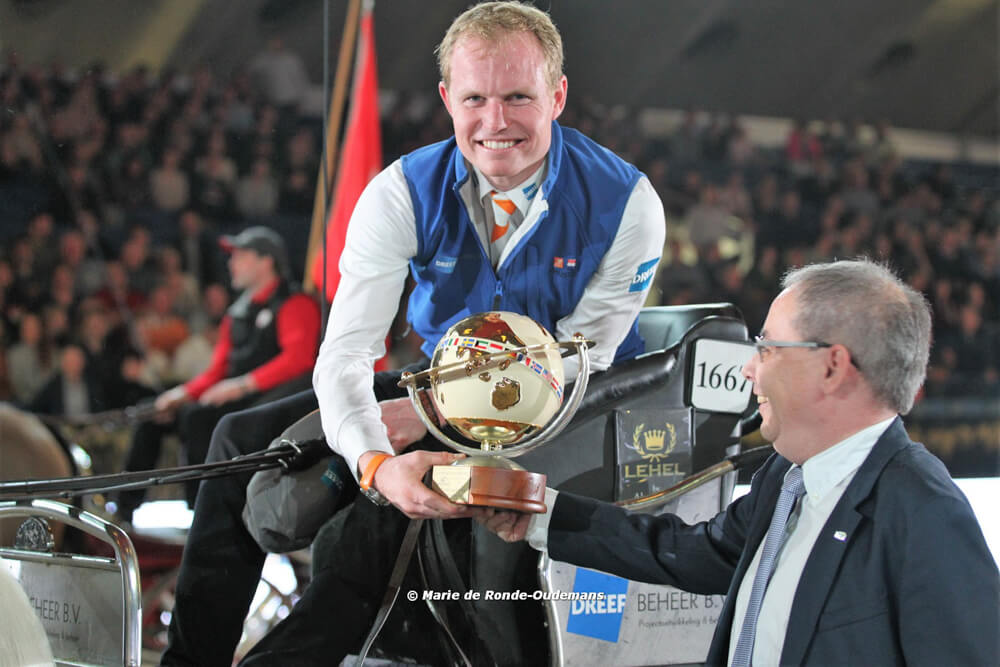 Bram Chardon
Photo:
Marie de Ronde-Oudemans
After a strong first round in which Bram already set the fastest time, he kept his head cool in the winning round and drove his team to victory with a clear round: "I drove more safe because I knew both Jérôme and Koos had made mistakes. My horses went really well, they attacked and were not tired at all. My goal was to make it to the top three, it was definitely not my tactics to win but this is just fantastic of course!"
Bram Chardon herewith follows the footsteps of his father IJsbrand, who won in Mechelen in 2016.
Jérôme Voutaz was pleased with his second place, which put him in the sixth place in the standings with Leipzig still to go: "Compared to Geneva, this course was very technical, more closed. You really had to adapt to this course. I changed one wheeler horse after yesterday and my horses did a great job. They have a natural rhythm and they keep going all the time. I really start to enjoy this game!"
Koos de Ronde was the first man in in the winning round and gave everything he had, but was not able to get the necessary speed and finished in third place. Koos still has one competition to go and is in third place in the standings. Like Boyd Exell and IJsbrand Chardon, Koos is also already certain of a place in the Final: "I am happy with my third place, this is the maximum speed I can do with this team at the moment. I will try to make some changes before the final," said Koos.
International level 4 Course Designer Jeroen Houterman, who recently was appointed as Course Designer for the Final, had laid out a technical course for the eight competitors with two marathon obstacles, a bridge and a speed box. The crowd's favourite and wild card driver Glenn Geerts drove the only clear course in the first round, but was just not fast enough to make it to the top three and finished in fourth place, ahead of Georg von Stein who drove with an alternative team after his best leader horse had not passed the horse inspection. Second wild card driver Edouard Simonet had two knockdowns and finished in sixth place. Benjamin Aillaud drove his fourth and last competition for points in Mechelen and finished in seventh position. Third wild card competitor Chester Weber had a very good start on Friday but had too many mistakes today to ensure a high placing.