5 October 2017
Open House days Van den Heuvel, Van der Wiel and Riant
From Friday November 3rd to Sunday November 5th, the leading carriage and harness makers Chr. Van den Heuven and Van der Wiel Harness are opening their doors to the public. Throughout the duration of the open house, Riant Equestrian Centre will be stationed at Van der Wiel Harness so that enthousiasts can indulge themselves in every aspect of carriage driving.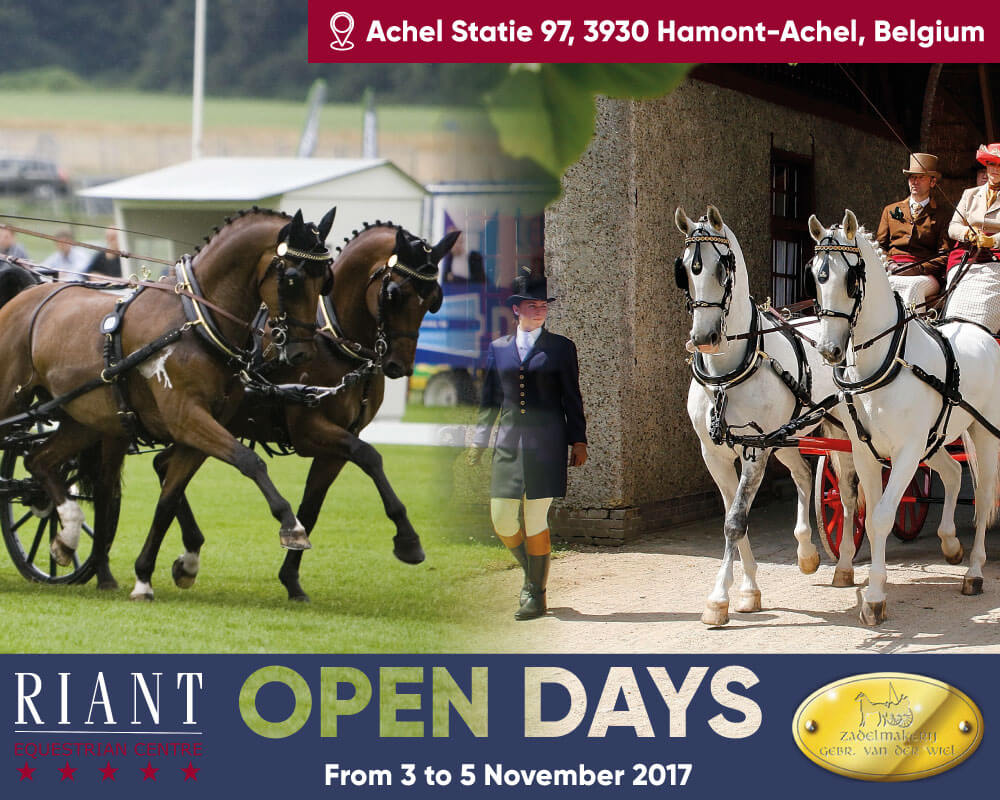 Chr. van den Heuvel & Zonen
Chr. van den Heuvel & Sons in Valkenswaard will offer a diverse selection of equine-related exhibitors and visitors can as always enjoy the family's famous hospitality on the indoor terras. In addition, the Valkenswaard Carriage Museum will be open with no charge to the public.
Van der Wiel Harness
Van der Wiel Harness has introduced the theme 'authentic two-wheel carriages' to this years Open House and will preview their newly designed single, pair and four-in-hand training harness. The famous Mr. Stockings is once again present with his sport bandages at Van der Wiel, as well as Stako, the harness trolly manufacturer, and Plooij hats.
Riant Equestrian Centre
Riant Equestrian Centre will be moving a number of specially selected horses from their stables in Beekbergen to Van der Wiel Harness in Hamont-Achel. On Friday evening everyone is welcome to experience the 'Italian Aperitivo' with as special guest and cook, top trainer Claudio Fumagalli.
Boyd Exell
Van den Heuvel in Valkenswaard and Van der Wiel in Hamont-Achel (Belgium) are just 10 minutes from each other by car. Exactly half way between the two is the complex of Boyd Exell in Borkel en Schaft. Boyd will be giving a clinic on Saturday November 4th from 19:30 to 21:30 with an entry fee of € 5,00. The bar in the Exell Equestrian centre will be open.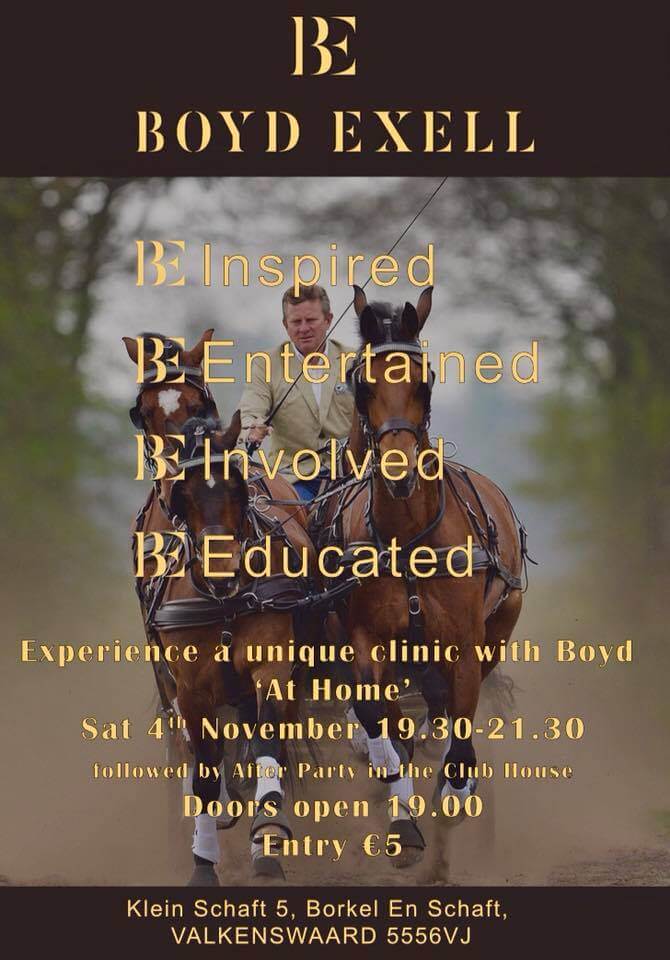 Open House Hours:
Friday November 3rd: 10.00 – 22.00
Saturday November 4th: 10.00 – 22.00
Sunday November 5th: 10.00 – 18.00
Adresses
Chr. Van den Heuvel
Molenstraat 195
5554 TS Valkenswaard (Nederland)
www.chrvandenheuvel.nl
Van der Wiel Harness
Achel Statie 97
3930 Hamont-Achel (België)
www.vanderwielharness.com
Riant Equestrian Centre
located at Van der Wiel Harness
www.riantstables.com
Exell Equestrian
Klein Schaft 5
5556 VJ Valkenswaard (Nederland)
www.boydexell.com