12 May 2018
Windsor 2018: Campbell, Schneiders and Exell win marathon
Persistent rain that fell throughout the Land Rover International Driving Grand Prix horse four-in-hands made conditions increasingly tricky as the wet footing became ever more slippery. All drivers reacted well to the conditions and drove with care but it had some effect across the results.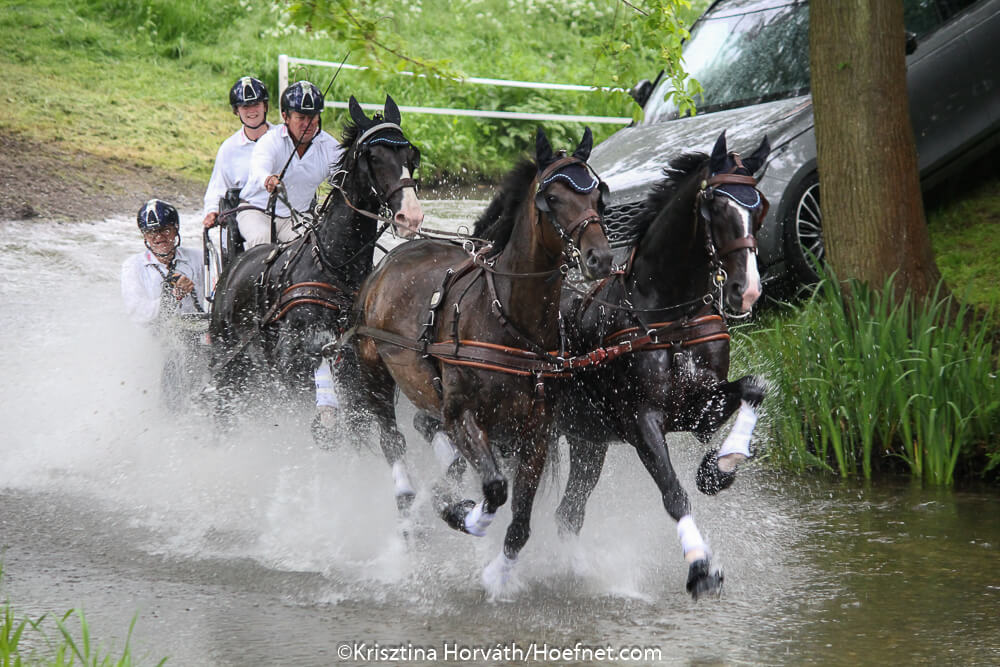 Boyd Exell
Photo:
Krisztina Horváth
In horse four-in-hands, the leader – reigning world champion and winner here eight times – Boyd Exell drove surely and confidently recording the fastest time in five of the obstacles. He won this section and increased his lead to an impressive 20-penalties. His closest challenger at this time is Belgium's Edouard Simonet whose careful marathon – he was third in the phase – moved him into second place overall, from fifth after the dressage. Father and son competitors from the Netherlands – Ijsbrand and Bram Chardon, the latter competing in horse four-in-hands for the first time here – moved up the leader board to take third and fourth places respectively, less than 1-pen separating them. USA's Chester Weber – a previous two-times winner here and second after the dressage – was one of the day's casualties, a groom injuring his leg in an obstacle.
Horse pairs saw a change in leader when second placed Beat Schenk from Switzerland moved up to first place ahead now of France's Franck Grimonprez, a member of France's bronze medal winning team at the 2017 World Horse Pairs Championships in Lipica, Slovenia. Germany's Sebastian Warneck – a silver team medallist in Slovenia last year – moved up a place to third.
Positions changed, too, in pony four-in-hands, who were fortunate in completing their marathon before the wet weather arrived. Overnight leader Tinne Bax dropped from first place to third, while Great Britain's young pony four-in-hand competitor, Roger Campbell, drove an outstanding marathon to win this section and secure him second place ahead of tomorrow's cones driving phase. He is less than 3-penalties behind the new overnight leader Jan de Boer from the Netherlands – who has six previous wins at Royal Windsor with his team of Welsh ponies.