21 August 2014
EC Youth: two dressage victories for Germany
The FEI European Driving Championships for Youth Drivers in Ksiaz, Poland, started today with the dressage. In the morning, the 12 to 14-year-olds showed Dressage test nr. 1 in the Children's Class.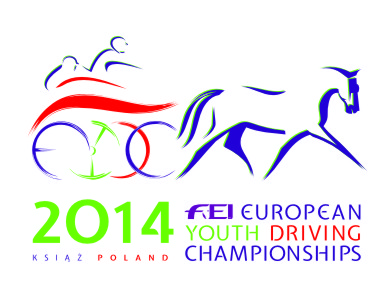 Anna Husgens.
Several very nice tests were put down with Germany's Anna Husgens as the winner with a score of 48.97. Two drivers; Lisa Maria Tischer (GER) and Weronika Bogacz (POL) took the second place. With just 0.07 points difference, Hungarian driver Zsófia Szaller finished fourth.

Christina Wagner. Foto: Claudia Spitz
The Juniors, in the age between 14 and 18 years old, drove FEI Dressage Test 4A. The German Christina Wagner was simply the best and won with a score of 44.61 ahead of Maria Therese Hollmüller (AUT) with 46.61, who had to start in the heavy rain shower which tortured Ksiaz after the lunch break. The third place went tot he second German team driver Pia-Chantal Nolte, who put down a score of 46.96. The following drivers are also very close together with Maria Buchwald (DEN) with 47.65, just ahead of Linnea Kristiansen (SWE) with 47.93.
Today's results proofed that the young drivers put down very good dressage tests at a high level, which is promising for the future.
The 16 to 21-year-old drivers will start in the dressage on Friday, followed by the CAI3* class, in which the Polish competitors also battle in the Polish Championships.