17 October 2019
Geneva 2019: Five men and one woman will dispute the Driving World Cup
The names of the drivers to compete in the single Swiss round of the FEI Driving World Cup™ have been announced. The six drivers, who for the first time include a woman, will take part in two driving competitions at the Geneva International Horse Show.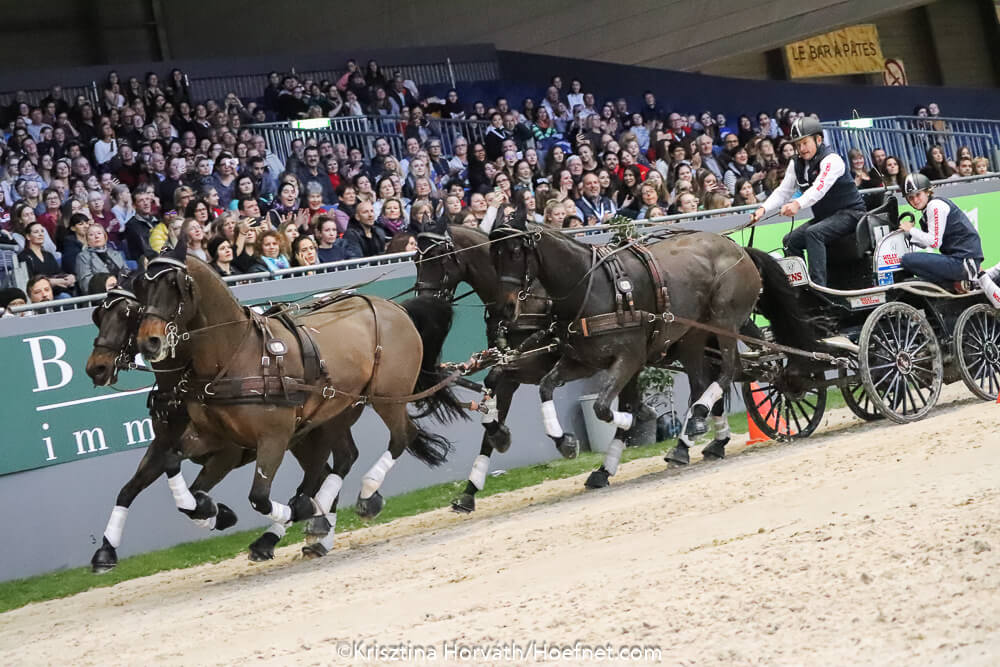 Photo:
Krisztina Horváth
The first woman has qualified to drive a four-in-hand in this year's World Cup indoor circuit, Mareike Harm from Germany, has had a consistent season since her excellent result in last year's World Championships in Tryon (USA). At Geneva, she will show her expertise as she confronts some of the world's best drivers. Firstly, there is the world Nº 1 driver Australian Boyd Exell, who has won at CHI Geneva every year since he first took part in 2008. And European champion and current World Cup title holder Bram Chardon will be intent on winning for the Netherlands after finishing second here last year. Glenn Geerts, Belgian team bronze medallist of the Tryon World Championships and recent individual bronze medallist at the Europeans at Donaueschingen, will also be competing at Palexpo. The fifth place has been awarded to European Championships silver medallist Benjamin Aillaud, the French driver who is a familiar face at CHI Geneva.
Of course, the local lad from Valais, Jérôme Voutaz, will be taking part too with a wild card. He can certainly boast of having the most vociferous fans in the stands, but it has to be said that he has not truly shone at Geneva, apart from his second place in 2014. Will this be his year? We will begin to get an idea during the Prix Brasserie Egger, Saturday morning's pre-qualifier, before the main event, the FEI Driving World Cup™ presented by Radio Télévision Suisse, which will close the Sunday morning session.
Drivers selected for CHI Geneva
Boyd Exell (Australia)
Bram Chardon (Netherlands)
Jérôme Voutaz (Switzerland)
Glenn Geerts (Belgium)
Benjamin Aillaud (France)
Mareike Harm (Germany)