14 December 2014
Geneva: Exell wins in Geneva with alternate team
Reigning FEI World Champion and World Cup Driving Champion Boyd Exell (AUS) has won his third consecutive FEI World Cup™ Driving competition of this season in Geneva (SUI). Boyd drove an alternate team of horses and won in the Palexpo ahead of the very strong performing wild card driver Jérôme Voutaz (SUI) and Christoph Sandmann (GER).
Boyd won in Stuttgart and Stockholm this season and will compete with a wild card in London Olympia next week. The competitions follow each other week after week and Boyd found this was too much for his horses. He agreed with his German colleague Daniel Schneiders to use his indoor team in Geneva. Daniel competed with a wild card himself in Stuttgart in November. Boyd used three of Daniel's horses and one wheeler horse of himself.
Home driver Jérôme Voutaz put down a very efficient first round and was seven seconds faster than Boyd in the first competition on Friday, so Boyd knew what he had to do. The Australian top driver was four seconds faster than Voutaz, which put him in the lead before the Winning Round in which Christoph Sandmann had qualified as well. Sandmann went full risk and had three knockdowns, which put him on the third place.
Cheered by many fans from his hometown, the Swiss four-in-hand Champion 2013 went for it with his team of fast Freiberger horses He wasted no meters and passed the finish line in a fast time but with two knockdowns, which gave Exell some air.
Boyd started off very quick but knocked a ball down in the first half of the course, designed by Dutch level 4 Course Designer Johan Jacobs, much to the excitement of the very enthusiastic spectators. Boyd however learnt a lot from the previous two nights with this alternate team and pushed them towards a record fast time, securing his third consecutive FEI World Cup™ Driving win and his 7th win in Geneva.
Christoph Sandmann was pleasantly surprised with his results in Geneva. The multiple German Champion and World Championship medal winner received 7 World Cup points for his third place in Geneva since Voutaz is a wild card driver. Sandmann is currently on the second place in the standings and has a fair chance to remain in the Top Six and to qualify for the Final. Sandmann will compete again in Mechelen and is now considering to change his plans and to start making preparations for the Final in Bordeaux.
József Dobrovitz (HUN) made an expensive mistake by taking a short turn in the course and knocking down a ball from an obstacle, which he had already passed, which cost him a place in the Winning Round. Dobrovitz finished fourth with his team of Lipizzaner horses and has one more competition to go in Leipzig. The sympathetic Hungarian driver is currently on the 5th place in the standings.
Georg von Stein (GER) was well underway but lost precious seconds at the last water gate, which made him, drop to the fifth place, ahead of Werner Ulrich (SUI)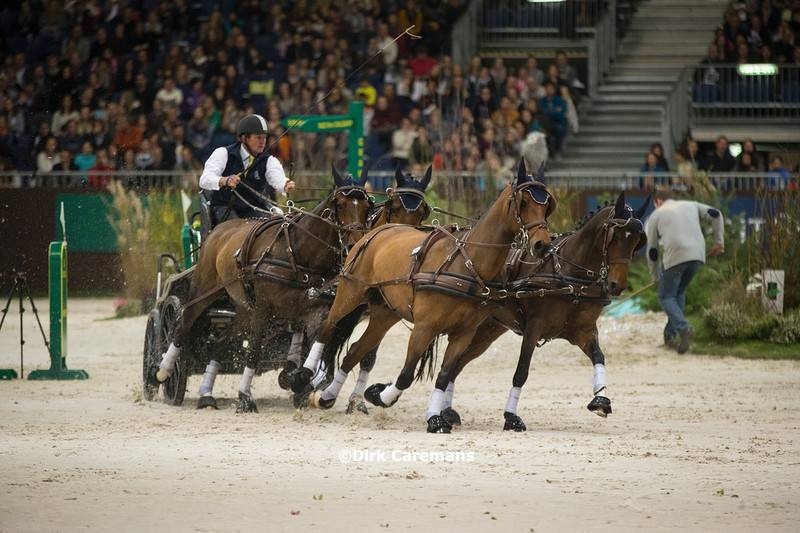 Photo:
Dirk Caremans
1 Boyd EXELL AUS 30
2 IJsbrand CHARDON NED 14
Christoph SANDMANN GER 14
4 József DOBROVITZ HUN 13
5 Koos DE RONDE NED 10
6 Glenn GEERTS BEL 7
Fredrik PERSSON SWE 7
8 Georg VON STEIN GER 6
9 Werner ULRICH SUI 5
10 Theo TIMMERMAN NED 2
Young Swiss driver Cyril Maret competed for the first time in the FEI World Cup™ Driving in the impressive large arena in Geneva and very much enjoyed it. The farrier by profession drove his team of Swiss, Hungarian and Dutch horses to the seventh place. Maret, who lives very close by Geneva, performed as a 17-year-old in a show as the Hungarian Lorenzo in Geneva in 2000 and was thrilled to compete in his first year as an international four-in-hand driver.
Benjamin Aillaud (FRA) is a regular guest as wild card driver in Geneva. Aillaud competed with his team of black Dutch and French horses but have several knockdowns and finished on the 8th place this year.
Quotes:
Boyd Exell (AUS): "This team of horses is already very good, I just had to get used to them. I train with Daniel but there is a big difference between training and competing with horses. I got to know them better every day and I am very pleased with their performance. Also for Daniel!"
Jérôme Voutaz (SUI): "It was my second time as wild card driver in Geneva and it was an incredible experience. My horses did very well and the fans were amazing. They actually felt like the fifth horse to me, they really made me stronger. It is difficult to get close to Boyd, but he has been very helpful to me. He gave me a tip on the first night and that also helped me today."
Christoph Sandmann (GER): "My team goes better every competition. I had planned that Mechelen would be my last World Cup competition, but now it looks as if I might qualify for the Final so I have to change my plans."