7 October 2013
Kentucky: 10th Title for Weber, 1st title for Berndl
De Amerikaanse vierspanrijder Chester Weber werd afgelopen weekend in Kentucky voor de tiende keer in zijn carrière gekroond tot nationaal kampioen. Leslie Berndl schreef voor de eerste keer in haar loopbaan het enkelspankampioenschap op haar naam.
Weber (Ocala, Florida) held a sixteen penalty lead heading into Sunday's cones phase. By guiding he and Jane Clark's team of Dutch Warmbloods deftly through the obstacles he emerged from the ring with 9.06 penalties, and his tenth USEF Four-in-Hand National Championship. For Weber it's another feather in the cap of an already very successful season. With his success in Europe over the summer, a 2014 WEG test event win at CAI-Caen, a win at CAIO Saumur, and top three finishes at Beekbergen and Aachen, this landmark national championship makes Weber's 2013 campaign one of the best in recent memory.
Weber finished on a total score of 141.20. Finishing second was Jimmy Fairclough (Newtown, New Jersey) on a score of 173.95.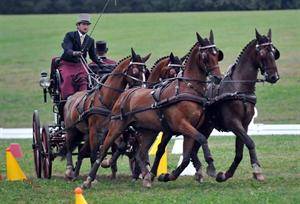 Leslie Berndl also held a double digit lead entering the cones. She and Uminco held onto that advantage and emerged from the rain as USEF National Single Horse Driving Champions. Berndl (Newcastle, California) earned an 11.00, good for third place in the phase, and finished with a 141.53 total score. She was second in the dressage phase, second on the marathon, and the most consistently good single horse competitor over the entire weekend. This is Leslie Berndl's first National Championship. Umnico was driven to a National Single Horse Championship in 2009, also at the Kentucky Classic CDE, by his owner Fritz Grupe.
Finishing first in the cones phases were Donna Crookston (Saltsburg, Pennsylvania) and Cowboy's Black Cadillac. They scored a 3.00 and moved up from third place after the marathon to second place in the end with a final score of 155.29. Second on the cones and third overall were Sara Schmitt (Flemington, New Jersey) and Savannah. Their final score was 160.80

For complete final scores click here.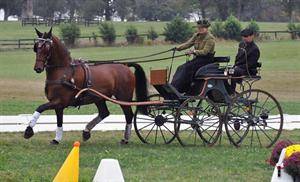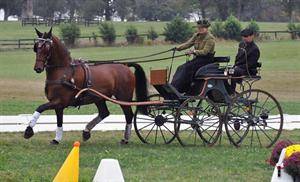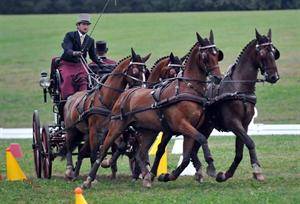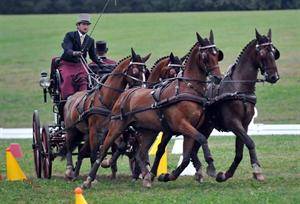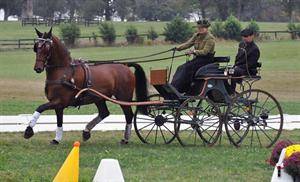 Kentucky wurde am Sonntagvormittag jedoch dermaßen vom Regen heimgesucht, dass sich der Ausrichter dazu entschließen musste, zunächst die Meisterschaftsrubriken zu absolvieren, damit die entsprechenden Fahrer ihre Meisterschaft zu Ende austragen konnten. Nach den Ein- und Vierspänner Pferden wurde das Turnier abgesagt.
Nach einem tollen Dressursieg konnte Weber im Marathon Jimmy Fairclough nur größter Mühe hinter sich halten. Mit 16 Punkten Vorsprung vor dem abschließenden Kegelfahren war Weber der Sieg kaum noch zu nehmen. Der Silbermedaillen-Gewinner der WM 2012 verließ den Platz mit 9.06 Strafpunkten und stellte damit seinen 10. Titel sicher. Fairclough wurde zweiter, Casey Zubek landete auf Platz drei.
Lelsie Berndl fuhr den 12-jährigen Uminco (v. Manno), zuvor im besitz von Grupe, auf den zweiten Platz in der Dressur du übernahm mit ihrem zweiten Platz im Marathon die Führung in der Zwischenkombi. Berndl hatte einen ordentlichen Vorsprung vor ihren Konkurrenten und gab den im Hindernisfahren, bei dem sie dritte wurde nicht mehr he. Donna Crookston gewann das Silber, die Bronzemedaille ging an Sara Schmitt.
Bitte hier klicken für die Ergebnisse.
Kentucky werd op zondagmorgen echter zo geteisterd door de regen dat de organisatie besloot eerst de kampioensrubrieken af te werken om de betreffende menners de gelegenheid te geven hun kampioenschap af te maken. Na de enkel-en vierspan paarden werd de wedstrijd afgelast.
Na een prachtige dressuuroverwinning bleef Weber in de marathon ternauwernood Jimmy Fairclough voor. Met zestien punten voorsprong voorafgaand aan de vaardigheid kon Weber de overwinning niet meer ontgaan. De zilveren medaillewinnaar van 2012 verliet met 9.06 strafpunten de ring en stelde hiermee zijn tiende titel zeker. Fairclough werd tweede.
Leslie Berndl reed de 12-jarige Uminco (v. Manno), voorheen in eigendom van Fritz Grupe, naar de tweede plaats in de dressuur en nam met haar tweede plaats in de marathon de leiding over in het klassement. Berndl had een behoorlijke voorsprong op haar concurrenten en gaf deze niet meer uit handen in de vaardigheid, waarin ze als derde eindigde. Donna Crookston won zilver, het brons ging naar Sara Schmitt.