16 January 2016
Leipzig: One gear off for Boyd
Boyd Exell has won the first competition of the FEI World Cup™ Driving event in Leipzig, Germany, this evening. József Dobrovitz jr. performed very well and finished second, ahead of Koos de Ronde.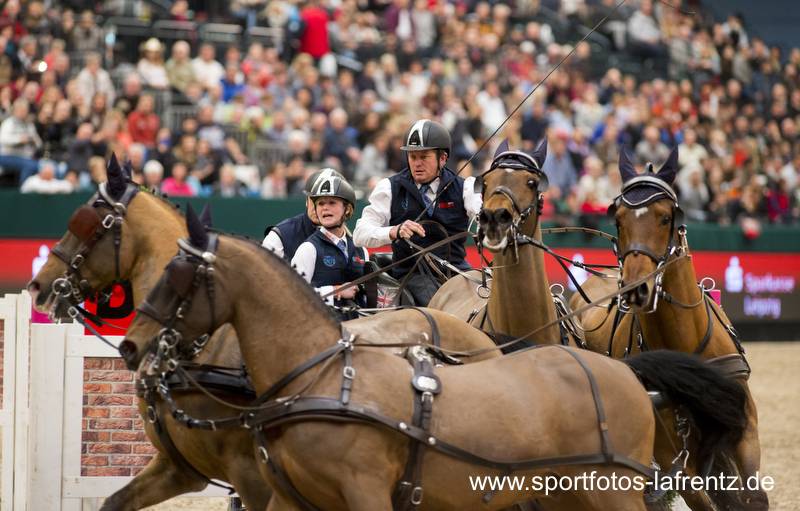 Boyd competes with a wild card and was first to go in the difficult course from Dr. Wolfgang Asendorf: "After having walked the course I knew the cone gates were going to be critical and I decided to take one gear off and to drive clear and fast." Boyd did what he said and put down a clear round in the fastest time of the evening.
Last starter József Dobrovitz jr. was determined to drive clear, but his biggest problem was that he had sold his leader horse to IJsbrand Chardon. It was now the first time that he competed with the leader horses of his father. Although he did not have a very good feeling at first, the feeling was very good when he went into the arena and it paid off. Dobrovitz jr. drove nice and clear and finished on a deserved second place with which he was extremely happy.
Koos de Ronde lost some precious seconds in both marathon obstacles, as his right leader horse did not turn so well. De Ronde will change the curb chain of this horse for the World Cup competition on Sunday and was pleased with his round since he only finished 5 seconds behind Boyd.
Results 1st competion FEI World Cup™ Driving Leipzig 15 January 2016:
1. Boyd Exell (AUS) 114,01
2. József Dobrovitz jr. (HUN) 124,06
3. Koos de Ronde (NED) 124,62 (5)
4. Rainer Duen (GER) 126,03 (5)
5. Jérôme Voutaz (SUI) 128,61 (5)
6. Georg von Stein (GER) 133,30 (10)
7. Michael Brauchle (GER) 135,80 (15)
8. Glenn Geerts (BEL) 142,71 (10)