17 January 2016
Swiss sensation in Leipzig
After an amazing competition in which all odds were open, Swiss driver Jérôme Voutaz caused a huge sensation by finishing second behind Boyd Exell (AUS) in the seventh and last Leg of the FEI World Cup™ Driving in Leipzig. Voutaz herewith last minute qualified for the Final in Bordeaux on 6 and 7 February.
Boyd was in top form again in Leipzig where the crowd were simply amazing. Germany's Dr. Wolfgang Asendorf had laid out a technical and fast course in which he had ensured that the slippery bridge of the first competition on Friday evening was amended to secure the safety of the horses and the drivers. "I have watched the events where I wasn't on television and I knew that the teams were all very fit. Eight out of the ten World Cup drivers competed here and I wanted to bring a bit more technic in the course as well as speed to please the spectators," said Asendorf.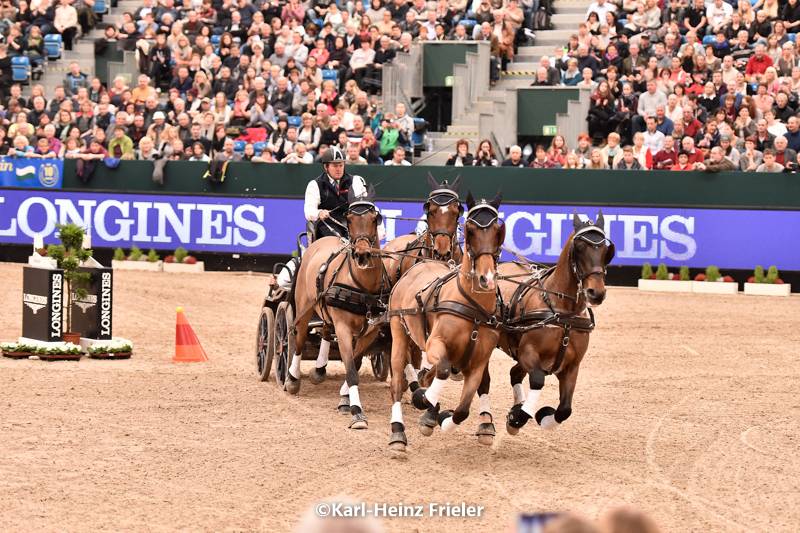 Photo:
Karl-Heinz Frieler
1. Boyd Exell (AUS) 211,08
2. Jérôme Voutaz (SUI) 231,73 (5)
3. Rainer Duen (GER) 244,70 (10)
4. Michael Brauchle (GER) 122,80 (10)
5. Koos de Ronde (NED) 123,49 (5)
6. József Dobrovitz jr. (HUN) 126,47 (5)
7. Georg von Stein (GER) 128,63 (10)
8. Glenn Geerts (BEL) 132,58 (10)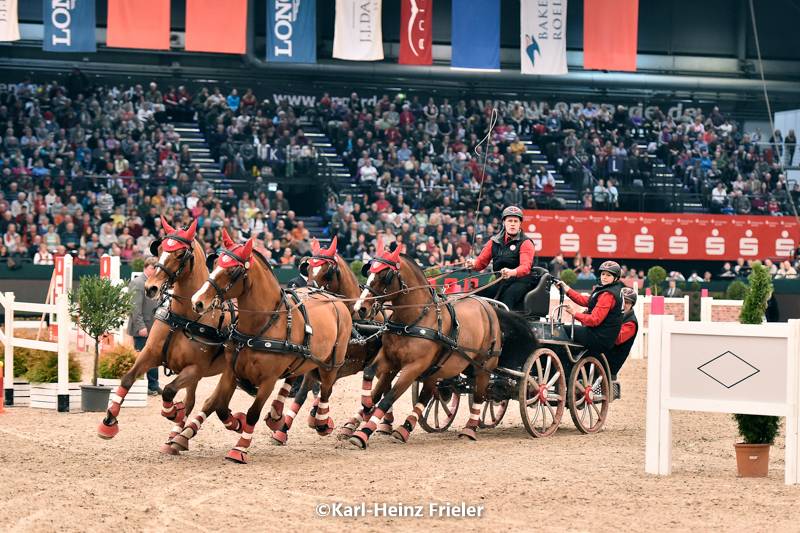 Photo:
Karl-Heinz Frieler
Boyd won a Longines watch for the first time in his career: "This is the first watch I have ever won in the 15 years that I am competing, I really happy with it," said Boyd who actually did not want to go so fast but his horses forced him to: "My horses accelerated so much, their speed was too high. I know from experience that I then better not interfere with them. Michael Freund always told me to let them run, but it does take years to get the confidence to do so from the start of the course." Boyd gave his horses two weeks holiday after the last Leg in Mechelen and could feel that they were very fit again, both physically and mentally.
Boyd flew through the course and put down two excellent clear rounds, securing his fifth win of this season. Boyd has competed in 6 out of the 7 Legs and has won five of them, which puts him in the box seat for Bordeaux. Boyd is sometimes called the 'Christian Ahlmann of the Driving' as he wins very often, like show jumper Christian Ahlmann nowadays does as well.
Jérôme Voutaz had a clear goal today: "I knew that I had a chance to enter the Top Six for the Final, but I never dreamt it would go like this. My goal in the first round was to drive fast and clear and I was very happy that it worked out especially because it did not go so well for me in the first competition."
Voutaz drove his Swiss Freiberg horses very safe in the first round and qualified for the Winning Round with Rainer Duen and Boyd Exell. So even before the winning round, Jérôme already knew he was qualified for the final, as Boyd and Rainer had wild cards and could not win any points.
The difference between Voutaz and Duen was only 0,41 penalty points and Voutaz went for it, trying to put the pressure on Duen: "Even though I knew I was in the Final already, I wanted to drive clear." Voutaz, who is an amateur driver, left the arena with one knockdown behind his name, creating some more air for Duen.
Michael Brauchle finished fourth today in the sold out arena at Partner Pferd. The reigning European Champion only had to finish in the first round to secure his starting ticket for the Final. Koos de Ronde came fifth but as Leipzig was his fourth competition for points, this was his drop score and this did not endanger his starting ticket for the Final at all.
József Dobrovitz jr. had a fair chance to enter the Top 6 but had one knockdown and was not fast enough so he dropped to the sixth place, which wasn't sufficient for the Final. Unfortunately both father and son József Dobrovitz will not start in Bordeaux this year.
Third wild card driver Georg von Stein finished seventh and is the sixth driver for the Final. Young Belgian driver Glenn Geerts came 8th in Leipzig and has not gathered enough points for the Final.
In the end, it was all about speed in Leipzig and this will be the case until 2023 as the Organizer signed an agreement with the Leipziger Messe to keep hosting the spectacular Driving competitions.
Click here for the photo album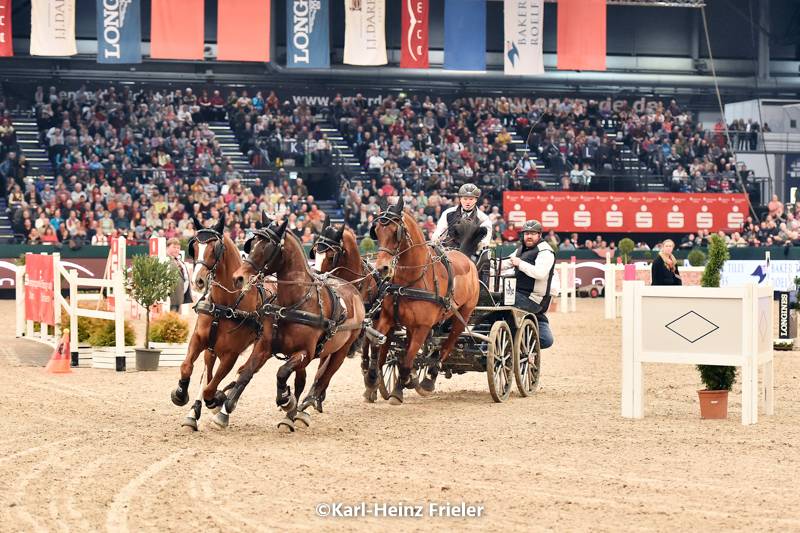 Photo:
Karl-Heinz Frieler
Rainer Duen had already finished his World Cup season for points and competed in Leipzig with a wild card. The driver from Minden in Germany wanted to proof himself and went for it from the start. He nearly missed the Winning Round when he touched a ball on the last cones gate, but luckily the ball stayed on, much to the amusement and delight of the 7500 spectators who witnessed the exciting competition. In the Winning Round Duen was unable to stay ahead of Voutaz when he knocked two balls down, but he was nevertheless pleased with his performance: "I am very happy, especially because this is a young team. One of my leader horses has not competed in World Cup competitions before this season and I borrowed the wheeler horses. The first round went really well for me but I did feel the pressure in the Winning Round."