7 July 2018
Lipica 2018: Sunny marathon
The grounds of the historical Stud Farm in Lipica was covered in sun today during the successful marathon competition. The competitors were able to enjoy the beautiful scenery of Lipica during the A-phase of the marathon, followed by seven well-flagged and challenging obstacles, designed by German level 3 Course Designer Alexander Flocke. The heat did not affect the horses, who all passed the finish line without problems.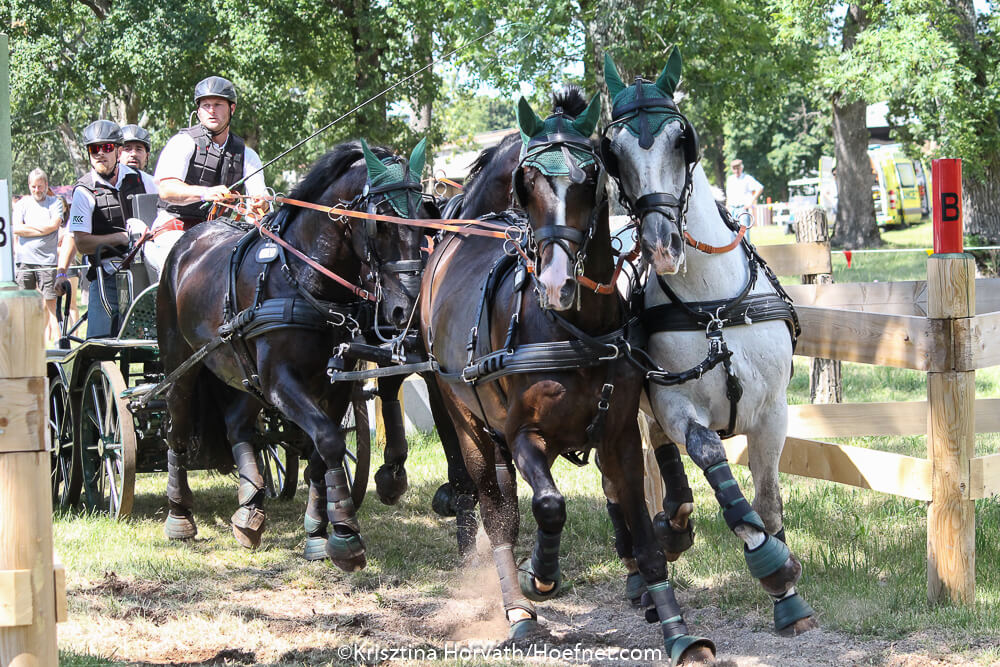 Radek Nesvacil beat his elder brother Jiri in the marathon and kept his second place in the standings.
Photo:
Krisztina Horváth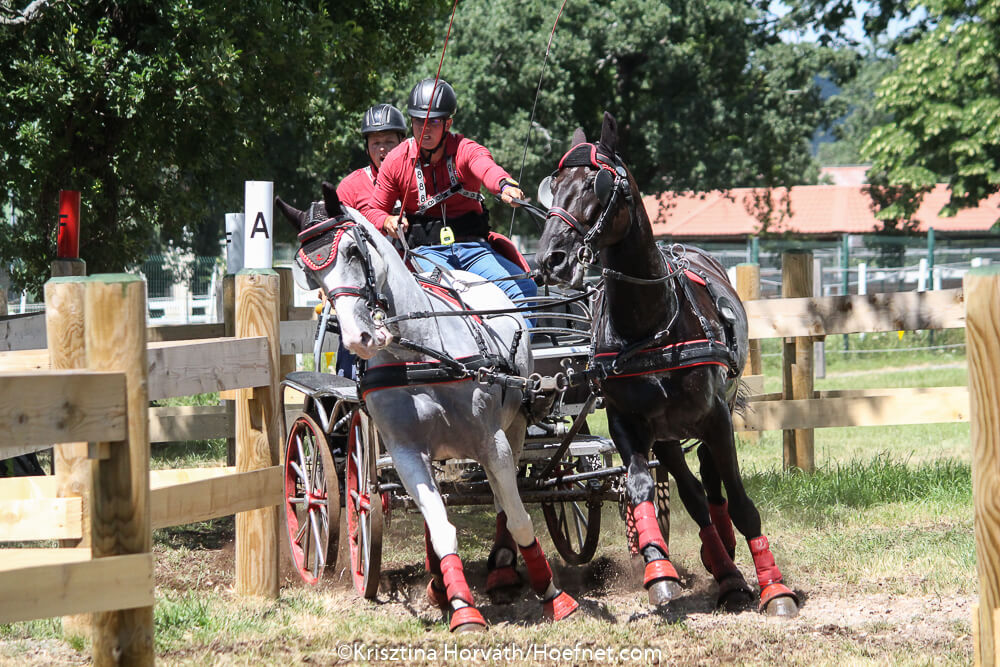 Roland Szábo won the marathon in the 3* Horse Pairs class, ahead of Csaba Tóth and Miha Tavcar, whose groom fell off in obstacle 7 and herewith lost his first place in his favourite phase of the competition. Beat Schenk had an extra circle in one of the obstacles but remains in the lead after 2 competitions.
Photo:
Krisztina Horváth
Dressage winner Krisztián Erdos also took the first place in the marathon of the 2* class, ahead of Sylvia Peters who is competing for the third time this year, and Ugo Cei.
Photo:
Krisztina Horváth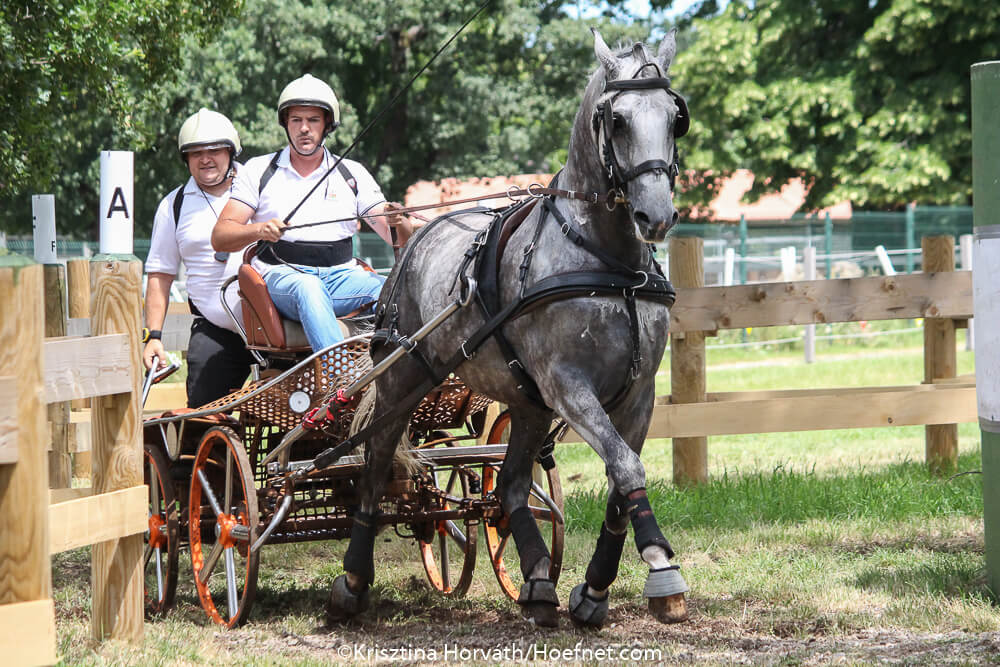 István Pál came third in the 3* marathon which was won by Matteo Crimella, followed by Jan Exnar. Laure Philippot is still in the lead.
Photo:
Krisztina Horváth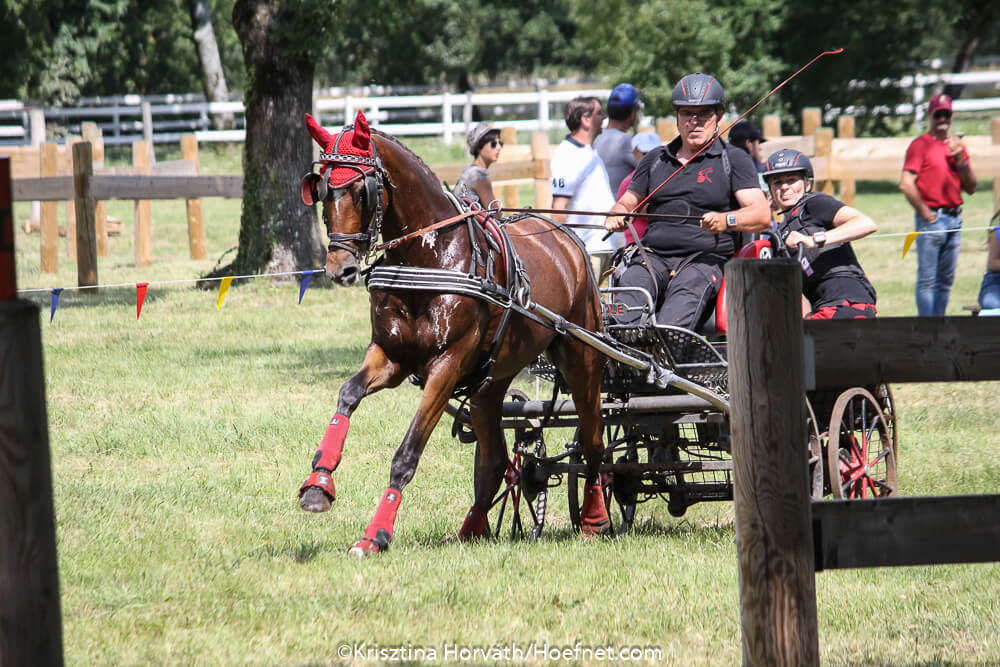 Dressage winner Edwin Kiefer was also the best in the marathon of the 2*, followed by Kurt Gösler and Libor Kurka
Photo:
Krisztina Horváth
Pony pair driver Karl Cvörnjek won the marathon with his 'lesser' dressage pair and finished in third with his 'best' dressage pair, behind his compatriot Ewald Schlagbauer.
Winner of the dressage in the pony singles class Rebecca Nick also won the marathon, ahead of Katrin Hertkorn-Kiefer and Giulia Arreghini.
Francesca Consolini was the best in the Children's class, while Timea Rozmán won the marathon in the Juniors class. Gabriele Grasso stayed ahead of Maté Margitai in the Young Drivers class.