29 December 2014
Mechelen: Boyd is best in first competition
Boyd Exell has won the first competition of the FEI World Cup™ Driving event in Mechelen this afternoon. Koos de Ronde finished second, ahead of his compatriot Theo Timmerman.
Exell, who is in the middle of moving to Valkenswaard in the Netherlands, drove his experienced team fast, fluent and faultless through the course of Dutch Level 4 Course Designer Jeroen Houterman, who makes his World Cup debut in Mechelen.
Koos de Ronde competes with a wild card in Mechelen and was second to enter the arena in the Nekkerhal, which could have done with some more spectators. De Ronde had found the right settings for his team and was able to drive them fast and sharp. The 2014 golden team medallist set the time to beat despite one knockdown. The winner of Mechelen 2013 Theo Timmerman was not able to keep up with the high speed of his opponents, but his neatly driven and clear round made him finish on the third place.
Christoph Sandmann lost precious seconds in one of the marathon obstacles and finished on the fourth place, ahead of Fredrik Persson. Persson was well on his way to set the third time, but three balls in the last marathon type obstacle made him drop to the fifth place. Georg von Stein also lost time in the second marathon obstacle and came sixth, ahead of second wild card driver Glenn Geerts. Geerts' leader horses went into the wrong gate and when Glenn pulled them back, they got all mixed up. Both grooms had to get down to fix the problem.
The FEI World Cup™ Driving competition in Mechelen is scheduled for Tuesday, 30 December at 22.00 hrs. The three best drivers from the first round will come back for the Winning Round in which they start from scratch. The times and penalty seconds in the first round only count to determine the starting order for the Winning Round. The driver with the least penalty seconds in the Winning Round is the winner of the World Cup Driving event in Mechelen 2014.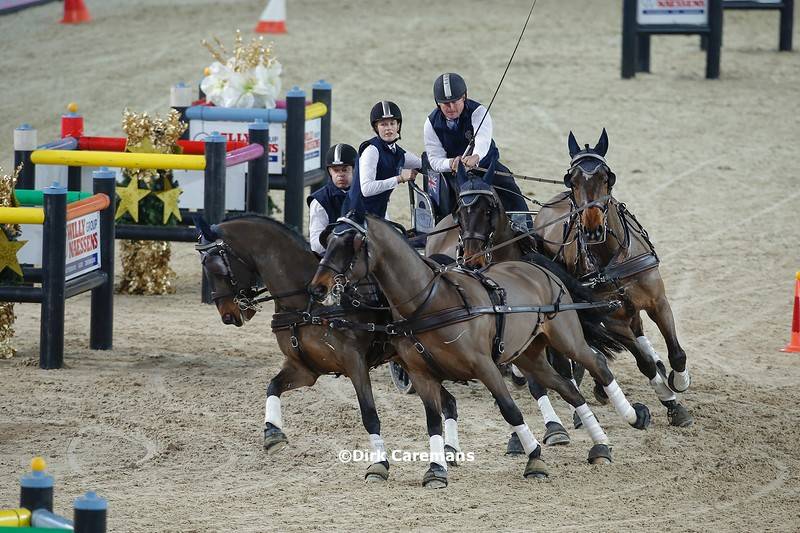 Photo:
Dirk Caremans