12 July 2015
Minden: Challenging cones course
The final cones course of the first ever international team competition for ponies in Minden, Germany, was very challenging and resulted in many faults. The first 20 singles were able to profit from a dry footing, but then it started to rain and it got very slippery.
Kristina Klindt was the only driver who put down a double clear round in the singles class. Both Tonnie Cazemier (NED) and Patrick Hanisch (GER) had no knockdowns, only time penalties. The difficult course also had effect on the overall standings. Fabian Gänshirt was able to defend his leading position as he only had 7,88 points in the cones. Klindt moved up to the second place, ahead of Claire Lefort. Germany won the Nations Cup, France won silver and the Dutch team took home the bronze medal.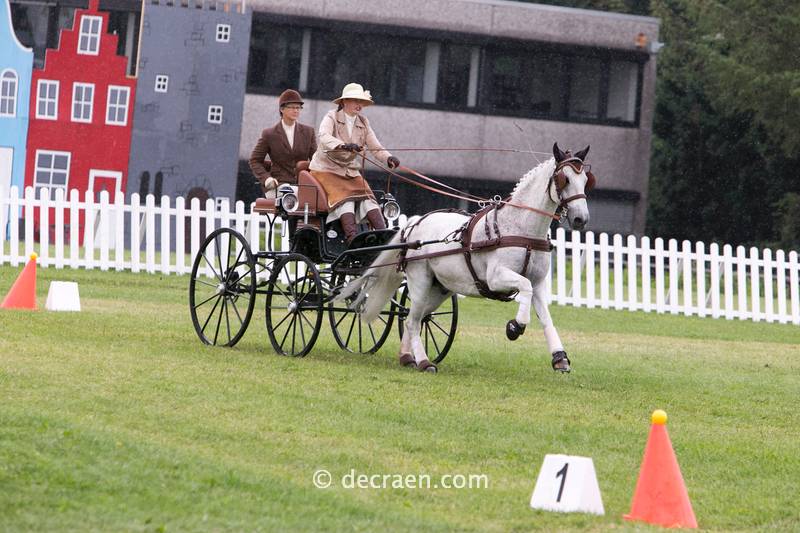 Photo:
Rinaldo de Craen
In the pairs class it was the same. Only one driver passed the finish line within the time allowed, but he had one knockdown. Winner of the cones was Switzerland's Christof König. He had no balls, only 1,20 penalty points for time. Stefan Bösch from Austria was not much slower with only 1,94 points. Germany's Birgit Kohlweiss and Britain's Roger Campbell also passed the finish line without knocking any balls down.
Anna Grayston moved up from the third to the first place by putting down a very good cones round. She left Jan-Felix Pfeffer and host Christof Weihe behind her. Germany also won the Nations Cup in this class, closely followed by Great Britain and Switzerland.