10 July 2015
Minden: double victory for the Netherlands
Today was the dressage days for the four-in-hands. Twenty-five drivers presented their ponies to the judges. Members oft he Dutch team Bram Chardon and Jan de Boer took the lead with 44.07 and 44.96. Best German driver was Steffen Brauchle with 46.96, closely followed by his team member Tobias Bücker and Tinne Bax from Belgium.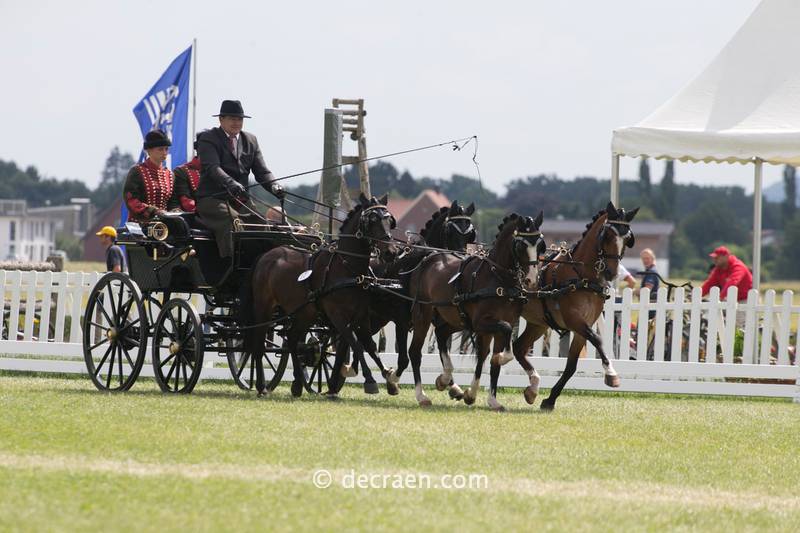 Photo:
Rinaldo de Craen
Vilmos Jambor put down the best Hungarian performance and finished on the sixth place. With their two team drivers in the lead, the Dutch team is obviously also leading the team ranking, ahead of Germany, Belgium and Hungary, although the differences between the first three teams are not so big.
The dressage winners were honoured this evening at a historical site. The organiser had provided buses to take everybody to the Emperor Wilhelm Memorial where the prize giving took place.
The weather was much more agreeable today, the wind was less strong and the temperatures were a bit higher.
Tomorrow, the weather will be warmer for the technical and challenging marathon. An excellent test case in this World Championship year, because the varied and colourful obstacles are designer by Dutch Level 4 Course Designer Jeroen Houterman from the Netherlands, who is also responsible for the courses in Breda.
The first driver starts at 08.00 hrs. and the last driver Bram Chardon starts at 16.01 hrs.
Click here for the starting orders and results