17 August 2013
Minden: Dutch and French victories in the marathon
The Dutch and the French drivers showed their best today in the beautiful marathon in Minden. Jannes Kinds (NED) won the marathon in the pony teams class, his compatriot Ewoud Boom was the fastest in the pony pairs class. Laetitia le Boucher (FRA) won the very close battle with Jacqueline Walter (GER) with her pony Maverick.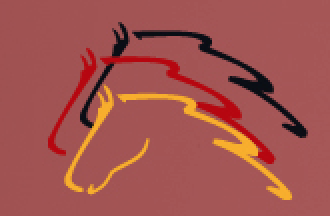 Kinds set the fastest times in three out of the eight obstacles, but his compatriot and dressage winner Jan de Boer performed more sustained with one fastest time and five-second best times. But De Boer had two knockdowns in obstacle five, which cost him the victory in the marathon. Germany's Martin Thiemann finished third. De Boer has enlarged his lead in the standings and is now 8 points ahead of Tinne Bax, who has moved up to the second place thanks to her very good performance today.
Boom set the fastest times in four obstacles with the New Forest ponies Valdino and Ferdy and stayed ahead of German drivers Max Berlage, Dieter Baackmann and dressage winner Marco Freund. The top three remained unchanged with Freund in the lead, followed by Baackmann and host Christof Weihe. Boom has moved up to the fourth position.

Laetitia Leboucher won the marathon, driving her 10-year-old Pottok gelding Pastel D'Ihia, just ahead of Jacqueline Walter and Sandra Schäfer. Walter has taken the lead in the standings as dressage winner Els Broekman was unable to keep up with the high speed in the obstacles.

It will be an exciting competition tomorrow as Walter is in the lead, but very closely followed (1,05 penalty points) by the European Junior Champion Martin Hölle (FRA). Britain's Robert Buck has moved up to the third position in the standings.

Click here for the starting orders and results.
Photos courtsey of Dr. Jürgen Schwarzl