18 August 2017
Minden: Edith Chardon wins four-in-hand dressage
On the third and final day of dressage at the Pony Driving World Championships in Minden, Germany, Edith Chardon topped the leaderboard, edging out countryman Jan de Boer. This strong presentation closed the gap in the team results between Germany and The Netherlands going into the marathon tomorrow.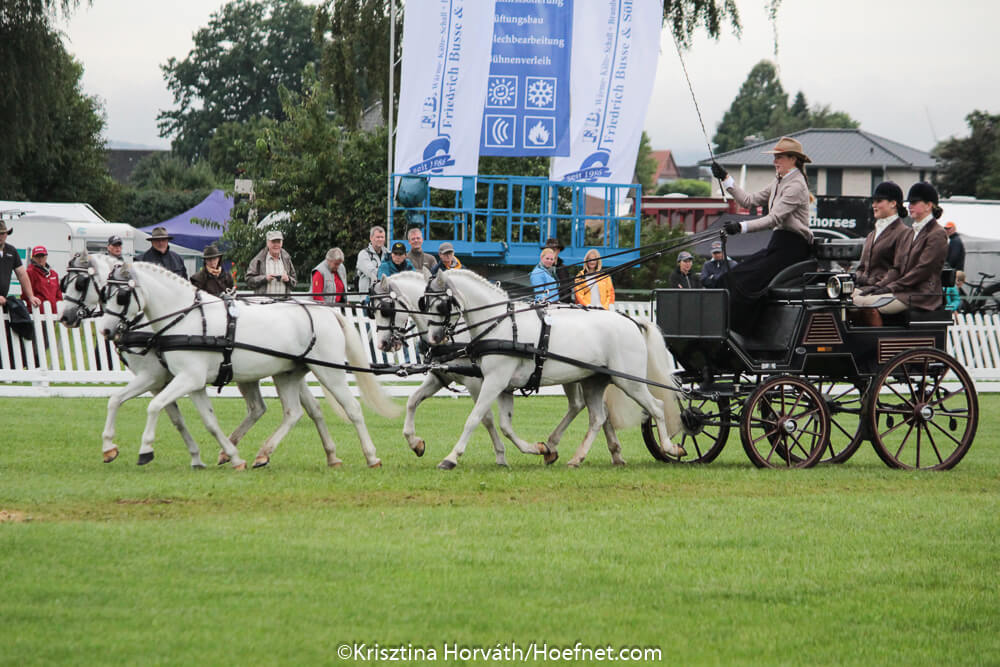 Edith Chardon
Photo:
Krisztina Horváth
After a wonderful nations night the four-in-hand dressage began at 11 o'clock this morning. German favourite Steffen Brauchle was the first to drive, and even in the pouring rain managed to put up a score of 50,67 penalty points, setting the bar for the rest of the competitors.
Edith Chardon was the fifth to start and her strong test which was almost unanimously awarded first place by the judges, resulted in a score of 46,25,  a score that was not to be surpassed the remainder of the day. There was a moment of excitement at the completion of Chardon's test as the ponies spooked at the cheering crowds and ran for the exit where they were luckily stopped by her team.
The top three was rounded out by Jan de Boer and his team of welsh ponies with a score of 47,72 followed by Tinne Bax who also scored under 50 penalty points with a score of 48,90.  The team placings still have Germany in the lead with the Netherlands closing the gap in second place and Belgium just behind in third. The eight technical obstacles will  be sure to challenge drivers and there is expected to be a lot of movement on the leaderboard.
Tomorrow morning at 9 o'clock the first pony will start out on section A. It promises to be a spectacular and exciting day and a large number of spectators are expected.
Click here for starting orders and results.