23 October 2020
Pau 2020: heavy marathon puts France in the lead
A heavy marathon was scheduled for today at the World Singles. The A-section of 6 km and a B-section of 9 km with 8 heavy obstacles showed which horses were in form. Especially because it has not been a normal competition season this formed a challenge for the competitors and their horses.
'We haven't driven a marathon like this this year,' commented Saskia Siebers, who is currently in third place. 'But I found it a very nice course. It was a heavy marathon with a long section and fir obstacles. The footing was slippery here and there, but my horse was super.' 'I completely agree with Saskia,' says Kelly Houtappels-Bruder, who is currently in second position in the standings. 'You seldomly see such a nice marathon. It was horse friendly, different kinds of obstacles and enough options in the obstacles. You could mix and match to your own liking. I am very happy.' There were no incidents at all and all horses passed the finish line without any problems.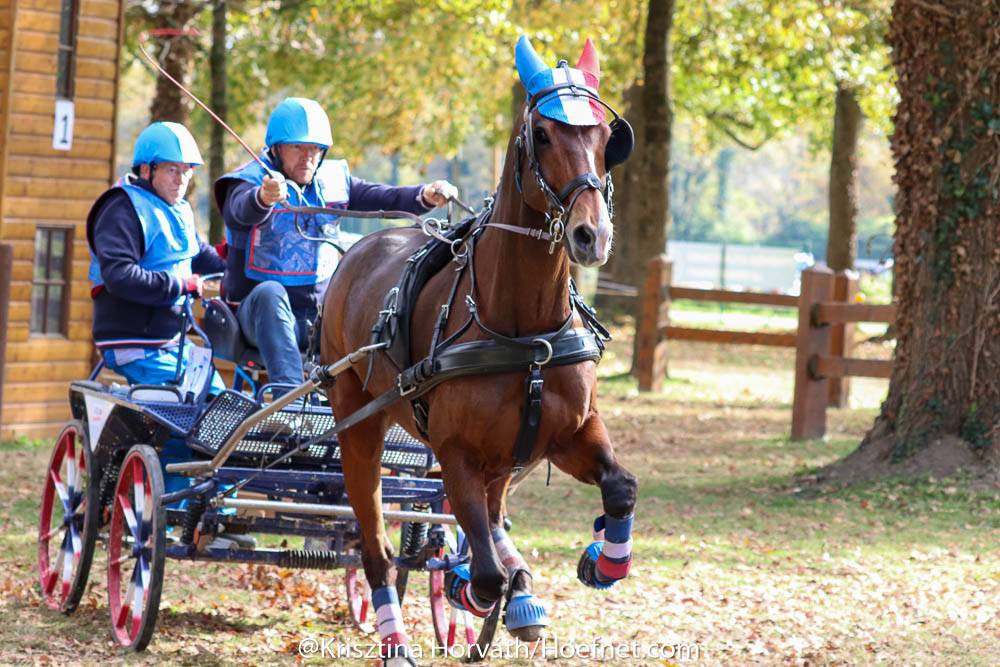 Jean Michel Olive
Photo:
Krisztina Horváth
French winner
The marathon suited the French drivers. Jean Michel Olive drove his Sinnamari just like two years ago at the World Championship in Kronenberg to a sovereign victory. They set the fastest times in no less than 7 out of 8 obstacles, driving beautifully and clean. Title defender Bartlomiej Kwiatek drove a perfect marathon with Sonet, who kept his high speed until the last obstacle. This resulted in the second place and Kwiatek has moved up to the fourth place in the standings.
Dieter Lauterbach also set fast times with his Dirigent and finished third in the marathon.
Standings
Marion Vignaud has kept her lead in the standings, but is only 0,24 penalty points ahead of Kelly Houtappels-Bruder and 1,04 ahead of Saskia Siebers. Bartek Kwiatek is just a little over 1 ball behind Viganud on the fourth place, which will result in a super exciting cones competition on Sunday.
France has taken over the lead in the Nations Cup thanks to the super perfomances of Olive and Vignaud in the marathon. Title defender The Netherlands is only 3,99 points behind, followed by Germany in third position with a difference of 10 points.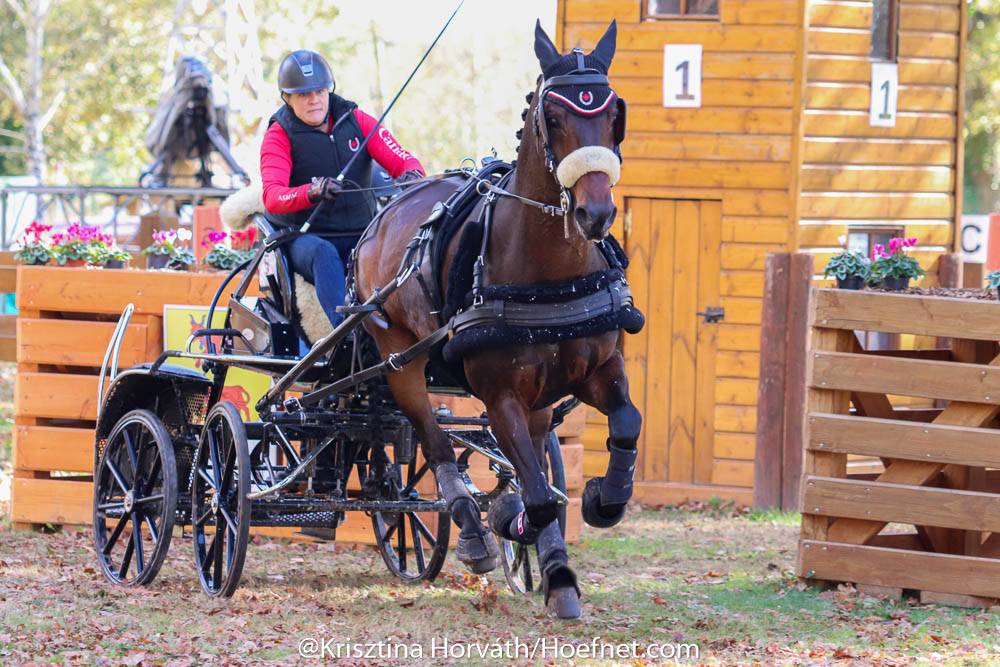 Kelly Houtappels
Photo:
Krisztina Horváth
Copyright reserved. Acquisition without acknowledgment and permission from [email protected] is not allowed.