16 July 2018
Preparations CAI Beekbergen in full swing
For the 31st time, Beekbergen (NL) will be the center of international driving sport in August. This year, the annual event will be held from the 9th till the 12th of August. The best international pair and four-in-hand teams are coming. In addition, the Dutch championship four-in-hand also takes place in Beekbergen.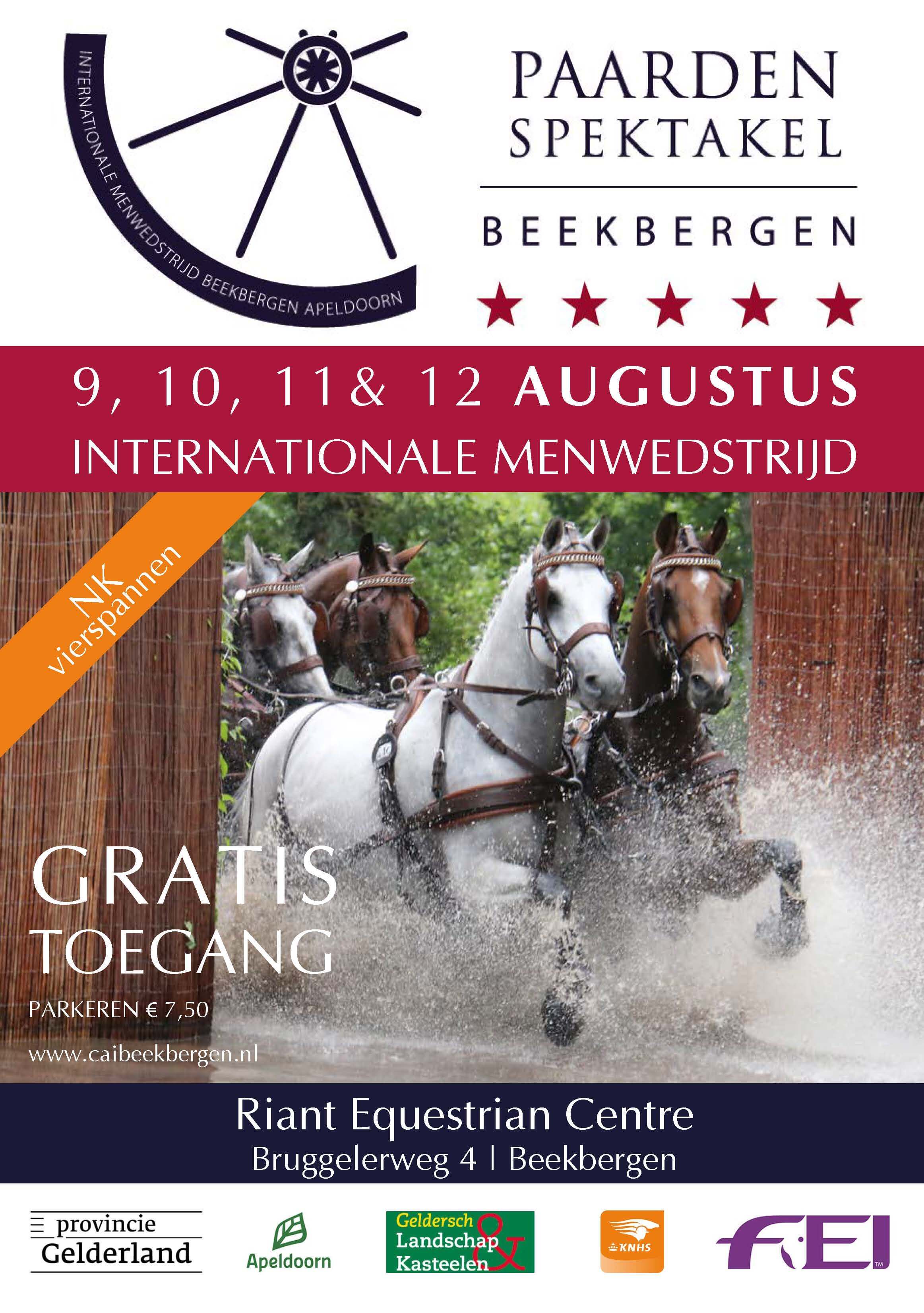 Beekbergen is an important three-star international driving event, where drivers from around the world will compete. Beekbergen will be a relevant indicator towards the World Equestrian Games in Tryon (USA), at the end of September. Therefore, some of the members of the WEG jury in Tryon are invited here. The obstacles are designed by the Hungarian course designer Gabor Fintha, who built several world championships. The competition is also one of the prestigious events in which the four-in-hand drivers can qualify for the Indoor World Cup.
The NC brings additional tension in the four-in-hands-competition. Will Koos de Ronde be able to defend his title? Or is multiple champion IJsbrand Chardon winner of the national gold, or perhaps the new generation, in the person of Bram Chardon?
Audience
A large number of visitors (almost 20.000 last year) in Beekbergen is unique for Carriage Driving competitions on Dutch soil. One of the goals of the organization is to bring the driving sport to the general public. ' That's why we don't charge any entrance fee,' says organizer Mieke van Tergouw. 'Driving sport is my personal passion and I like to share that with our audience. I want to show it to the general public in a low access way. People get to see the best of our sport in Beekbergen because the world's best drivers are competing here. '
Volunteers
The initial preparations have already started at the beginning of this year. The event needs many volunteers and sponsors. 'You can't start too early, ' Mieke laughs. 'We are happy with our team which collaborates well. This will be the 31st edition, so we know what we have to do.' Two weeks ago (8 July) all volunteers came together and while enjoying a delicious barbecue, the tasks were handed out. The final preparations are in the upcoming weeks. The countdown has begun: Mieke van Tergouw and her team hope to welcome back many equestrian lovers at CAI Beekbergen 2018  on the grounds of Riant Equestrian Centre.