9 October 2021
Salteras 2021: Sunshiny Dressage Day
The dressage of the CAI2* and Andalusian Championships in Salteras started this morning with a nice cool breeze. The 33 competitors entered the well-prepared dressage arena, which has a grand view over Seville and the international Ground Jury witnessed some nice dressage tests.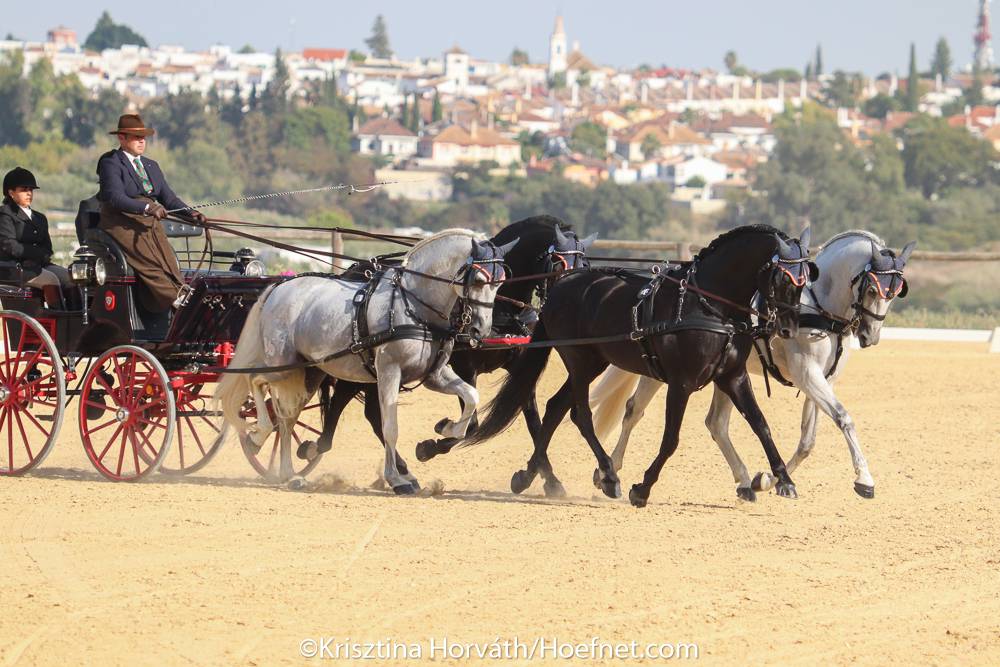 Photo:
Krisztina Horváth
Llibert Calvet Martinez drove a very nice test his team of Spanish horses and was unanimously awarded by the international jury with the first place, ahead of Manuel Diaz Martin and Antonio Carrillo Baeza.
Oliver Lange Felleman drove his nice pair of German warm blood geldings to the winning score of 50,44 points in the horse pairs class. Jose Gayan is in second position, ahead of Antonio Perez Nunez.
Antonio Pedrajas has taken the lead in the national singles class, while Sebastian Sabater set the best score in the international singles class, followed by David Iriarte and Jorge Capela.
Bernardo Losa from Portugal drove his pony Timo to victory in the international Juniors class, in which he is the only competitor. Daniel Pineda has taken a head start to Vasco Ribeira in the Children's class and Pedro Perejon was pleased with his Luna P in the 4-year-old horse class.
Tomorrow's marathon includes seven nice obstacles, designed by Spanish international course designer Javier Perez Maqueda. The first competitor will start the warm-up section at 10.00 and will start at 10.40 in section B.
Copyright reserved. Acquisition without acknowledgment and permission from [email protected] is not allowed.