17 November 2017
Stuttgart: Boyd Exell beats competition
The enthusiastic spectators in the sold out Schleyer Halle in Stuttgart witnessed an exciting start of the 17th season of the FEI World Cup™ Driving this evening. Reigning World Cup Champion Boyd Exell masterly beat his opponents over two rounds. IJsbrand Chardon finished on the second place, ahead of Chester Weber.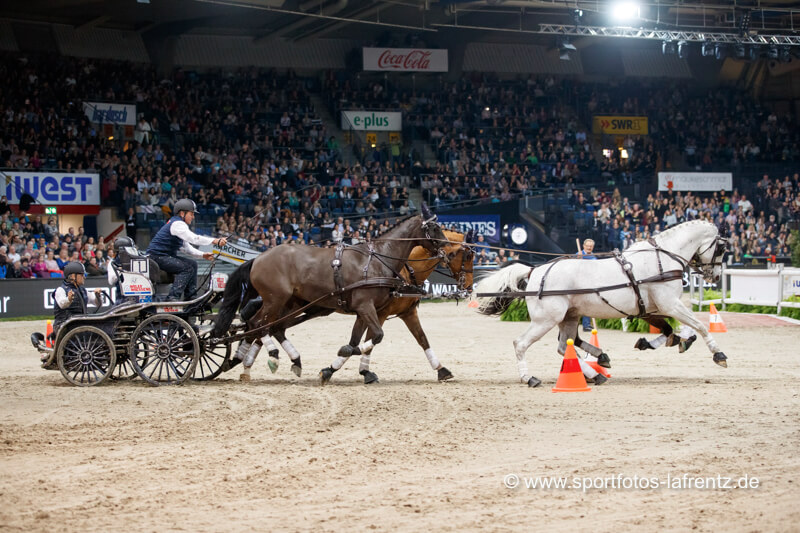 Boyd Exell
Photo:
Stefan Lafrentz
A new addition to this year's course in Stuttgart was the water splash in the corner, which resulted in spectacular images. Boyd Exell improved his time in the second round over the same course with no less than 6,48 seconds, which puts him in pole position for tomorrow's World Cup competition. Boyd used the 17-year old KWPN grey gelding Twilight for the first time in the lead of his team, while IJsbrand Chardon drove two new leader horses, which were new to him as well. József Dobrovitz, who also provided Chester Weber with team of fast indoor Lipizzaner horses, previously owned the Lusitano mare and Lipizzaner gelding.
Chardon came close to Exell's time in the first round, but had a few knockdowns and extra penalty seconds for knocking a ball off a gate not taken yet. The European Champion remained clear in the second round, which took place over the same course, designed by Level 4 Course Designer Dr. Wolfgang Asendorf.
Chester Weber drove his team at high speed through the course but had several knockdowns and finished on the third place.
Georg von Stein finished in fourth place, ahead of Simonet and Aillaud, who unfortunately injured his ankle yesterday in the stables.