20 April 2020
The best breeds for driving part 3: Lipizzaners
The combined driving sport requires skill, speed and stamina, so which are the preferred breeds of horse for the top competitors? In this series we will be featuring the four most popular breeds of driving horses. In this third article, we shine the light on the Lipizzaners.
Why they shine
As well as being the famed mount of the Spanish Riding School of Vienna, Lipizzaners — which originate from the world's oldest stud in Lipica, Slovenia — have long been prized as a driving breed.
Village names
Lipica is in the Karst area which is known for its stony fields and this contributed to the very strong hoofs of the Lipizzaner horses, which arose from a mix of Spanish stallions and Karst mares. Nice to know is that the six classical mare lines are based on the names of the villages around Lipica where they originally came from, like Maestoso Sežana, Pluto Materia, Neapolitano Brezovica and Favory Basovizza.
Not only Lipica
When Lipica was formed in 1580, the Lipizzaners were not only bred in Lipica, but also in some stud farms around Lipica like Postonia, Bile, Pocek and Skule Prestranek. The 3-year-old years stallions were sent to Vienna to be trained for the Spanish riding school while the mares were located in Lipica and surroundings for breeding and to be driven in carriages.
During its 440-year-old history, Lipizzaner horses were evacuated many times because of several wars. This is why other Lipizzaner Stud Farms were formed in Piber, Monterotondo, Topolcianky, Djakovo, Lipik, Simbata De Jos, as well as many small stud farms and lot of private breeders.
Very good carriage horses
"They are very strong, hard workers, affordable, easy to keep, easy to match up, good to train and have a pony-like brain — they make very good carriage horses," says British four-in-hand driver Dick Lane." Lipizzaners grow until they are 6 years old and they are at their best when they are 10 years old. When trained well, they can continue working at high level until old age.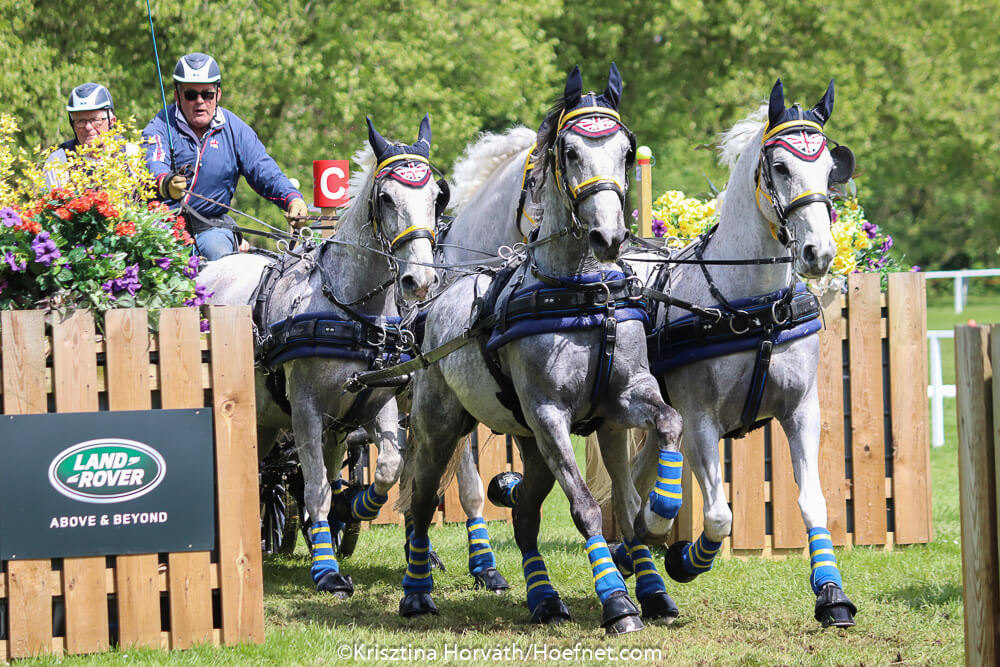 Dick Lane
Photo:
Krisztina Horváth
Who drives them
In recent years, the majority of British drivers favoured Lipizzaners, although Dick Lane is now the only UK representative still competing them as an outdoor team. They remain extremely popular horses on the indoor FEI World Cup circuit, where they are recognised for their agility and cool headedness under pressure. Many international successful pair drivers compete with Lipizzaner horses such as Miha Tavcar (SLO), a large number of Hungarian drivers as well as drivers from Croatia, Czech Republic, Italy, Romania, Slovakia and the USA.
A star example: Siglavy Capriola
Siglavy Capriola was born at the Stud Farm in Szilvásvárad in Hungary where they have a strong tradition with Lipizzaner horses in the combined driving sport. Famous drivers like Abonyi, Bárdos, Bozsik, the Lázár brothers, Nyul and Kecskemeti competed with Lipizzaner horses.
Siglavy Capriola was part of the four-in-hand of Hungary's István Váczi in Jerez 2002 and he contributed to the golden team medal in 2004 as member of the team of Lászlo Kecskemeti. The stallion was then sold to Dick Lane and had a long and distinguished career as a wheeler, retiring in 2019 at the age of 24.  "He's never taken a lame step in his life and is a real example of his breed with excellent bone," Dick says.
This article is based on the text published on Virtual Windsor and edited by Hoefnet.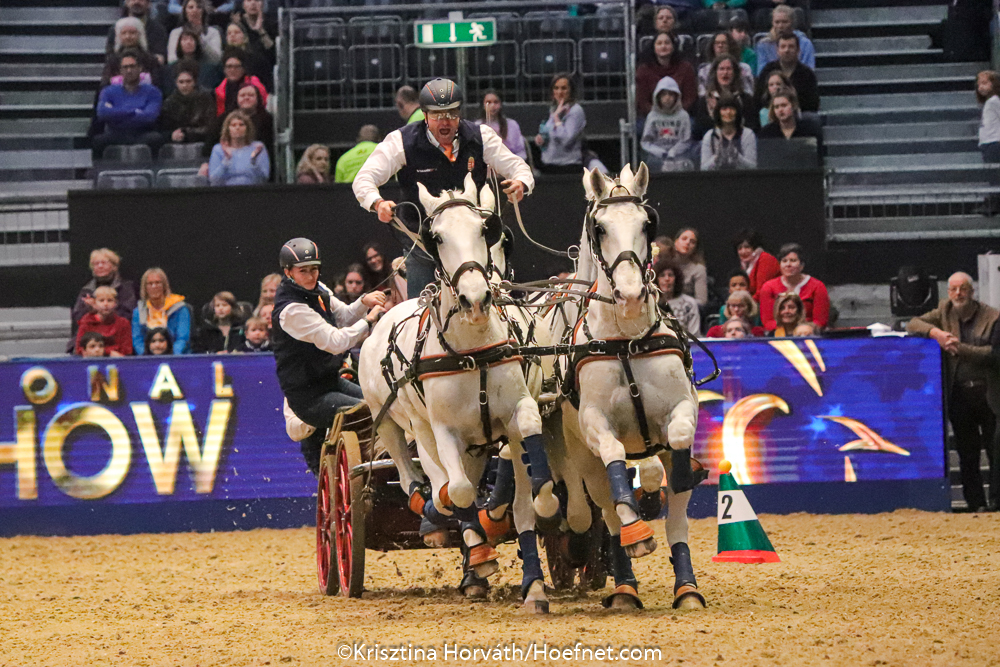 József Dobrovitz
Photo:
Krisztina Horváth