10 August 2019
Five Dutch drivers headed to World Pair Horse Championships in Drebkau
The pinnacle of pair horse driving, the World Championships, will take place from 11-15 September in Drebkau Germany. Dutch team coach Ad Aarts will travel with his five drivers to this World Championships which is organized for the drivers by the drivers.

The top four placings at the 2019 National Championships in Hulsberg, Dutch Champion Stan van Eijk (Schinveld), Antonie ter Harmsel (Rijssen), Raymond Letteboer (Oud Ootmarsum) and Geert Dijkhof (Klarenbeek) will be travelling to compete on the grounds of the Koalick family. The fifth driver is Theo Timmerman (Laag Soeren).
The organization will make the decision if a sixth driver per country will be allowed to start after 26 August. If this is permitted, Carlo Vermeulen (Griendtsveen) will also be travelling to Drebkau.
During the last World Championships in Lipica in 2017 the Dutch team placed tenth, with the top Dutch presentation being that of Stan van Eijk who placed eighth individually.
It is expected that over 80 pairs will be starting in Drebkau. This World Championship is organized by the father and son team of Torsten and Sandro Koalick, who are both active in the international sport. They have organized a successful international competition for years and their experience is sure to make this World Championship a great sporting success.
International level 3 judge Marie de Ronde-Oudemans (Zwartewaal) will be a member of the judges panel at the Championships and level 4 official Jeroen Houterman (Meterik) will be serving as an FEI Technical Delegate.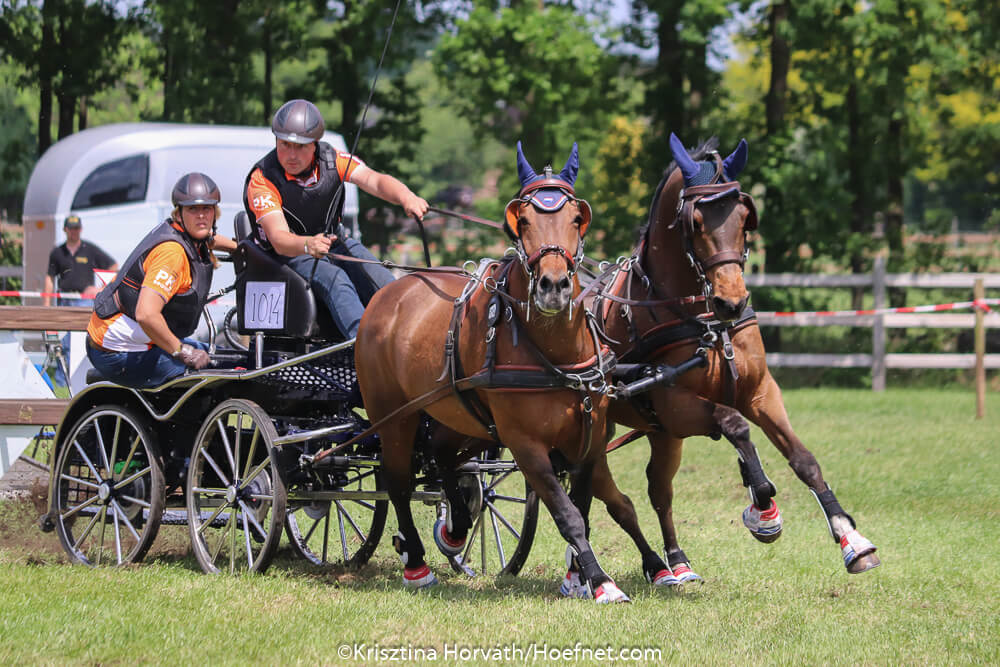 Photo:
Krisztina Horváth
Tentative schedule for the World Championships for Pair horses in Drebkau:
Wednesday 11 September
09.00: veterinary inspection
15.00: opening ceremony
Thursday 12 September
09.00: Dressage (part 1)
Friday 13 September
09.00: Dressage (part 2)
Saturday 14 September
09.00: Marathon
Sunday 15 September
09.00: Cones
16.00: Prize giving and medal ceremony