13 March 2017
Champion Titles for Weber, Wilson, Whaley and Morgan
The final day of competition for the USEF Combined Driving National Championships came to a close at the Live Oak International as drivers navigated through their final cones test in the Grand Prix ring.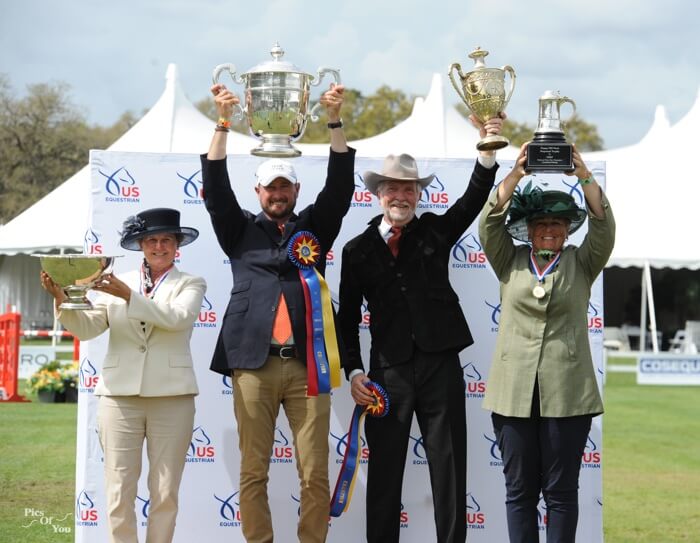 Photo:
PicsofYou
Fresh from a technical marathon run and elegant dressage test, Chester Weber and his team secured the USEF Four-In-Hand National Championship for a record 14th time. He finished the weekend on a final score of 154.70 penalties. Winning the Pair Horse National Championship for the third consecutive year was Steve Wilson with 167.33 penalties. In the Pair Pony National Championship, Katie Whaley secured the win for the second time with 140.83 penalties and Tracey Morgan took home the Single Pony National Championship for the third time with a score of 138.56.
The intensity in the ring was palpable as drivers raced the clock to complete the course weaving through the cone course which was set with show jumps in the ring in preparation for the afternoon's upcoming competition.
Weber and his team demonstrated a fluid test to maintain to secure the win with Misdee Wrigley-Miller taking second place on a score of 187.59.
"It wasn't my best cones course," said Weber. "But I was pleased with my horses as this was their first time in the cones as a team. The course asked some good questions and it puts us on track for next year's World Equestrian Games in Tryon."
In regards to winning the National Championship for the fourteenth time, Weber remarked, "Aiming for the National Championship each year is a goal both personally and for my team. You can't take anything for granted and you have to work at each part consistently."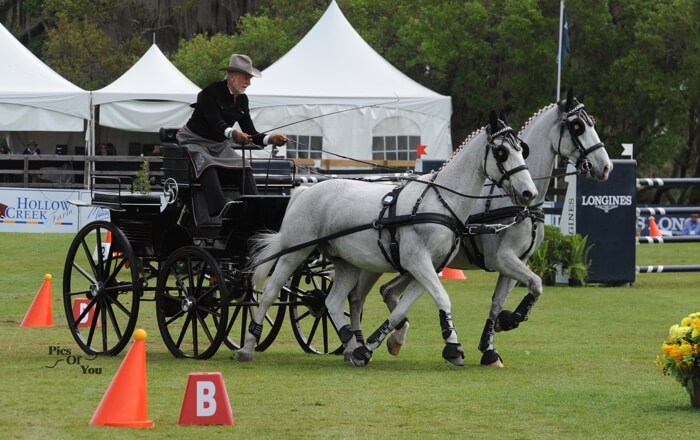 Steve Wilson
Photo:
PicsofYou
In the Pair Horse National Championship, Wilson took home top honors after navigating his team through the fast course, taking a few turns wider than planned and incurring penalties. Moving from third to second place with a double clear round was Joshua Rector who finished with a final score of 176.26.
"Obstacle ten came up faster than I was planning," said Wilson. "I took some turns wider than I had intended, but my horses have a great stride. It was a well designed, well measured and well timed course. It was a comfortable course."
Katey Whaley
Photo:
PicsofYou
In the Pair Pony National Championship, Whaley, the leader throughout the competition, produced a double clear round to secure the win. The win was Whaley's six overall USEF National Championship title. Moving up the ranks, Jennifer Matheson and team had the first double clear round of the day moving them from third to second to finish with a final score of 166.49.
" I love this cones course," said Whaley. "It asked some wonderful questions. You had to get some speed and bring them (the ponies) back and know where you were going."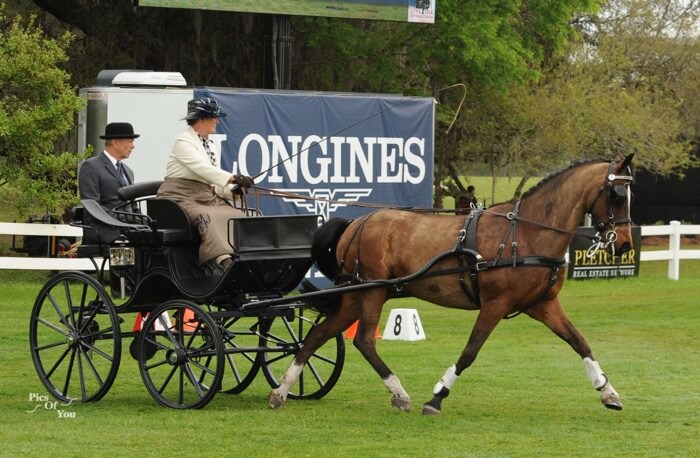 Tracey Morgan
Photo:
PicsofYou
Morgan and Fuego added 0.43 time penalties to their score for a total of 138.56 after the final test. Giving Morgan a run for first place, Rebecca Gutierrez piloted Naria around the ring with speed, however a penalty on a cone added to their overnight score for a final score of 150.99 to finish in second.
"The course was very smooth and it had some interesting turns, but it had a flow to it," said Morgan. "You could carry your speed but you had to be very careful on the angles and watch where you go."
Source: Live Oak International