16 August 2017
Pony Worlds Minden: Herbert Rietzler tops single dressage
The first day of the pony driving world championships has come to a close in Minden, Germany. Forty-one single ponies entered the dressage ring, with Herbert Rietzler (GER) topping the class, Tamara Pijl (NL) in second place, and Marlena Brenner (GER) in third.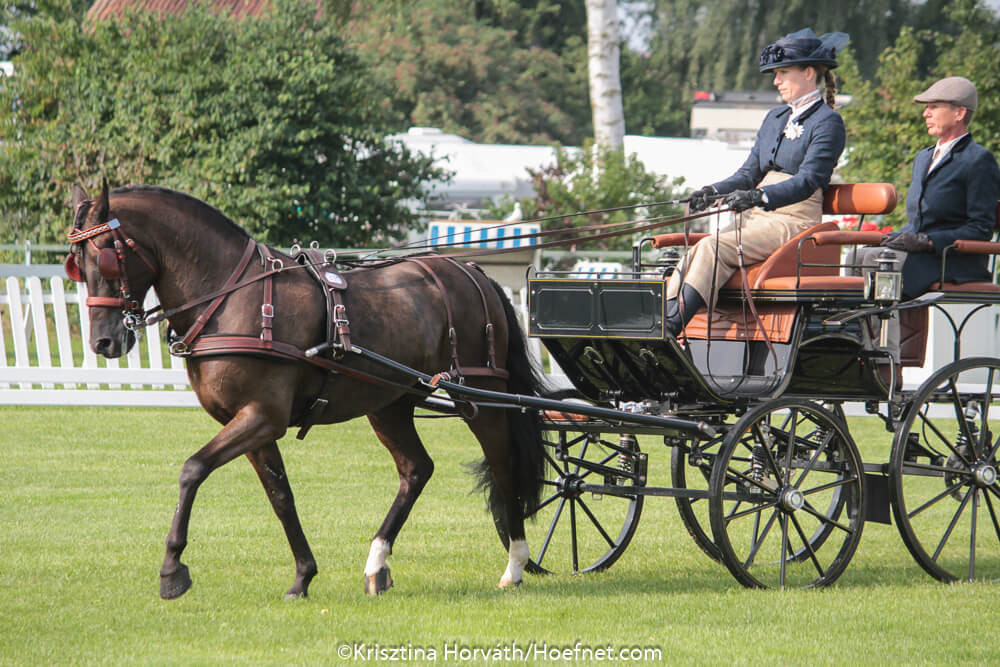 Tamara Pijl
Photo:
Krisztina Horváth
At 9 o'clock this morning the first pony entered the ring in Minden on the perfectly prepared grounds at PSG GEWE Minden, the home of organizer Christof Weihe, who himself will drive tomorrow in the pony pairs division. Benoit Vernay (FRA) was the first driver to enter the ring under the eye of the judges panel led by Dr. Klaus Christ.
While scores remained high, the top ten was dominated by Germany who had four drivers placing well. Strong showings were also booked by Finlands Leena Vähä-Erkkilä, American Tracey Morgan and Sweden's Linnea Kristiansen. Germany leads the team placings at the moment with the Netherlands in second and Switzerland in third.
Tomorrow the pair ponies will have their turn to drive dressage. The show will begin at 10 o'clock with 33 combinations entering the ring.