6 July 2018
Young Serbian stars shine brightly on home ground at EEF Balkan Driving Championships
Marking the dawn of a new era for equestrian sport in the region, Serbian drivers claimed all gold at the EEF Balkan Driving Championships 2018 staged at Stari Tamiš in Pancevo (SRB) last weekend. The host nation side of 18-year-old Akos Berenyi, 25-year-old Milan Gakovic and 31-year-old Oliver Bunford stood top of the team podium ahead of Croatia's David Susac, Josip Zirn and Antun Zivic in silver medal position while Romania's Ioan Crisan, Andrei Csoma and Milorad Milin claimed the bronze. And a win in the final Cones phase saw Gakovic overtake Susac for the individual title, while Csoma stood on the third step of the podium.
Special Regulations
The event was the first of the new-look Balkan Equestrian Championships overseen from the beginning of this season by the EEF (European Equestrian Federation). Open to all National Federations linked to the world governing body, the FEI, with national territory that is totally or partially located within the Balkan Peninsula, the Championships are conducted under Special Regulations that have been accepted by Albania, Bulgaria, Croatia, Greece, Macedonia, Romania, Serbia and Turkey.
The aim is to support and promote equestrian sport in the region, encouraging collaboration and strengthening the ties between neighbouring nations, their athletes and everyone else involved.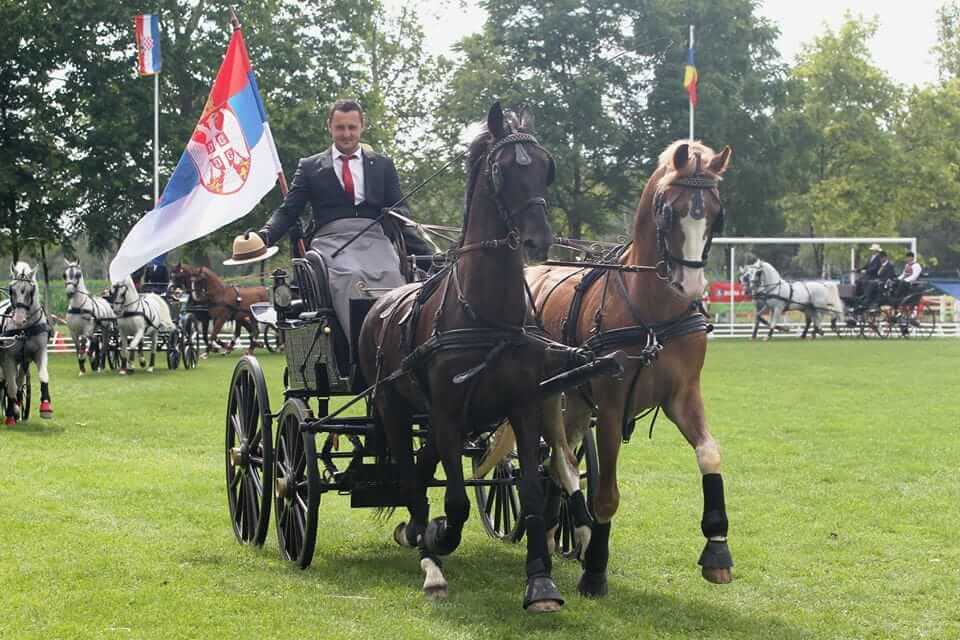 Milan Gakovic (SRB) driving Harold and Isenhart to individual and team gold (photo credit SRB NF)
Individual glory
Croatia's David Susac looked near-unbeatable for individual glory when posting strong wins in both the opening Dressage Phase and again on Marathon day. A dressage mark of 51.32 left him four marks ahead of Romania's Andrei Csoma, while Milan Durdevic pinned fellow-Serbian Gakovic into fourth by a margin of just 0.11 penalty points.
And when Susac steered his experienced pair, the nine-year-old Lord and 10-year-old Vulkan, into the Marathon winner's enclosure and Gakovic had to settle for fourth place once again, this time behind team-mate Akos Berenji and Croatia's Antun Zivic, then victory seemed a distance away for the eventual champion.
Rocket to the top
A win in the Cones phase, with just nine penalty points and the quickest time, saw Gakovic rocket to the top of the leaderboard when Susac's golden dream was dashed by a massive 27.00 penalties which left him in ninth place. The 26-year-old Croatian driver's final scoreline of 165.03 was still good enough for silver medal spot however, and third place on this last afternoon secured individual bronze for Romania's Csoma, individual gold medallist at the first Balkan Championships for Pairs in 2015, who celebrated his 25th birthday last Tuesday.
Youth was very much in the limelight at this exciting fixture, even when it came to the horses, as Gakovic's golden pair of Dutch-bred geldings, Harold and Isenhart, are just six-year-olds while the driver who finished individually fourth was the 18-year-old Serbian, Berenyi.
Results:
EEF Balkan Individual Driving Championship 2018: Gold – Milan Gakovic (SRB) – 160.63; Silver – David Susac (CRO) 165.03; Bronze – Andrei Csoma (ROU) 166.25.
EEF Balkan Team Driving Championship 2018: Gold – Serbia 329.82: Milan Gakovic, Oliver Bunford, Akos Berenyi; Silver – Croatia 341.43: David Susac, Josip Zirn, Antun Živic; Bronze – Romania 368.52: Ioan Crisan, Andrei Csoma, Milorad Milin.