22 april 2009
Ad Aarts assists Velstra
Dutch four-in-hand driver Ad Aarts is appointed by the Royal Dutch Equestrian Federation (KNHS) as assistant trainer/coach Driving in the Netherlands. Aarts will assist trainer/coach Tjeerd Velstra until after the World Equestrian Games in Kentucky in 2010.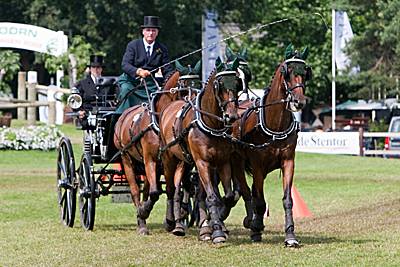 Foto:
Rinaldo de Craen
The 49-year-old Ad Aarts has been the trainer of the Dutch pony drivers for some years to the satisfaction of the drivers and the trainer/coach. The KNHS decided to continue the cooperation in order to support Velstra in his duties.
Aarts will assist Velstra in the training of the single horses and he will be member of the Dutch accompanying squad at the World Pony Driving Championships 2009 and most probably also at the World Pairs Driving Championship 2009.
Aarts is an active four-in-hand driver and works as instructor at the Dutch Equestrian School in Deurne. He and his wife Ingrid run a training stable in Liessel. Tjeerd Velstra, who was the director in Deurne until 1995, taught Ad the details of carriage driving. From 1988 to 2000 Ad competed at the World Four-in-Hand Championships. At the WC in Apeldoorn 1988 he came 8th and contributed to the Dutch golden team medal.