22 april 2010
Assistentie voor Duitse bondscoach
Anlässlich der Vorstandssitzung Sport der Deutschen Reiterlichen Vereinigung und des Deutschen Olympiade-Komitees für Reiterei wurde bekanntgegeben das dem Cheftrainer der Deutschen Fahrer, Ewald Meier, ein neuer Mann zur Seite gestellt wurde. Karl-Heinz Geiger wird dem Cheftrainer assentieren und war bereits beim Saisonstart, beim CAI Néewiller in Frankreich, im Einsatz.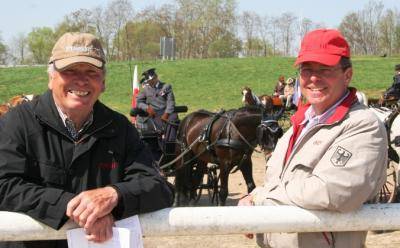 "We gaan de komende tijd samen onze internationale topmenners begeleiden op de wedstrijden," vertelt Ewald Meier. "Daarnaast gaat Karl-Heinz zich bezighouden met de opleiding van onze trainers en hun licentieverlengingen en het opleiden van juryleden. Ik verheug me op een goede en succesvolle samenwerking."
Het Duitse begeleidingsteam bestaat verder uit Eckhardt Meyer, die zich momenteel concentreert op de voorbereiding van de enkelspanrijders voor het WK in Pratoni eind juli. Meyer begeleidt tevens het Duitse team op het CAI Kladruby komend weekend en in de Donau Alpen Pokal wedstrijden dit seizoen.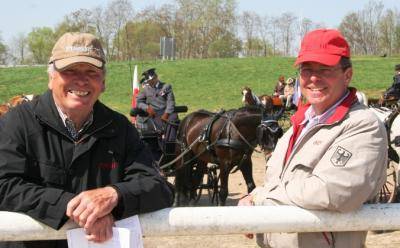 "We will support our international top drivers at the competitions," explains Ewald Meier. "Furthermore, Karl-Heinz Geiger will concentrate on the advanced training of our trainers and their license extensions as well as the education of judges. I am looking forward to a good and successful co-operation."
The German support team further exists of Eckhardt Meyer, who will concentrate on the preparation of the single drivers for the World Championship in Pratoni at the end of July. Meyer also supports the German team at the CAI Kladruby this weekend and at the Donau Alpen Pokal competitions this season.

Source: Hippoevent.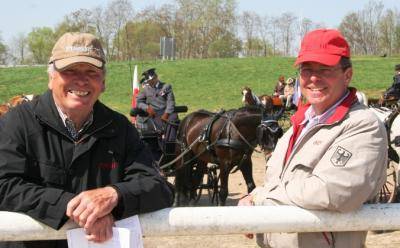 Ewald Meier:"Wir werden in der nächsten Zeit gemeinsam die Turnierbetreuung unserer internationalen Topfahrern machen. Weiters wird sich Karl-Heinz Geiger für die Fortbildung der Ausbildner und deren Lizenzverlängerungen sowie um die Richterschulung kümmern. Ich freue mich auf eine gute und erfolgreiche Zusammenarbeit."
Weiter im Team auch Eckhardt Meyer, der sich im Besonderen um die Einspänner in Vorbereitung auf die Weltmeisterschaft im Juli in Rom kümmern wird – und an diesem Wochenende beim CAI Kladruby das Deutsche Team betreut – und auch ein Deutsches Team zum Donau Alpen Pokal in der Slowakei nach Topo??ianky begleiten wird.

Quelle: Hippoevent.