17 juni 2010
Brasseur traint de Fransen
Double World Champion Félix-Marie Brasseur will be the trainer of the French team at the CAIO in Aachen, Germany. The Belgian four-in-hand driver, trainer and official will train Stéphane Chouzenoux, Fabrice Martin and Thibault Coudry at the largest international four-in-hand driving competition world wide.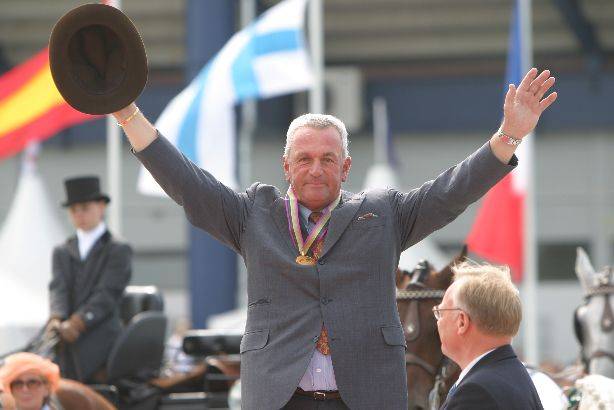 Foto:
Marie de Ronde-Oudemans
Félix-Marie Brasseur werd tijdens de Wereldruiterspelen in Aken 2006 voor de tweede maal Wereldkampioen vierspannen. Tien jaar eerder was Brasseur al de sterktste op eigen bodem, op het WK in Waregem. Begin april werd bekend dat Brasseur niet als deelnemer naar de Wereldruiterspelen in Kentucky zal gaan. De sponsor/eigenaar van de Spaanse paarden waarmee Brasseur aan het WK wilde deelnemen, heeft het span teruggetrokken uit de internationale mensport.
Bron: Hoefnet.nl
Overname zonder voorafgaande toestemming van de redactie is niet toegestaan.
Het programma in het Duitse Aken is dit jaar omgegooid zodat de marathon het laatste onderdeel van de samengestelde menwedstrijd wordt.
De vierspanmenners rijden hun gebruikelijke dressuurproef op donderdag, waarna op vrijdag de vaardigheidsproef volgt. Op zaterdag wordt de marathon verreden, waarin de deelnemers in omgekeerde volgorde van de stand na de dressuur en de vaardigheid starten.
Op zondag vindt er nog een verplichte vaardigheidsproef plaats, die echter niet meer meetelt voor het individuele-en landenklassement.
Voorlopig programma CAIO Aken 2010:
Dinsdag 13 juli: veterinaire keuring
Woensdag 14 juli: warm up dressuurproef nr. 6
Donderdag 15 juli: dressuurproef nr. 8a
Vrijdag 16 juli: vaardigheid met barrage
Jump and Drive
Zaterdag 17 juli: marathon
Zondag 18 juli: Speel uw Spel vaardigheid & prijsuitreikingen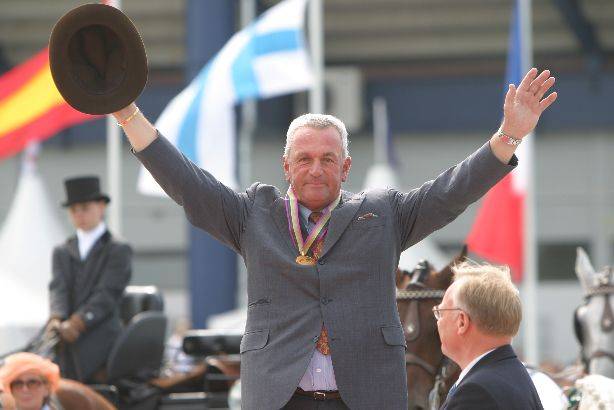 Foto:
Marie de Ronde-Oudemans
Félix-Marie Brasseur became World Champion for the second time in his career at the World Equestrian Games in Aachen 2006. At the start of April, Brasseur withdrew his candidacy to compete at the WEG in Kentucky. The sponsor/owner of the horses withdrew the team of Spanish horses completely from the international competition.
This year, the spectacular Wohnwelt-Pallen marathon will be the last and decisive competition of the combined driving individual and nations competition.
The four-in-hand drivers will drive their regular dressage test on Thursday, followed by the obstacle driving competition on Friday. The marathon will take place on Saturday in which the drivers will start in the reverse order of the standings after dressage and cones. The best driver will start last.
On Sunday there will be a compulsory cones competition which does not count for the combined competition.
Provisional programme CAIO Aachen 2010:
Tuesday July 13th, Horse inspection
Wednesday, July 14th Warm Up competition FEI-Dressage Test No. 6A
Thursday July 15th, FEI Dressage Test No. 8A
Friday July 16th, Obstacle Driving Competition with one drive-off
Jump and Drive
Saturday July 17th, Marathon Driving Competition
Sunday July 18th, Top Score Obstacle Driving Competition
Prize-Giving Ceremonies